Climate Change in Japan: The Role of Japanese Companies
Japanese companies can be a real driving force in the country's decarbonisation journey. However, the government has to set more ambitious targets. Only by working together can the state and the private sector accelerate Japan's net-zero transition.
03 October 2022 – by Viktor Tachev
Last updated on 06 October 2022
When it comes to climate change in Japan, the role of big Japanese companies becomes very important. The climate and environmental commitments of Canon, Sony and other Japanese businesses can tell a lot about the country's direction. Japan ratified the Paris Agreement on Climate Change on 8 Nov 2016. So far, Japan hasn't exactly been a clean energy champion. And it hasn't shown much willingness to leave fossil fuels in the past. However, to pick up the pace and achieve meaningful progress, the country has to also be supported by its corporations. Some Japanese companies are heading in the right direction, while others need to catch up, as decarbonisation doesn't seem to be at the top of their priorities.
Japan's Climate Change Policy and Decarbonisation Targets
Japan aims to slash greenhouse gas emissions by 46% by 2030. The government has estimated that it would need an investment of JPY 150 trillion (USD 1.2 trillion) to succeed. The country also plans to achieve carbon neutrality by 2050. Currently, it is one of the few top emitters with a legally-binding commitment.
Cost of Clean Energy Transition
The Japanese government has estimated that the clean energy transition will cost JPY 150 trillion in public and private investment over the next decade.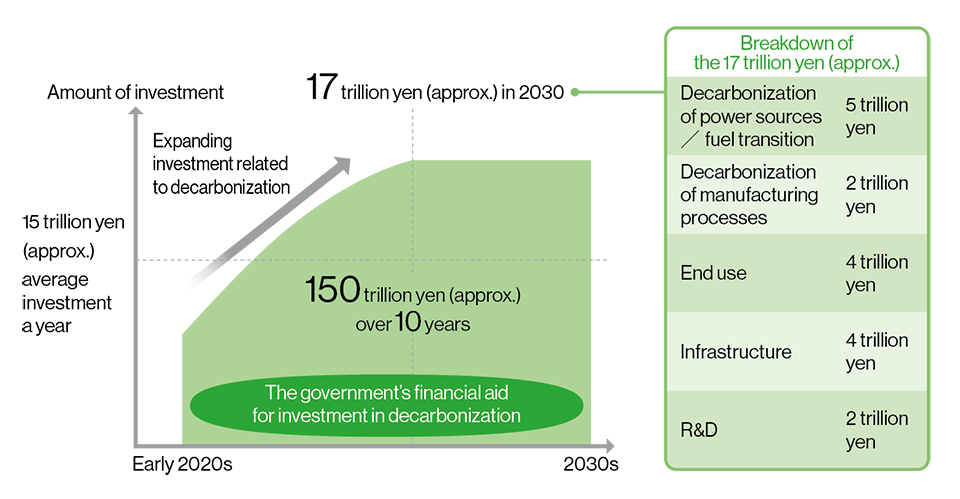 Japan's Energy Mix
By 2030, Japan aims for a 36% to 38% share of renewables in the power mix, up from 18% today. The 2050 target is for renewable energy sources to account for about 50 to 60% of the Japan's energy mix.
On paper, Japan's climate strategy looks ambitious. However, in reality, it has raised many eyebrows.
What Is Happening Behind the Scenes?
Firstly, Japan still plans to have coal and LNG account for 19% and 20% of its 2030 power mix, respectively. The government also aims to decarbonise thermal power with the help of hydrogen and ammonia, which experts consider more of a greenwashing move rather than a real solution. Additionally, by 2050, Japan will meet up to 80% of its total hydrogen demand with imports. For now, green hydrogen remains expensive, largely untested and holds many challenges for commercialisation.
According to Wood Mackenzie, Japan's strategy doesn't make economic sense. Estimates reveal that the proposed ammonia and coal mix will cost more than gas, even by 2030. At the same time, it would be emitting twice as much CO2. Moreover, it could lead to potentially doubled energy costs by 2030. Instead, Wood Mackenzie recommends a combination of offshore wind and distributed solar – a strategy that other experts echo too.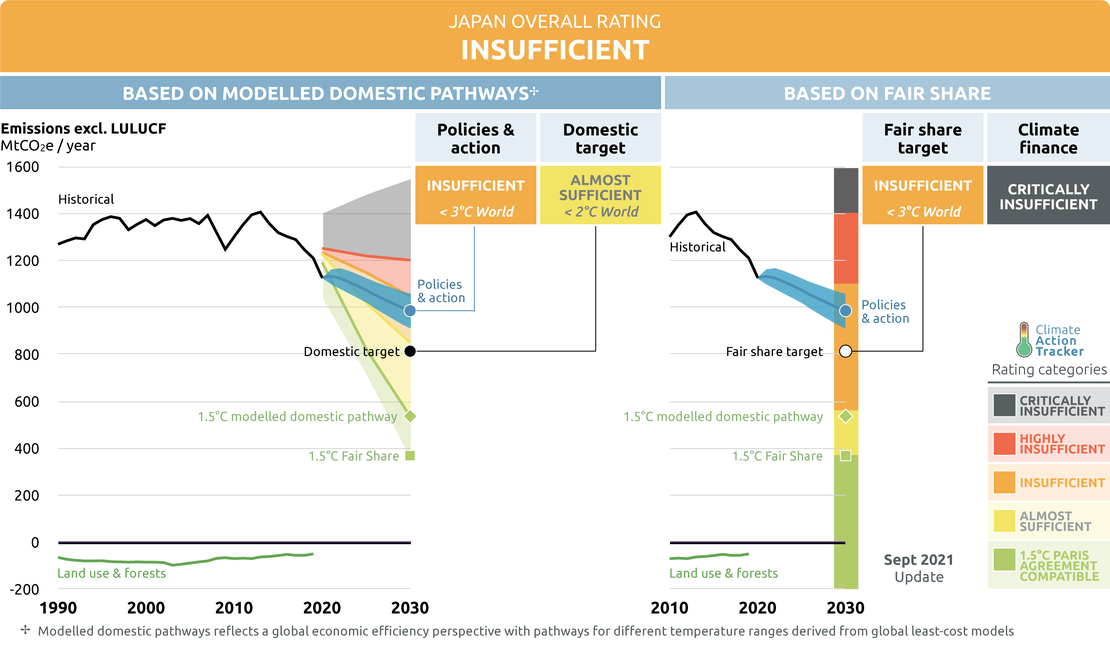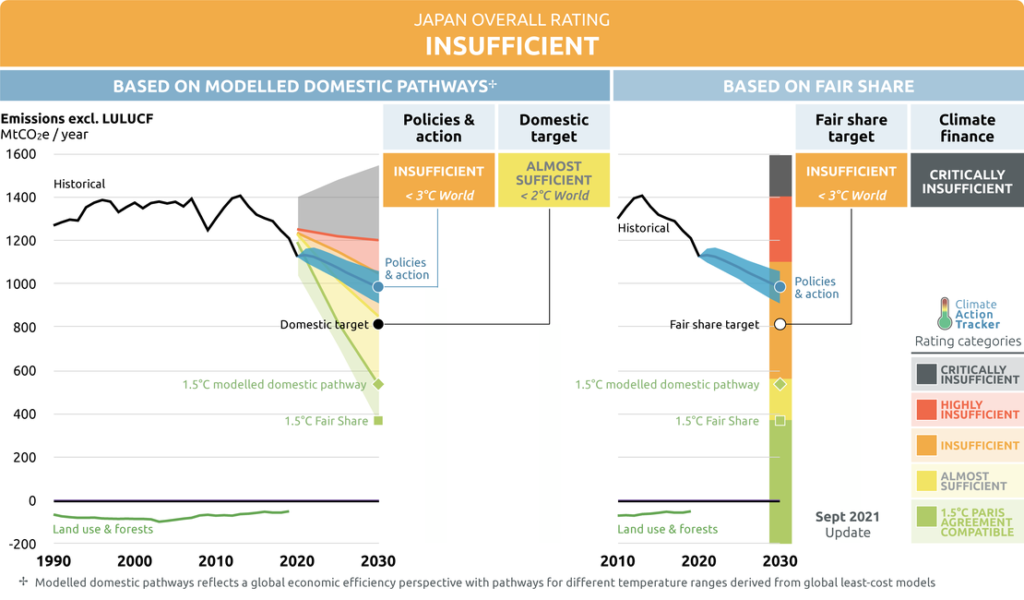 Climate Action Tracker finds the national policies "insufficient," while the net-zero target by 2050 is considered "poor". Despite this, many Japanese businesses remain far behind, even with the country's not-so-ambitious national climate targets.
The Divided Business Sector in Japan
While Japan's strategy isn't fit to achieve its own targets, the government plans to ease and stimulate private sector investments. Furthermore, the government intends to provide support mainly through subsidies, regulation and financing.
However, other challenges remain. For example, the climate change topic is missing from the media, which is why experts think Japanese people are failing to acknowledge the magnitude of the problem. This, paired with hardly convincing current state policies, makes businesses feel no pressure to act. Also, leading power, steel and fossil fuel companies are actively advocating for extending the life of fossil fuels.
Even some tech giants, which are supposed to be the most progressive businesses in the country, are clinging to the past, showing no ambition to decarbonise.
However, this isn't the case for everyone. Some Japanese businesses are trying to collectively make a change through programmes like the Japan Climate Leaders' Partnership (JCLP) and the RE100. Furthermore, member companies have continuously pressured the government to improve its climate commitments and accelerate its renewable energy goals.
The government has taken note. Earlier this year, it announced the GX League – a green transformation scheme uniting the government, businesses and academia to lead the country towards carbon neutrality. The idea of the scheme is for the participating companies to align their emission reduction targets with the country's targets. Over 440 companies, which account for more than 40% of Japan's emissions, endorsed the GX League during its preparatory stage.
The Environmental and Climate Agenda of Canon, Sony and Other Companies
Greenpeace's "Race to Green" report found that all Japanese companies lack meaningful decarbonisation efforts.
Among the worst performers was Canon. While the company is actively trying to build its image as a sustainable company by increasingly using climate and environmentally-friendly terms in its communication, it has shown another face behind the scenes. As Action Speaks Louder's report points out, the Canon Institute for Global Studies (CIGS) think-thank is actively advocating against climate change, claiming that the climate crisis is "liberal propaganda" and supporting theories stating that it is "fake". Its directors have published various publications and books on climate denial.
The company aims to achieve net-zero CO2 emissions by 2050. However, for now, this seems more like a purely speculative target, considering that Canon doesn't even have a 100% renewable energy target. Instead, it states that it plans to "make use of the most of renewable energy as an effective energy source toward net-zero CO2 emissions by 2050". Currently, the Japan-based operations of Canon use the smallest share of renewable energy by far. This is despite the fact that, in a 2020 survey, Canon stakeholders identified the utilisation of renewable energy as the main issue.
Some Japanese companies, however, are making moves in the right direction. Sony, for example, has committed to achieving net-zero by 2040. Furthermore, the company is a longtime member of the RE100 initiative and aims to achieve 100% renewable energy by 2030, with an interim target of 35% by 2025.
Rakuten and Yahoo Japan have pledged to achieve 100% renewable energy by 2025 and 2023, respectively. Hitachi aims for carbon neutrality by 2030.
Global Warming and Renewable Energy: What the Future Holds for Japan?
Japan has the third-highest geothermal potential and perfect conditions for large-scale offshore wind. The country has already become a leader in floating solar power. The Renewable Energy Institute even sees a technically feasible scenario where the country gains 100% electricity from renewables without sacrificing supply stability.
Most of Japan's biggest corporations are influential on both industry and political levels. As a result, corporate demand for renewable energy is crucial for increasing political ambition and action – and vice-versa. Given that the public and private sectors generate 80% of Japan's emissions (the fifth-largest globally), corporations and the state should join forces if the net-zero commitments are to materialise.
Moreover, they have an incentive to do it. Switching to renewables in the era of ever-increasing energy prices and unstable fossil fuel supplies would ensure cleaner, cheaper and more sustainable operations.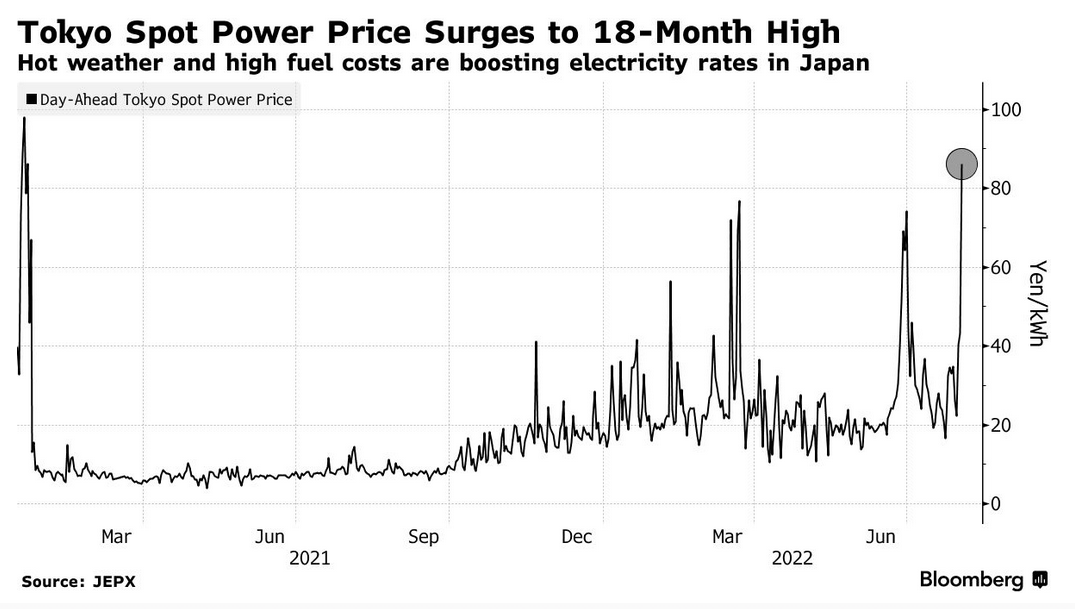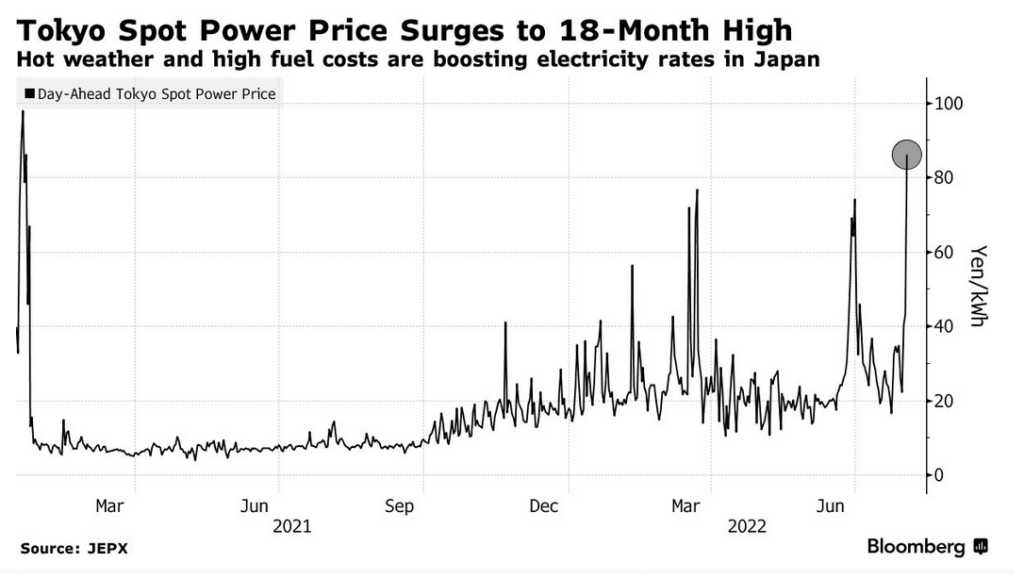 TransitionZero estimates the LCOE for solar PV to be around two times lower than that for the energy generated from advanced coal technologies and green ammonia co-firing, which is around USD 200 per MWh. Other studies find it even more economically viable, with figures down to USD 86 per MWh. This is substantially cheaper than the 2020 average system prices on the Japanese spot market.
The resistance to the green transition is unreasonable when there is everything to gain and nothing to lose. It doesn't suit a country with the potential of Japan and its innovative businesses.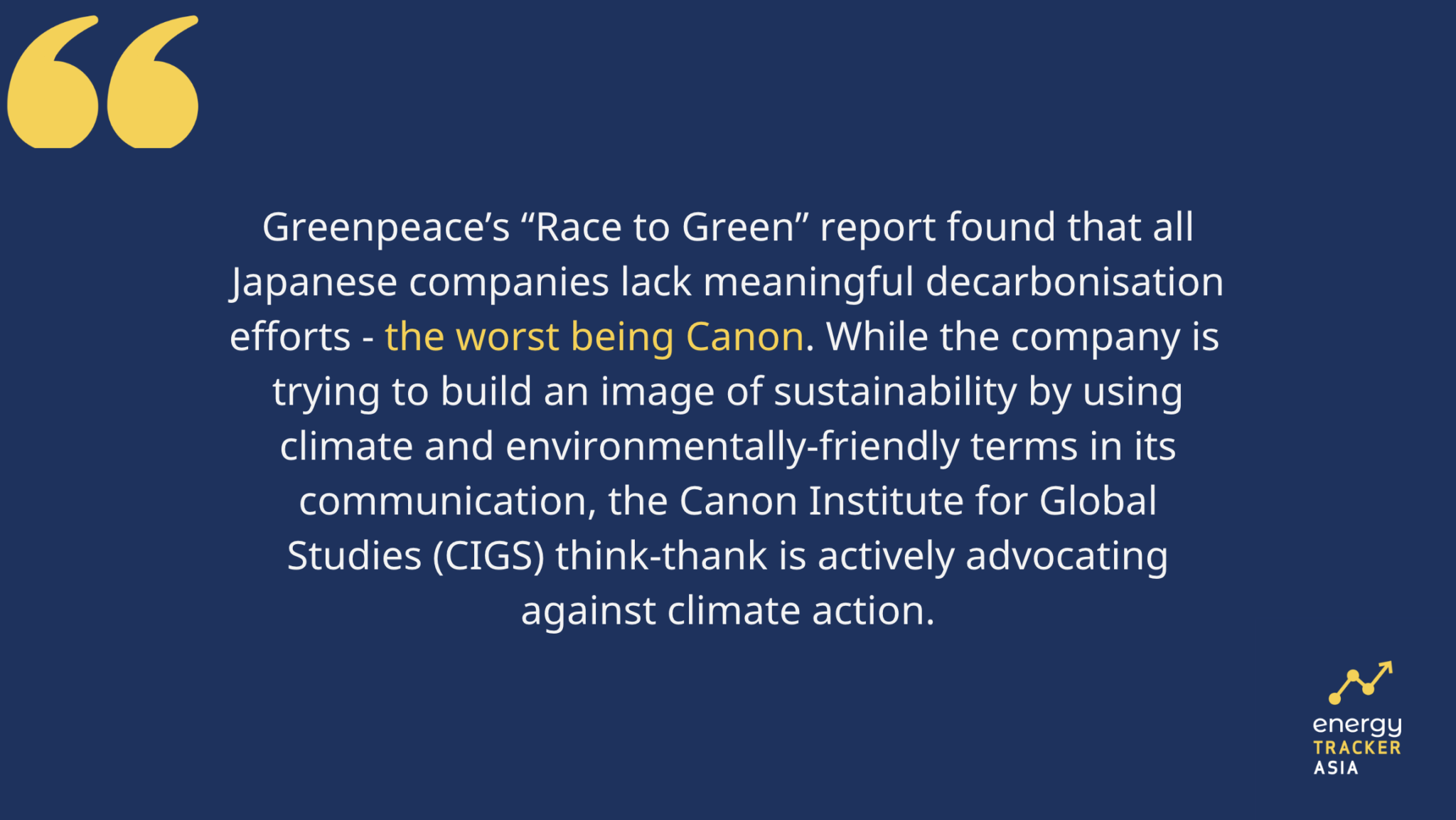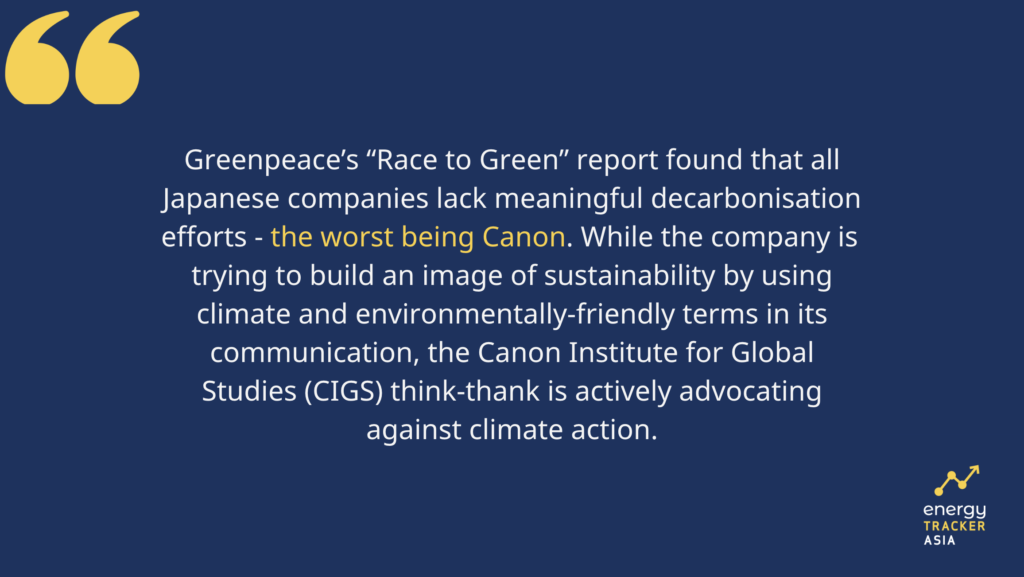 by Viktor Tachev
Viktor has years of experience in financial markets and energy finance, working as a marketing consultant and content creator for leading institutions, NGOs, and tech startups. He is a regular contributor to knowledge hubs and magazines, tackling the latest trends in sustainability and green energy.
Read more