2022 Heat Wave in India and Pakistan – New Scientific Report
The World Weather Attribution Indian Pakistan heatwave study is a reminder that the climate crisis grows more severe by the day.
08 July 2022 – by Viktor Tachev
Last updated on 15 July 2022
While there is enough evidence to suggest that human activity has fuelled the climate crisis, the 2022 heat wave in India and Pakistan has demonstrated the problem's magnitude. Both countries are now at the forefront of climate change's worst impacts, such as extreme weather events, maximum temperatures and heat waves and will have to make bold choices. The rest of Asia can't remain indifferent, as the soaring temperatures in both countries signal that more global warming impacts will come for the region.
Link Between 2022 Heatwave in India and Pakistan and Climate Change
In a scientific report, the World Weather Attribution (WWA) network, a group of leading scientists, examines the link between climate change and the 2022 heatwave in India and Pakistan.
The report finds that such heat not only reached punishing extreme temperatures but also started unusually early and dragged on for weeks. Furthermore, this extreme heat was coupled with less rainfall. In India, rainfall shortfalls were 62% below the long-term average for March, while in Pakistan, the figure was 71%. The heatwave affected 70% of India and 30% of Pakistan – some of the most densely populated parts of the world. Little pre-monsoon rainfall is expected in central India.
High Temperatures in South Asia
The report finds that temperatures in India were consistently 3°C to 8°C above average, reaching 40° to 44°C in the last days of March. In May, they fluctuated between 45°C and 50°C.
In Pakistan, daytime average maximum temperature was between 5°C and 8°C above normal in large parts of the country. By the end of April, it reached 49°C in multiple regions. These are record breaking temperatures and both countries are suffering from severe heat.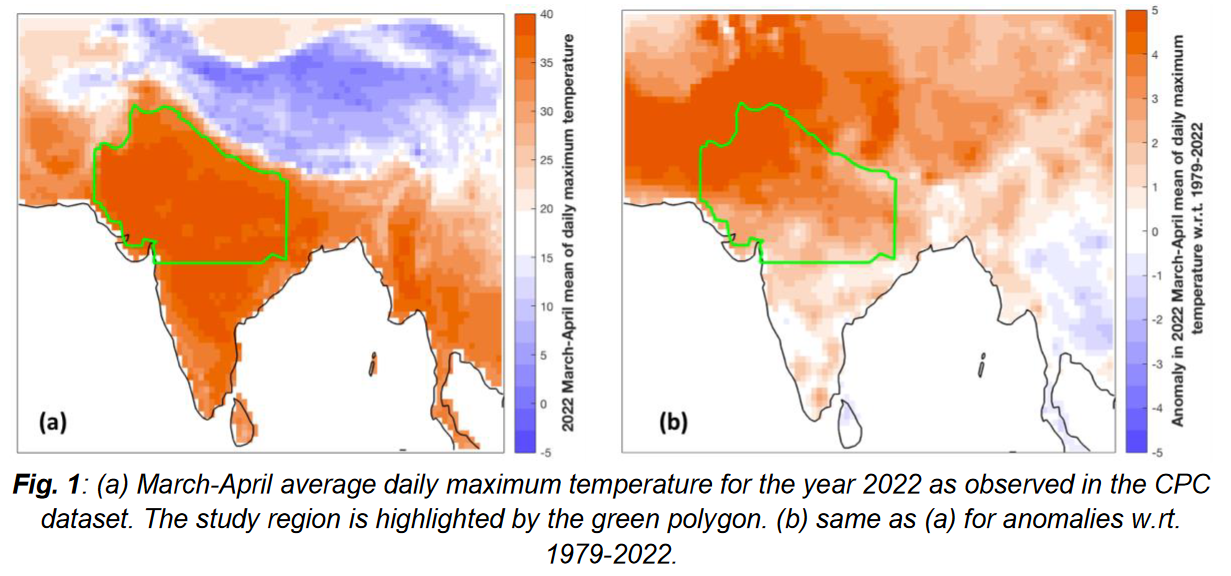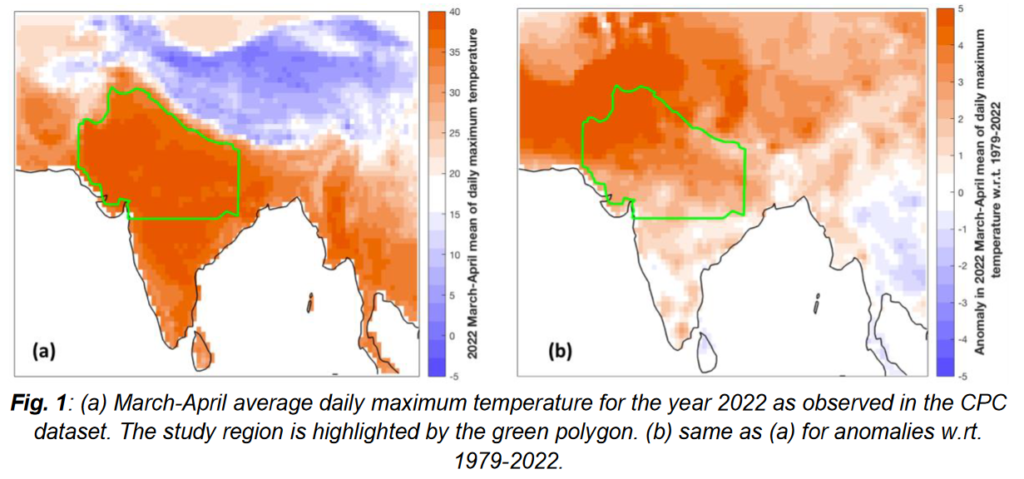 The report concludes that climate change has made devastating heatwave events in India and Pakistan 30 times more probable. The authors expect such events to become more common and severe as global warming worsens. In a 2°C temperature increase scenario, such heatwaves will occur between twice a century and once every five years. Furthermore, the heatwaves will be up to 1.5°C hotter.
More disturbingly, scientists acknowledge that their findings are probably "conservative".
The Implications of the Heatwave in Asia and Pakistan in 2022
The consequences of the 2022 heat wave in India and Pakistan, according to the report, include:
at least 90 deaths in both countries (as per early reports),
an extreme glacial lake outburst flood (the failure of a dam containing a glacial lake) in northern Pakistan,
forest fires in India
and 10 – 35% lower wheat crop yields in India.
The Lead-up to the 2022 Extreme Heat waves in India and Pakistan
India and Pakistan, alongside Southeast Asia, are among the most vulnerable regions regarding climate change's impacts.
At the same time, Asia remains the largest emitter, accounting for 53% of global emissions. China (1st), India (3rd), Japan (5th), South Korea (8th) and Indonesia (10th) are among the 10 biggest polluters globally.
More disturbingly, Asian countries continue to rely massively on fossil fuels.
What is the Reason for Heat Wave in India?
Over 70% of India's electricity generation comes from coal. The country has the most distant net-zero goal, targeting 2070 as the deadline to decarbonise. In the wake of the heatwave, India urged rich countries to provide financial aid. However, despite calling for global help, the government has planned to open old coal mines. The country will ramp up domestic coal production to 1.2 billion mt in the 2023-24 fiscal year – from 777 million mt in the 2021-22 fiscal year. Due to electricity shortages caused by the heat wave, India even increased its demand for coal imports. The country also says that it wants to become a "gas-based economy". Recently, it set a target to increase the share of gas in its energy mix from 6% in 2021 to 15% by 2030.
Similarly, Pakistan relies on coal, oil and natural gas for about 60% of the country's energy provision.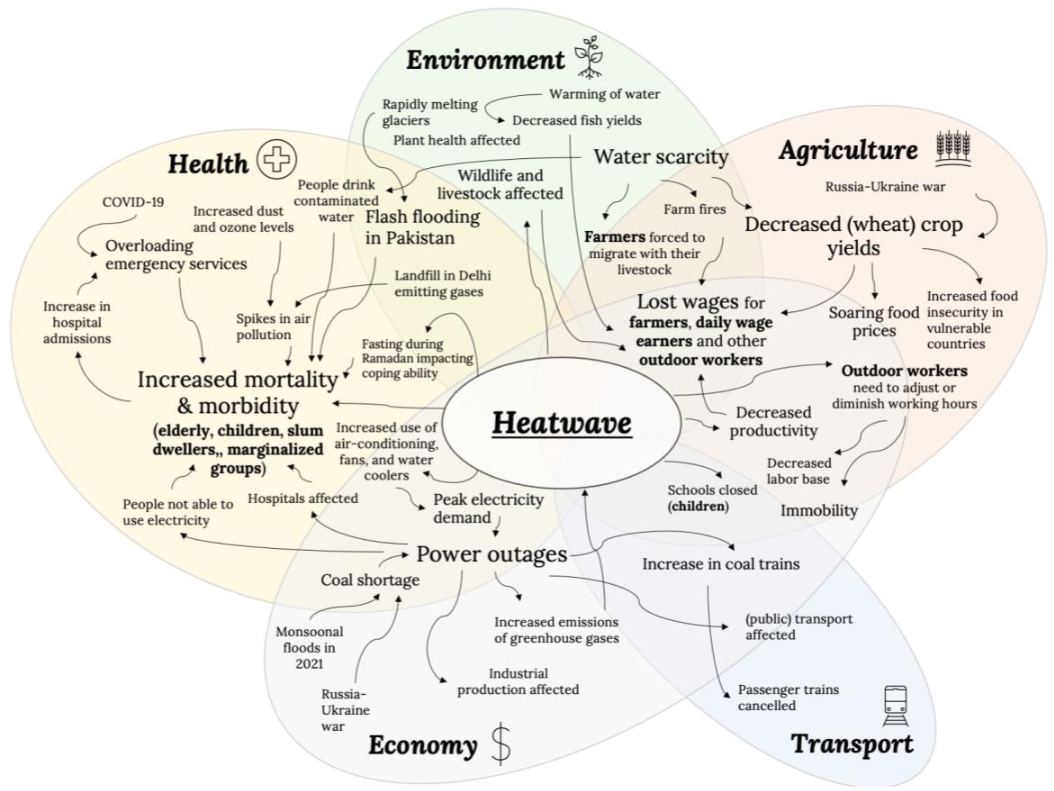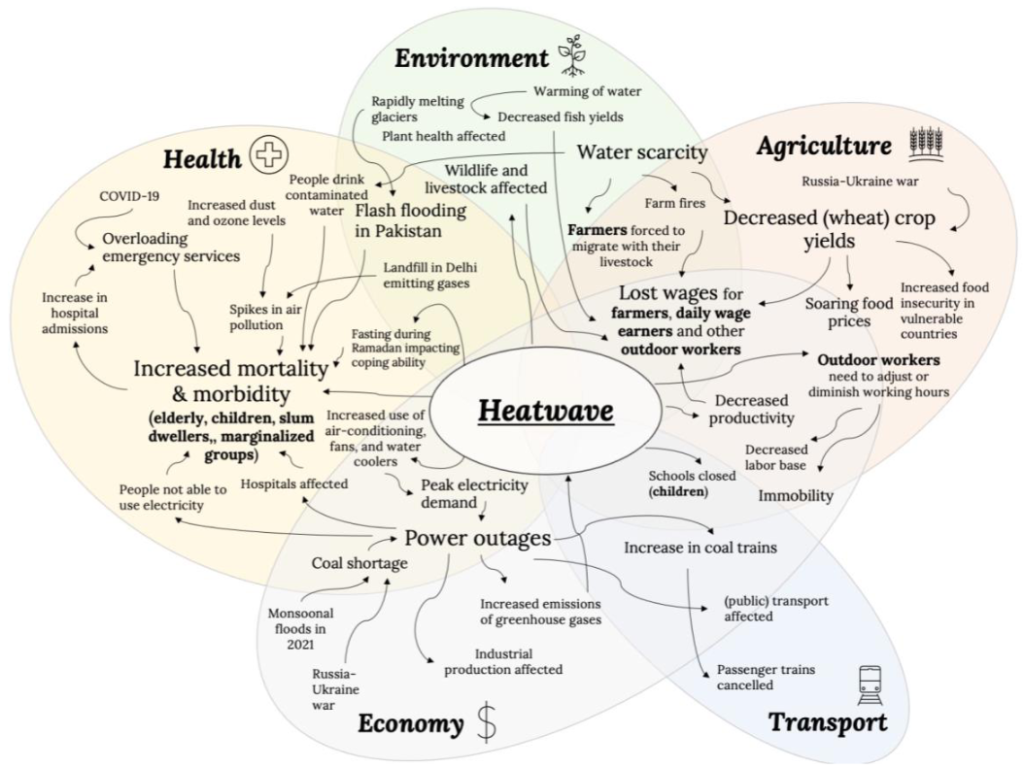 What Can India, Pakistan and Neighbouring Countries Do?
The study underscores the importance of both adapting to the rising temperatures and tackling global warming.
Since heat waves will likely continue tormenting the region, nations should focus on mitigating their impacts. According to Dr. Mariam Zachariah, research associate at the Grantham Institute – Climate Change and the Environment, India has been "remarkable" in rolling out its Heat Action Plans. The country's framework now covers 130 cities and has probably helped reduce the number of direct heat-related deaths during the heat wave.
More countries need to concentrate on designing long-term strategies to prepare themselves for future heatwaves. The reason is that India, Pakistan and Southeast Asian nations have a lot at stake.
"In this part of the world, heatwaves are particularly hazardous to the 60% of the population who work outdoors and are therefore limited in their means to cope."

– Dr. Mariam Zachariah, Imperial College London
While heat action plans, including early warning systems and other adaptation efforts, are essential, the vicious cycle will continue if countries don't address the root of the problem.
According to Dr. Friederike Otto, study author and head of World Weather Attribution and senior lecturer at the Grantham Institute, as long as greenhouse gas emissions continue, events like rising average temperatures, hot weather and severe heatwaves will become a common disaster. For example, if the average global temperature rise reaches 2°C, such heatwaves would be expected as often as once every five years. Disturbingly, the world is now heading for 2.7°C by 2100, making the risk very real.
Asia's only plausible move is to prioritise carbon emission reduction. The region should adopt a mix of measures centred around immediate fossil fuel phase-out and a shift towards renewable energy sources.
Heat Wave in India and Pakistan 2022 – Too Many Warnings, Too Little Action
The findings of the World Weather Attribution study don't come in isolation. The UK's Meteorological Office concludes that climate change made the heatwave at least 100 times more likely. What's more, WWA's study, the IPCC's Sixth Assessment Report and a recent report by the Associated Press all unite around the idea that heatwaves and humid heat stress will grow more intense and frequent in South Asia.
There are enough warnings already about the consequences of climate crisis inaction. Changes need to be made to turn the tide.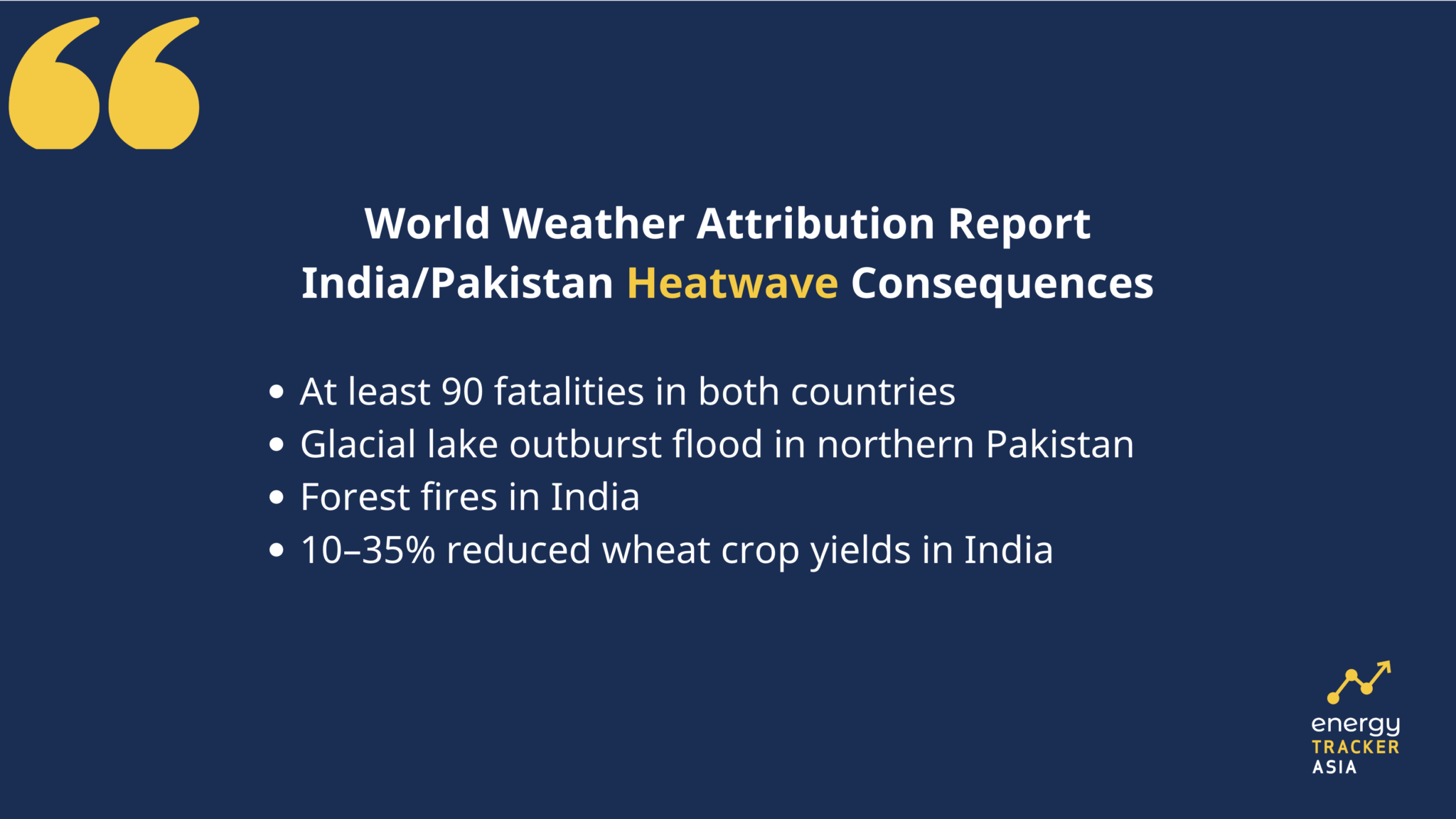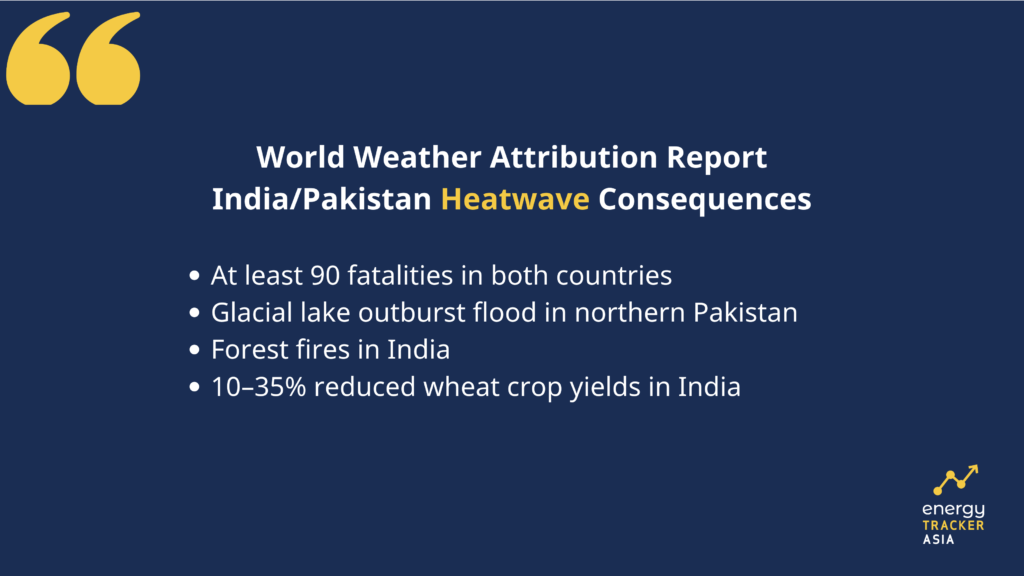 by Viktor Tachev
Viktor has years of experience in financial markets and energy finance, working as a marketing consultant and content creator for leading institutions, NGOs, and tech startups. He is a regular contributor to knowledge hubs and magazines, tackling the latest trends in sustainability and green energy.
Read more