Where Does India Stand in the Energy Transition?
Source: The Aspen Institute
India has one of the largest installed renewable energy capacities globally, but it is also the third-largest greenhouse gas producer in the world. The country's current share of renewable energy does not cover its "fair share" of decarbonisation efforts. Luckily, India is in a position where its GDP is steadily growing, and energy demand is increasing. This is the perfect situation to capitalise on renewables, which will create a stable energy grid and create thousands of skilled jobs.
14 February 2022 – by Eric Koons
Across Asia, countries are working towards decarbonising their economies. For some, this change is more straightforward; for others, it remains a challenge. Several factors dictate the decarbonisation of economies, including GDP revenue, access to renewable energy sources, and a robust economy capable of a rapid energy transition. India, though, is at a crossroads.
For India, many of these factors have finally come together. The Asian giant's economy is improving year on year; infrastructure is rapidly growing, and India now has a burgeoning middle-class. This prosperity, however, requires ever more energy to support India's ongoing development and economic growth. India's power sector has a lot of responsibility.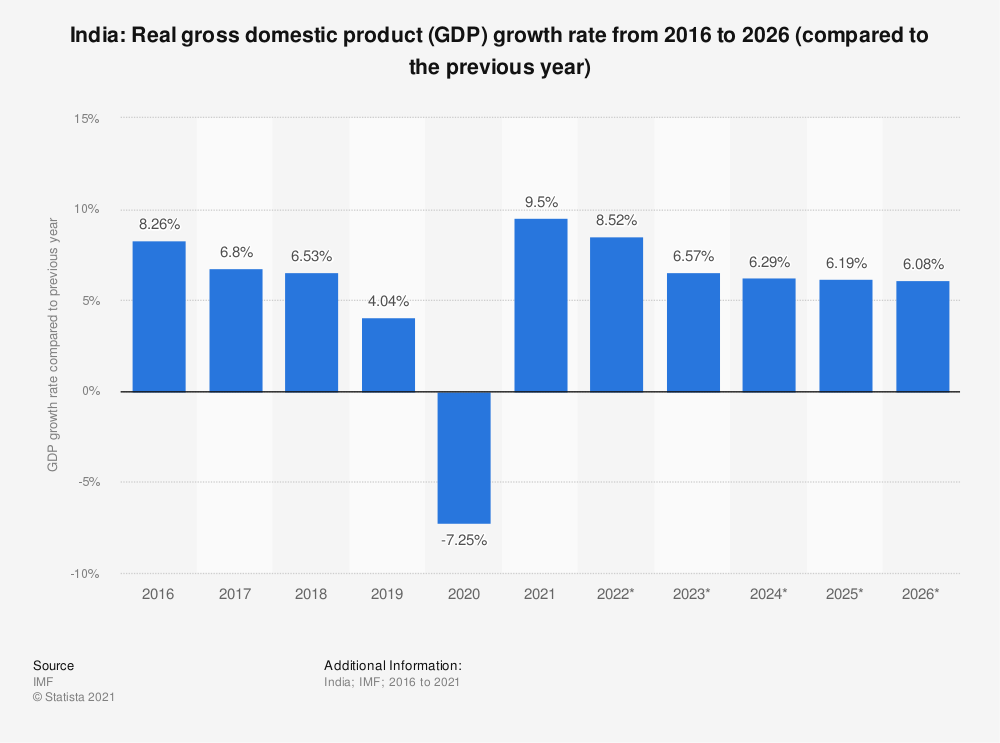 Need for Transition to Renewable Energy in India
Much like China, India is finding itself in a precarious position. To meet its high electricity demands, India has had to increase its reliance on fossil fuels while still developing its national grid to cope with expected surges in power demand.
What is the Rank of India in Energy Transition Index?
India ranked 87 out of 110 countries in the Global Energy Transition Index (ETI), a benchmark by the World Economic Forum.
Current Decarbonisation Progress
That being said, India is trying to meet global decarbonisation goals. Metrics suggest that it is one of the few nations almost on track to meet the 2°C limit set out in international agreements. However, it is far below reaching its "fair share [decarbonisation] target on the other side of the coin". Reaching the 2°C limit is a great start, but India needs to focus on reducing its emissions equal to what it produces to really make an impact and take energy efficiency measures. And as the world's third-largest emitter, India's energy transition is critical to global goals.
Clean Energy vs Fossil Fuels
Today, India's share of clean energy is continuously encroaching on the fossil fuel sector. The country has one of the largest installed capacities for low-carbon power and plans to expand rapidly. As of 2019, 38% of India's grid consisted of non-fossil-fuel sources. This was responsible for almost a quarter of the country's power, with hydro and nuclear making up its bulk. Part of this is related to the government's plans to capitalise on high base-load power for its booming infrastructure development. But India still needs to increase its renewable energy capacity and solar power projects in the energy sector.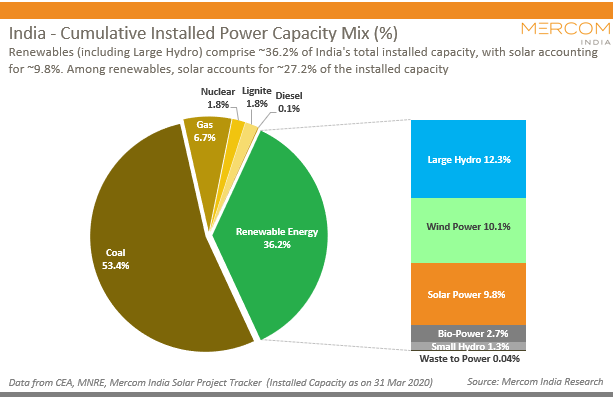 India's Energy Transition Progress is Lacking – Currently
However, the energy transition in India is not as clear cut as the numbers would suggest. "This progress is largely due to the massive reforms across the Indian energy and power sectors in the last decade," explains Maria Pastukhova, a senior policy advisor at E3G, a climate change think tank. "Including various incentives for renewable energy resources. Statistics paint an impressive picture of India's performance. But it is tainted by a closer look at the quality of energy services."
In addition to an unstable grid, electrification rates and energy access in rural areas of India are not what they seem. According to Pastukhova, the bar is set relatively low for community inclusion in government electrification reports. "A village already counts as 'electrified' if public buildings and 10% of households have access to electricity," states Pastukhova. "Meaning that energy poverty remains a major issue for large population groups."
Furthermore, the instability of the grid has led to rising energy prices. This works against variable renewable energy sources like solar and wind—both unable to produce high base-load power like fossil fuels and hydro. Yet, India's inefficient power grid presents a rare opportunity for a complete overhaul.
Opportunities for Sustainable Growth – India's Energy Outlook
India's opportunities for growth are plenty, but it must begin planning and acting. Similarly, Jonathan Kay, writing for the Carnegie Endowment for International Peace, places reform high on India's priorities list. "Reforming now—while there is still time and flexibility to plan for high shares of renewable energy rather than simply react to an imminent crisis of curtailment—would let India not just continue the meteoric growth of renewables but accelerate it."
Despite its national grid's shortcomings and insufficient electricity generation capacity, India has shown willingness in installing renewable and low-carbon power options to fulfil India's energy demand. However, building capacity is paramount if the country is to meet its Nationally Determined Contribution (NDC) of 500 gigawatts of renewable energy.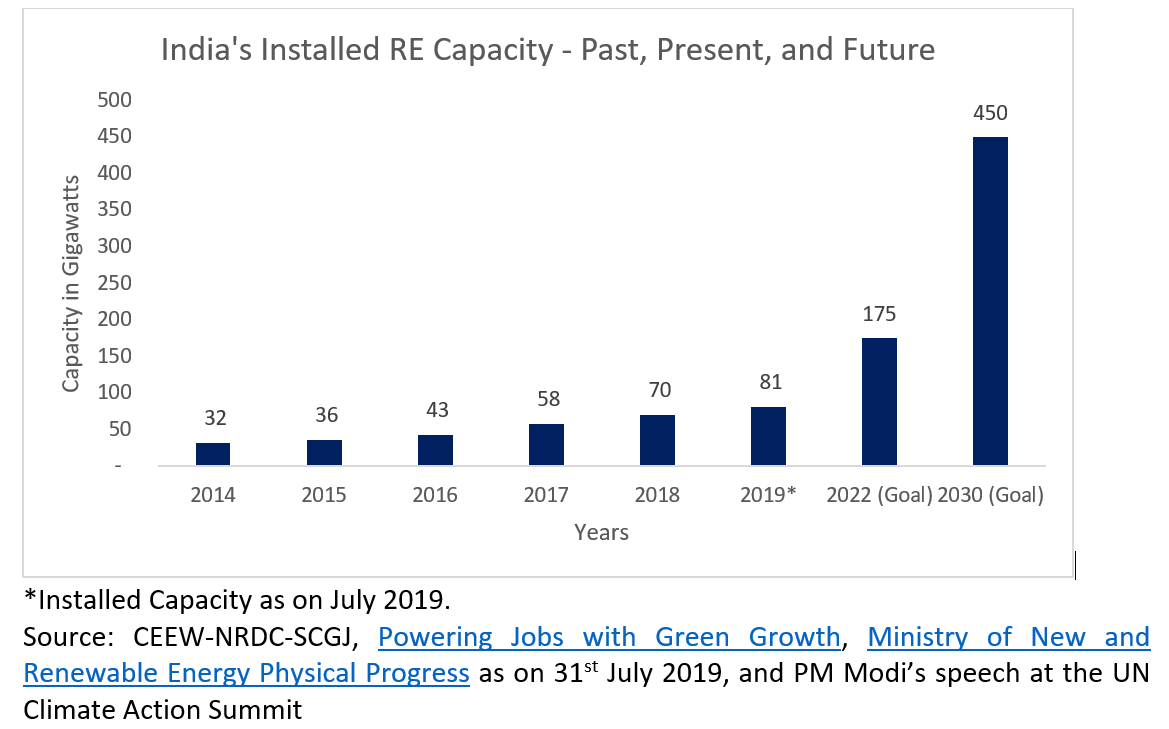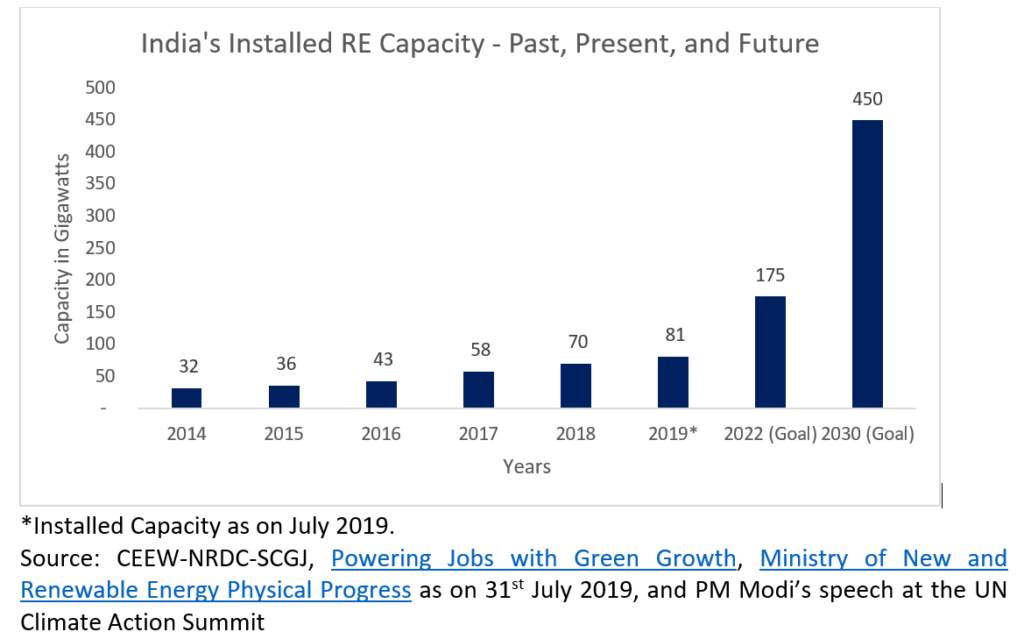 In practice, there are only two barriers to India's energy transition. Firstly, sourcing financial support for energy transition and renewable energy programmes. Secondly, not succumbing to the cost-efficient but carbon-intensive fossil-fuel lobby.
Energy production goes hand in hand with economic growth, and now more than ever, it needs to be clean. In other words, India's continuous development is driving energy demand, meaning the country must transition away from dirty fossil fuels.
Energy Transition in India – Benefits
The energy transition in India will create a cascade of benefits like jobs, grid stability and energy independence. A renewable-centric economic reform could also sow seeds for an Environmental, Social, and Governance (ESG) movement. Ultimately, this would see India transform into a beacon for sustainable development.
Go further with Energy Transition
This article is part of our global energy transition guide.
We will discuss more related topics in the following articles, such as the energy transition fund.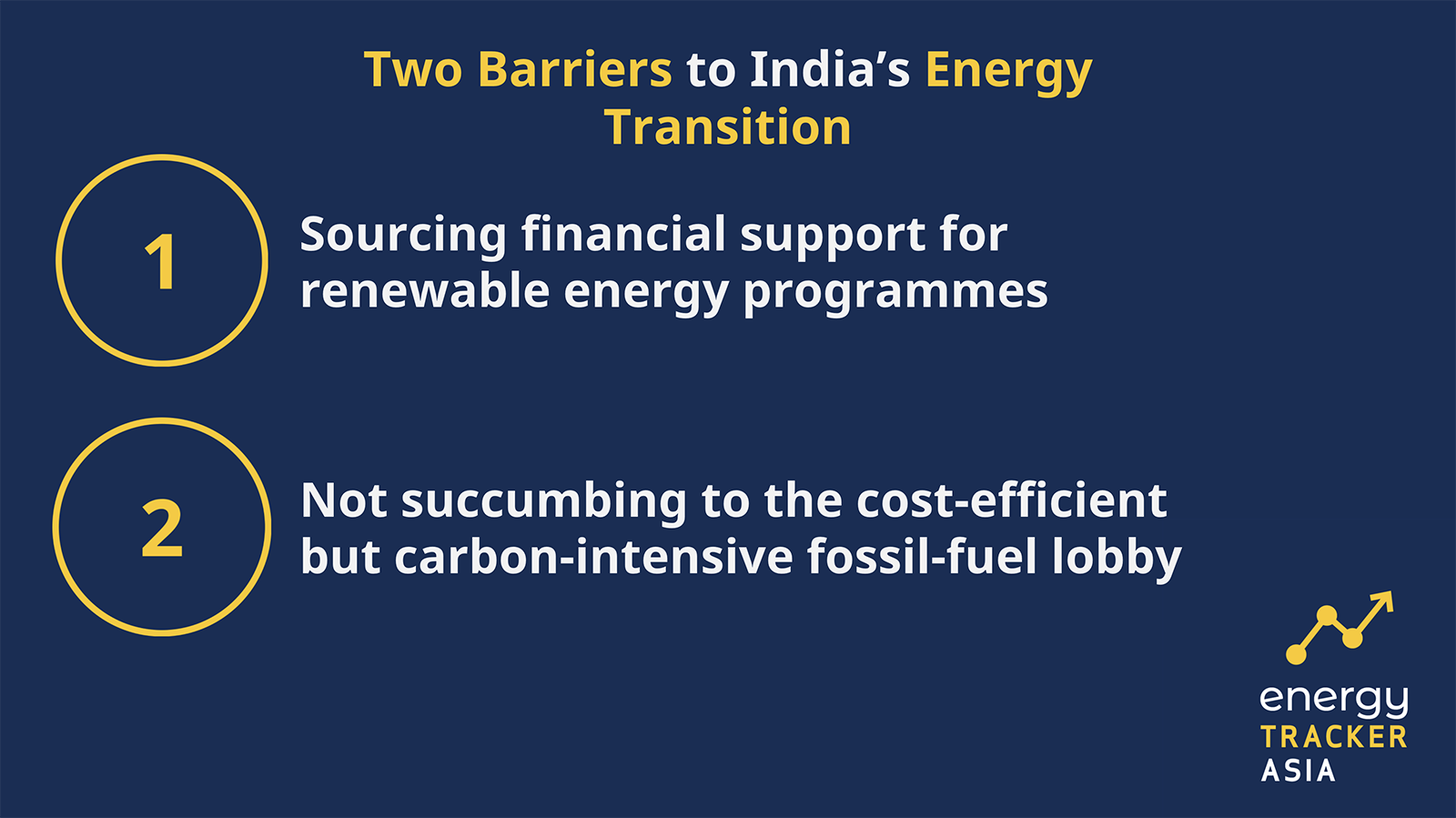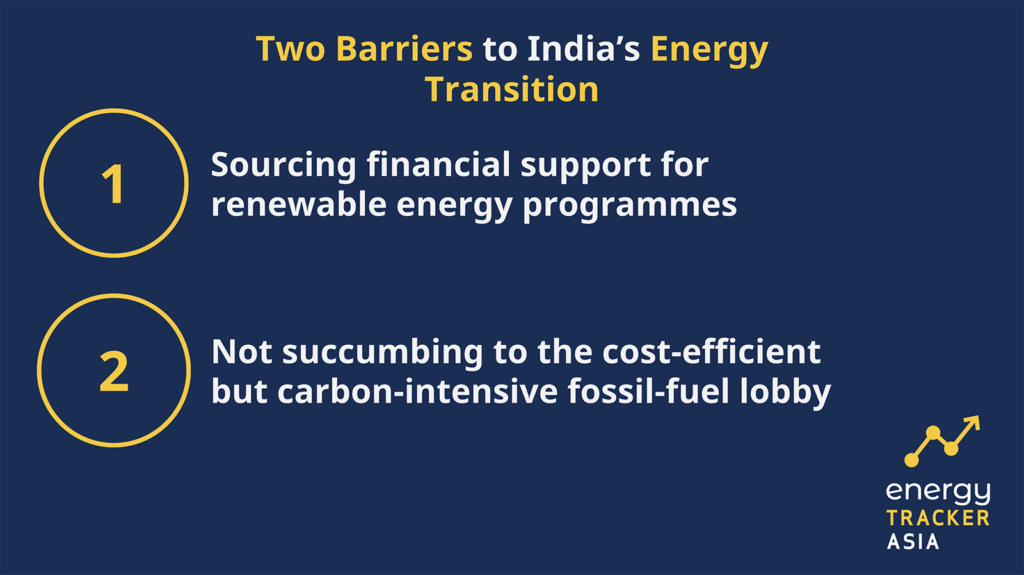 by Eric Koons
Eric is a passionate environmental advocate that believes renewable energy is a key piece in meeting the world's growing energy demands. He received an environmental science degree from the University of California and has worked to promote environmentally and socially sustainable practices since. Eric's expertise extends across the environmental field, yet he maintains a strong focus on renewable energy. His work has been featured by leading environmental organizations, such as World Resources Institute and Hitachi ABB Power Grids.
Read more