Renewable Energy in Vietnam at the Start of 2021 and Beyond
16 February 2021 – by Viktor Tachev
Last updated on 22 July 2021
The next "Asian miracle" or "the next China" are just some of the many ways Vietnam's rise is being referred to. Throughout the past two decades, the local economy's GDP growth has ranged between 5.2 – 7.5% per year. As a result, so have the country's power consumption needs.
The daily electricity consumption during the first few months of 2020 rose 7.5% compared to the same period in 2019, according to data from the National Load Dispatch Centre. According to statistics, they will reach 8% per year between the period of 2021 – 2030.
To address the growing electricity needs, Vietnam has significantly diversified its energy mix. The focus from now on is renewable energy.
The Growth of Renewable Energy in Vietnam
The country currently exploits all renewable sources, including biomass, solar and wind power, and hydroelectricity. The latter holds over 40% of the total national renewables share.
Solar power capacity jumped from 86 MW to 4.5 GW in just a year and a half (2018 – June 2019). In 2020, it increased to 6.3 GW. This translates to an annual installation rate of 90W per capita, placing the country amongst global leaders.
Combined with wind power, in just five years, they have grown from essentially zero to 10% of the country's electricity generation. That way, the country met the government's goals ten years ahead of schedule.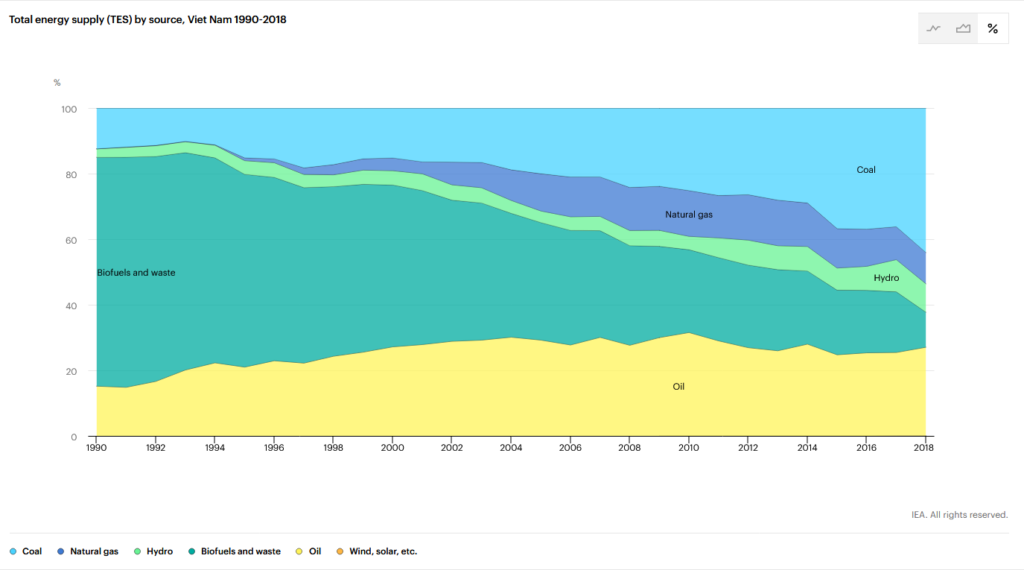 Feed in tariffs (FiT)
In 2018 the government of Vietnam introduced a feed-in tariff that aided the development of wind and solar projects. This FiT policy allowed producers of these renewables to enter into long-term and sometimes large scale contracts with the government for their power generation, and receive above-market energy prices and guaranteed access to energy grids.
These projects were initially confirmed from 1 July 2019 to 31 December 2020 and the Government has yet to announce any news of expansion in 2021.
The Potential of Renewables in Vietnam
Vietnam's Renewable Energy Development Strategy with an outlook to 2050 aims at significantly increasing the proportion of renewables in the total mix. Among the measurable goals in the strategy is reducing greenhouse gas emissions by 25% by 2030 and 45% by 2050.
Solar power & wind power in Vietnam
Furthermore, in April 2020, Vietnam released a new flexible feed-in tariff (FITs) for rooftop, utility-scale, and floating solar installations. The government also laid plans to replace it after its expiration in November 2021 with an auction program for selling solar power to the grid.
Vietnam's immense potential is also boosted by the natural hydro endowments. The country has 4 – 5 KWh/m2 for solar energy and over 3,000 km coastlines with consistent winds (5.5 – 7.3 m/s). Currently, it has the highest energy efficiency rating of all developing countries.
Leading players in the local economy also see opportunities. Vinfast, Vietnam's first car manufacturer, announced its goal to produce 250,000 electric scooters per year going forward. It even introduced its own EV, which is planned to go on sale in Europe and the US.
However, to capitalize on the existing opportunities, the country needs massive investments in renewables and concentrated efforts to tackle the sector's uncertainty.
Advantages and Challenges in front of Vietnam's Renewable Energy
Vietnam's heavier focus on renewables will offer the prospect of a less expensive, cleaner, and more secure energy pathway.
According to McKinsey, the country can save approximately 10% of overall power costs during the next decade. The consultancy also concludes that a well-planned and executed renewable energy policy may reduce particulate emissions by up to 0.6 megatons through 2030. This will also decrease the nitrogen-oxide and sulfur-dioxide emissions, significantly improving the country's air quality (currently at the bottom of the charts in Southeast Asia). It is expected to further lower the reliance on energy imports and ensure a self-sufficient future. According to the report, the transition to renewables will create up to 500,000 additional jobs during the next ten years supporting the country's economic growth.
Renewable energy sector
At the start of 2021, the challenges facing investors in the renewable energy market in Vietnam include low tariffs and high investment costs, un-bankable Power Purchase Agreement (PPA) terms, a complicated regulatory framework, lack of a clear energy pricing policy, lack of qualified human resources, and under-developed supporting industries.
The main obstacle is the much higher cost of capital when compared to the rest of the world. Also, the current PPA for renewable energy shifts the majority of the risk to the projects' developers, further complicating capital raising efforts. Altogether, this limits Vietnam's ability to attract FDIs, thus blocking the access of renewable energy developers.
McKinsey's series of interviews with renewable energy developers looking at Vietnam as a potential destination for new projects concludes that the approval procedure, currently in place, is "confusing, opaque, and circuitous."
How Renewable Energy Transition Affects the Coal Industry in Vietnam
In 2015 Vietnam became a net importer of coal. As history shows, once a country becomes an importer of raw materials for its power grid, the politicians start getting serious about the renewable energy transition.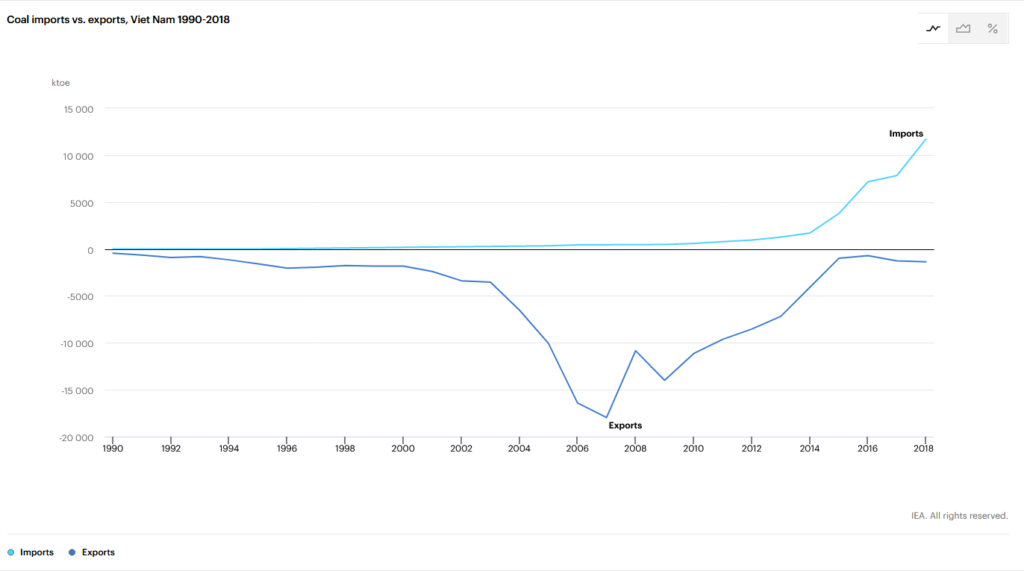 The government's plans to double power generation by 2030 are good news for renewables. Although coal still remains integral to Vietnam's energy supply, constructing a new coal plant isn't an easy task due to regulatory and operational complexities. On average, it takes between 5 to 10 years. Solar farms, on the other hand, can be built for approximately two years.
That is why long-term forecasts predict that renewables will slowly phase coal out and dominate the energy mix by 2050.
For a more insights on Vietnam, check this article.
by Viktor Tachev
Viktor has years of experience in financial markets and energy finance, working as a marketing consultant and content creator for leading institutions, NGOs, and tech startups. He is a regular contributor to knowledge hubs and magazines, tackling the latest trends in sustainability and green energy.
Read more