Global Energy Transition Index – Quantifying Progress
Source: World Economic Forum
The Energy Transition Index is a score of how well a country is doing in their energy transition. It uses current conditions and how conducive the country is for the future adoption of renewables. This provides a way to compare countries and regions, highlighting where we are doing well in the transition and where progress is slow. Ultimately, this tool can be used to identify areas that need funding, support, or incentives to speed up change.
14 February 2022 – by Eric Koons
Who Published Global Energy Transition Index?
The Global Energy Transition Index (ETI) is published by World Economic Forum (WEF) to quantify the global change to renewable energy. It provides a numerical value for how well a country is doing in their transition to renewable energy and also helps in developing energy transition roadmaps.
Before diving into a deeper discussion on the World Economic Forum Energy Transition Index ranking, it's essential to understand the current energy transition system performance and global energy system. Due to a strong baseload capacity, subsidised costs and high profitability, fossil fuels have long been the de-facto energy source. However, the physical impacts of fossil fuels are compounding.
Impacts of Fossil Fuels on both the Global Economy and Energy Security
These impacts have direct consequences on the environment, peoplebusiness and future energy system. As a result, experts predict climate change could reduce global economic output by 14% by 2050, equaling USD 23 trillion. To avoid the enormous costs, countries need to switch their energy systems from fossil fuels to renewables earnestly. In other words, this is the energy transition.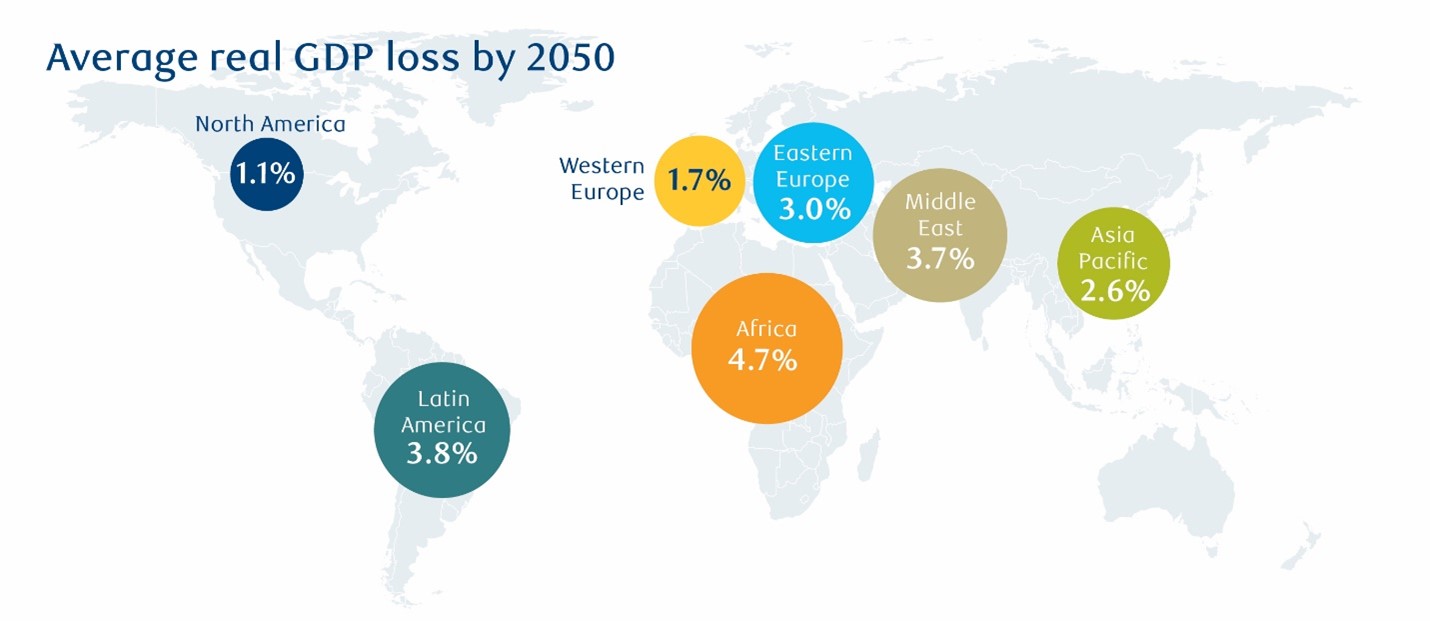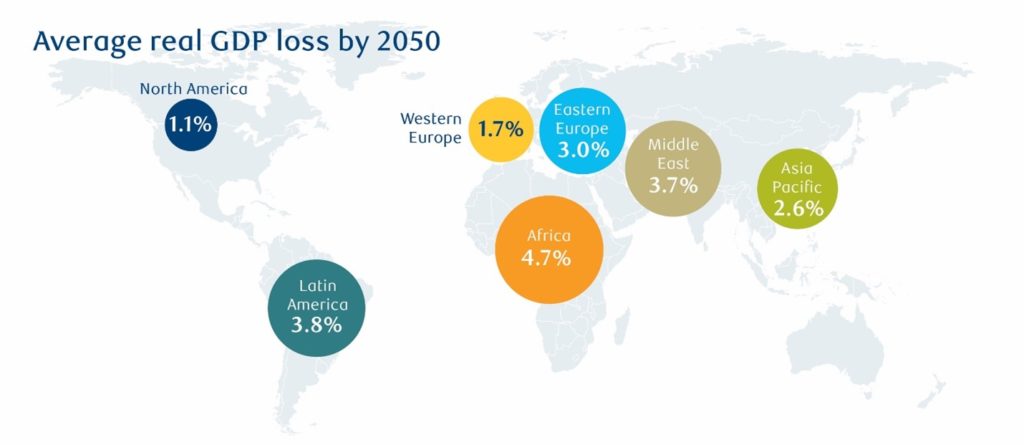 What is the Energy Transition Index (ETI)?
The WEF developed the comprehensive Energy Transition Index in 2018 to measure national energy transition progress. The Index benchmarks 115 countries based on their current energy system performance and preparedness for the ongoing transition. This is quantified by 39 indicators used to score countries on a scale of 0 to 100, with the indicators split into two categories: system performance imperatives and transition readiness.
System Performance Imperatives
The "System Performance Imperatives" review how well a country's current energy system is performing across three main—equally weighted categories. An effective energy transition, and energy system, is balanced between the three categories.
The ability to support economic development and growth
Universal access to a secure and reliable energy supply
Environmental sustainability across the energy value chain
Transition Readiness for Mature Energy Systems
"Transition Readiness" looks at the environment in the country and if it is promoting and ready for renewable energy systems. As a result, this often takes the form of a stable business environment, favourable policy, or incentives for innovation. It consists of six categories:
Capital and investment
Regulation and political commitment
Institutions and governance
Infrastructure and innovative business environment
Human capital and consumer participation
Energy system structure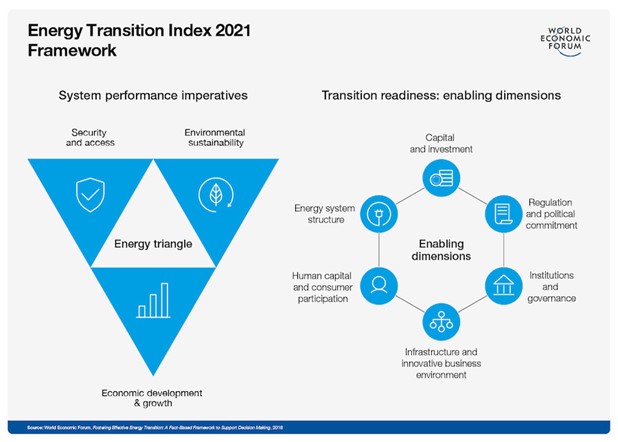 What is a Successful Energy Transition?
These categories and indicators work together to score how well each country meets the overarching definition of a good energy transition. In the same vein, WEF defines an effective energy transition as "A timely transition towards a more inclusive, sustainable, affordable and secure energy system that provides solutions to global energy-related challenges while creating value for business and society, without compromising the balance of the energy triangle."
Which country has topped in Global Energy Transition Index Ranking?
In WEF's 2021 Energy Transition Index report, 92 countries have increased their score over the past decade, but only 13 countries could make steady gains. Additionally, the speed of the energy transition has been faster in emerging economies, but significant gaps remain. Consequently, this raised concerns about the efforts from developed economies towards reaching common goals. However, it has also renewed hope that the goals agreed upon at COP26 could help see a faster, more significant shift in the energy transition.
Where does Asia stand in the World Economic Forum Energy Transition Index?
Unfortunately, Asia is still below the world average Energy Transition Index in every subcategory. Ultimately, Asia has an overall Energy Transition Index of 54.77, compared to the world average of 59.35.
In 2021, Singapore topped Asia, with a ranking of 67, but several countries brought down the region. Namely Brunei Darussalam, India, Nepal and Bangladesh. India, the regional powerhouse, is still severely lacking in several essential areas of its energy transition.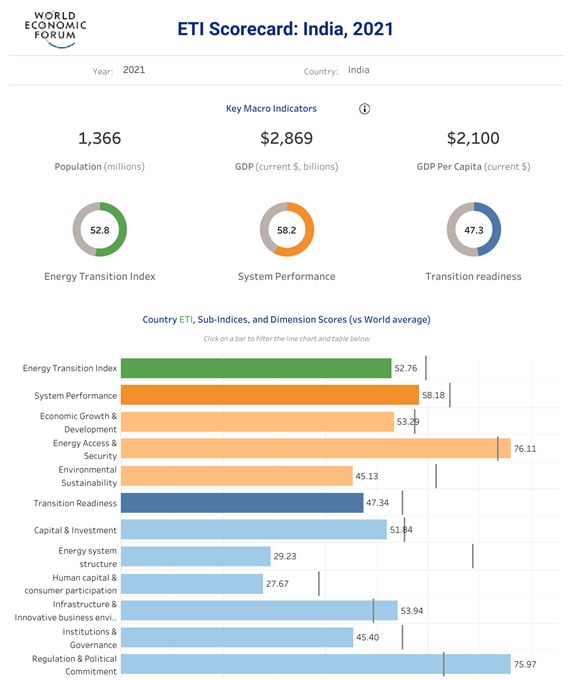 Why does energy transition have to happen on a global scale?
Ultimately, as climate change is a global issue, each region must pull its own weight. As climate change intensifies by the year, carbon emission reductions and meeting the sustainable development goals are a must. The global energy transition plays a fundamental role in this change.
Above all, this is achievable, with research consistently backing a transition. "Renewable energy can supply two-thirds of the total global energy demand," wrote the authors in a study published in the journal of Energy Strategy Reviews. "And contribute to the bulk of the greenhouse gas emissions reduction that we need between now and 2050 for limiting average global surface temperature increase below 2°C."
A global issue like climate change requires a global solution. And above all, the energy transition underway needs to be backed globally for a rapid and efficient rollout. It guarantees a better future in economics and one with fewer climate-related disasters. The Energy Transition Index provides an insight into how the world is progressing towards this future—highlighting laggards, those doing well, and those who need more support.
Go further with Energy Transition
This article is part of the comprehensive energy transition guide.
We will discuss more related topics in the following articles, such as the energy transition in Singapore.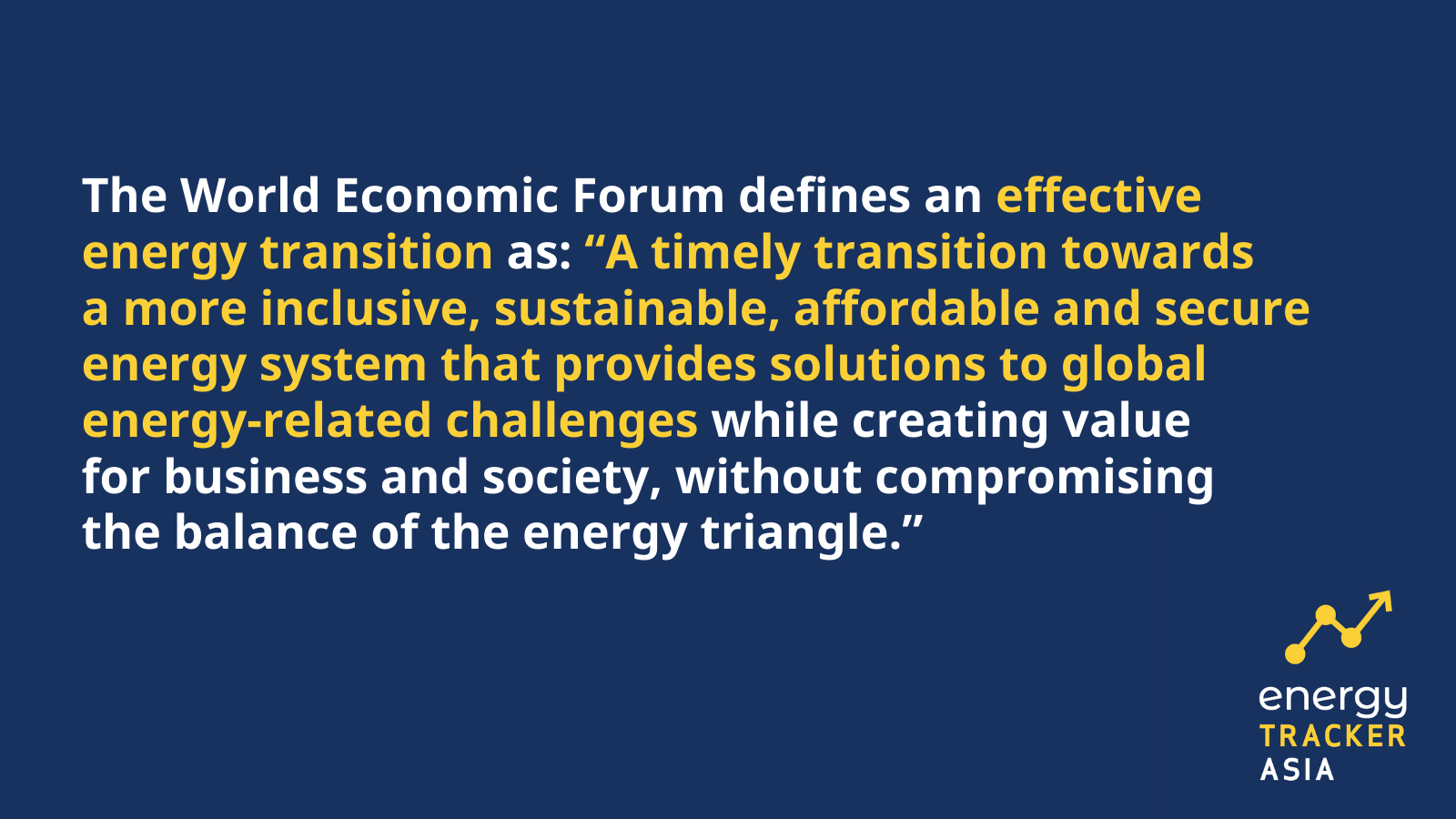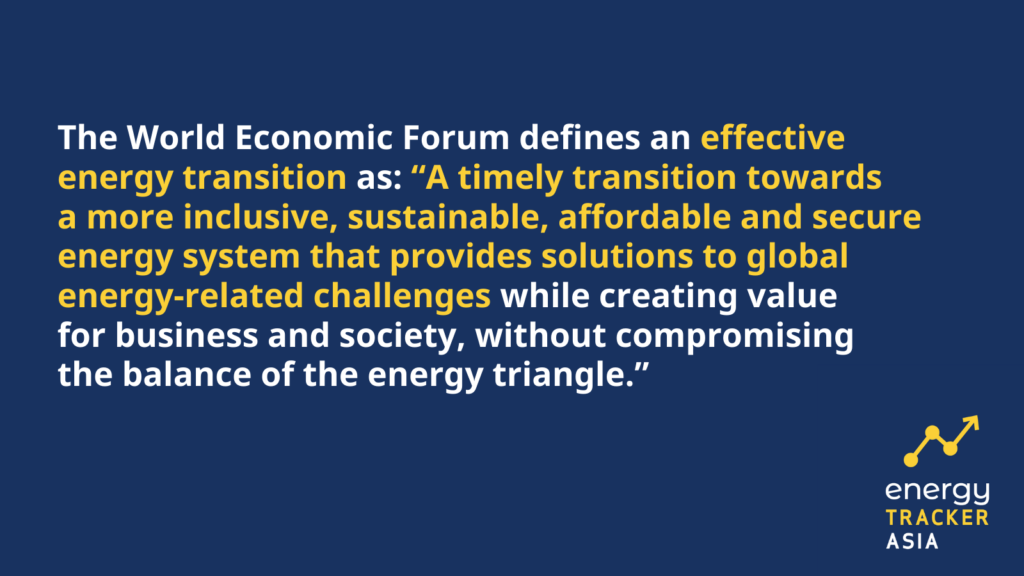 by Eric Koons
Eric is a passionate environmental advocate that believes renewable energy is a key piece in meeting the world's growing energy demands. He received an environmental science degree from the University of California and has worked to promote environmentally and socially sustainable practices since. Eric's expertise extends across the environmental field, yet he maintains a strong focus on renewable energy. His work has been featured by leading environmental organizations, such as World Resources Institute and Hitachi ABB Power Grids.
Read more