Renewable Energy Progress of Microsoft, Google and Apple
The tech sector should be at the forefront of the battle against climate change. Yet, only a handful of companies are doing enough. Currently, all except Apple are neglecting their supply chain emissions.
15 November 2022 – by Viktor Tachev
Companies like Google and Microsoft have shown significant renewable energy progress over the years. This has put them among the pioneers of the green transition. However, Greenpeace's latest report reveals that while those companies are actively decarbonising their operations, their supply chain emissions remain high. In fact, this is a widespread problem among the global tech sector and across Asian suppliers. Without addressing the decarbonisation efforts of their suppliers, tech giants face massive reputational and financial risks.
The Renewable Energy Targets of Tech Giants like Apple, Google and Microsoft
According to estimates, electricity use from the global tech sector will grow by over 60% between 2020 and 2030. The key question is how companies will meet this demand growth. Their energy targets can give us the answer.
Industry leaders, including Apple, Microsoft and Google, were among the first to commit to 100% renewable energy for their operations.
In 2017, Google achieved 100% renewable energy for its global operations thanks to clean energy purchases. The company now aims to operate on 24/7 carbon-free power by 2030.
Considering the purchase of renewable energy credits, Microsoft has been 100% powered by renewable electricity since 2014. In 2020, the company pledged to reduce emissions (Scope 3 included) by over 50% by 2030. Microsoft now plans to have 100% of its electricity consumption, 100% of the time, matched by zero-carbon energy purchases by 2030.
Apple has been powering its global operations with 100% renewables since 2018. The company is also actively working to build renewable energy infrastructure worldwide. Furthermore, Apple is dedicated to going 100% carbon neutral for its supply chain and products by 2030. It remains the only major tech company with such plans to date.
However, aside from those three companies, the decarbonisation progress from other tech brands isn't as notable.
Behind Renewable Energy Targets: The Real Progress of Microsoft, Google and Other Tech Giants
The latest Greenpeace report reveals that while many tech brands have made progress towards "greening" their operations, their Asian supply chains remain extremely polluting due to significant reliance on fossil fuels.
After analysing 14 of the largest suppliers to major consumer electronics brands in Asia, the authors found that only four have a renewable energy usage rate of over 10%. The median rate for the 14 suppliers as of 2021 was just 5%. The renewable energy ratios of ranked suppliers are way too low to contribute to the energy transition in East Asia and their clients' climate commitments.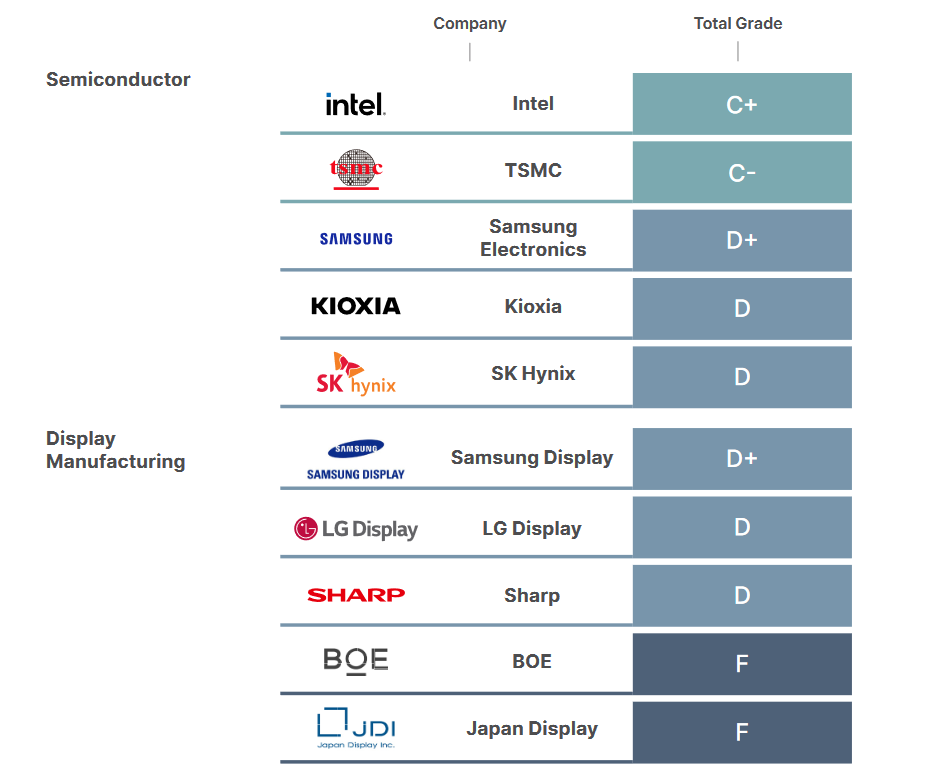 The semiconductor business segment, where emissions are rising while renewable energy usage remains low, is a significant reason for the poor results. Since 2019, the emissions of leading semiconductor manufacturers have increased as follows: Samsung Electronics (26.1%), TSMC (17.5%), Intel (13.5%) and SK Hynix (11.7%). Furthermore, in 2021, TSMC and SK Hynix reported clean energy usage rates of just 9% and 4%.
Currently, 77% of the electronics industry's emissions are generated from the supply chain. The poor decarbonisation progress of suppliers is why major tech giants struggle to meet their targets. In 2021, just a year after Microsoft pledged to cut Scope 3 emissions by 50% by 2030, its emissions increased by 23%. Amazon's supply chain emissions in the same year increased by 21%.
The worst performer among all the tech giants is Samsung Electronics. This resonates with the findings of the previous Greenpeace report.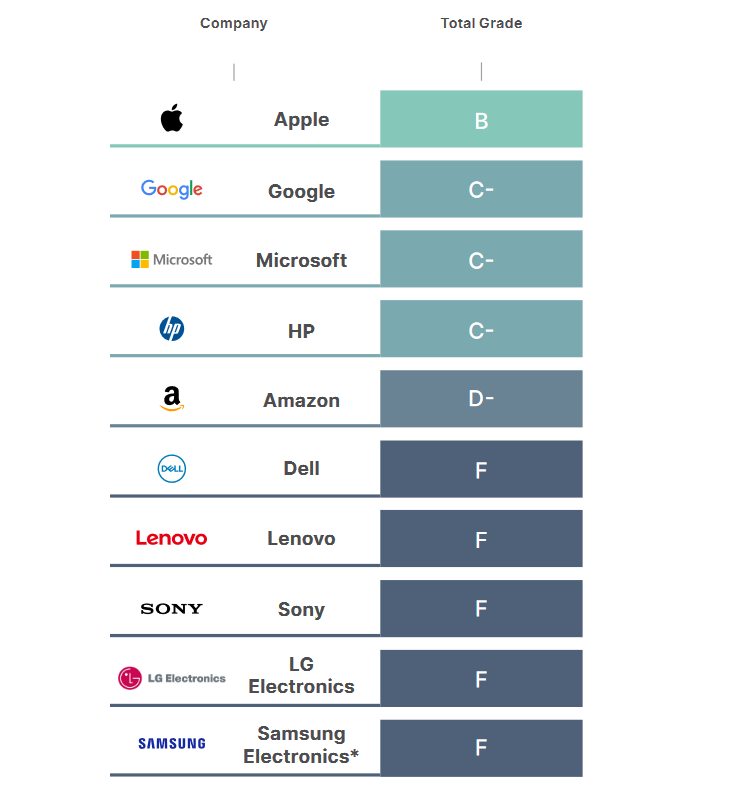 Lack of Renewable Energy Progress Across Tech Giants and Their Suppliers Bears Reputational and Financial Risks
As the main engine behind the world's progress, the tech industry has the moral duty, resources and influence needed to lead the global decarbonisation journey. And while many companies have done that in-house, there is very little progress when it comes to their supply chains.
To date, no major consumer electronics company has achieved 100% renewable energy across its supply chain. Moreover, Greenpeace points out that the biggest consumer electronics brands continue to sign contracts with suppliers with low renewable energy usage rates. These same brands have also demonstrated low transparency around their supply chain emissions.
The continued failure to address these issues bears financial and reputational risks.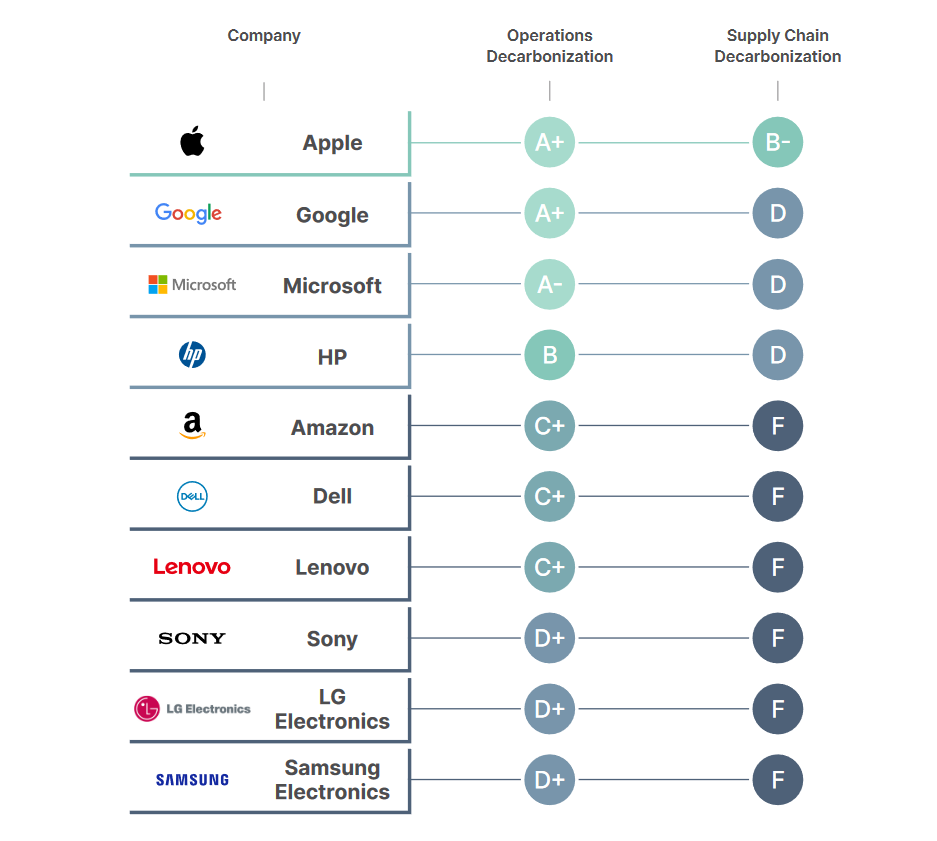 First, companies without significant decarbonisation progress risk losing their contracts with top brands dedicated to cleaning up their supply chains, like Apple, for example. Although Apple hasn't disclosed detailed energy and emissions data for its supply chain, it recently made yet another call for global supply chains to decarbonise by 2030. This should serve as a wake-up call for Apple's suppliers. The company is actively sourcing suppliers based on their commitments to 100% renewable energy by 2030. As a result, companies that fail to act may be unable to keep up with the transition.
Next comes the reputational aspect. Companies that fail to deliver on their operational and supply chain decarbonisation will fall under public scrutiny. Samsung and Canon, for example, have continuously been targeted by climate activists for their fossil fuel obsession. In the conscious-consumer era, eroding public trust can lead to a loss of market share and irreparable brand damage.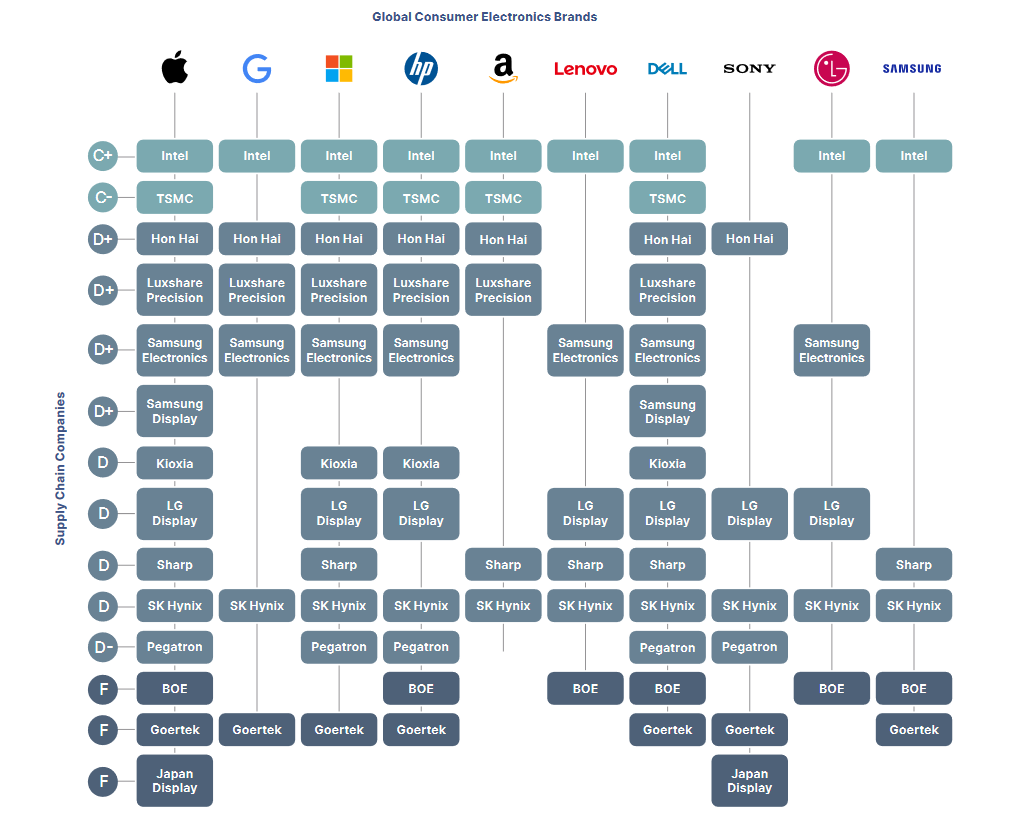 Suppliers are Responsible, But Tech Giants Should Drive the Change
Despite having ambitious renewable energy targets for their operations, companies like Amazon, Microsoft, Google and Sony continue to rely heavily on fossil fuels across their supply chains. Furthermore, most companies with climate targets covering their supply chains lack pathways on how they will achieve them.
The only company to be championing both aspects of decarbonisation so far is Apple. It also uses its influence to push policymakers across the countries it operates in to develop renewable energy friendly policies. Alongside Google, it is also one of the two consumer electronics brands that have promised financial support for suppliers that increase their renewable energy usage.
Other tech giants should follow their example by providing incentives and support for their suppliers to transition to renewable energy.
Furthermore, companies should pursue high renewable energy ratios from high-impact sources, such as PPAs and on-site or owned generation similar to Apple, Microsoft and Google, instead of renewable energy credits.
The decarbonisation of the tech industry and Asian suppliers would succeed only if it benefits from a collective effort. First, consumer electronics brands need to target 100% renewable energy across the supply chain by 2030 and help suppliers in their transition. On the other hand, the latter has to set up its ambitious net zero and 100% renewable energy targets by 2030. Otherwise, one of the most progressive industries will remain among the biggest climate laggards.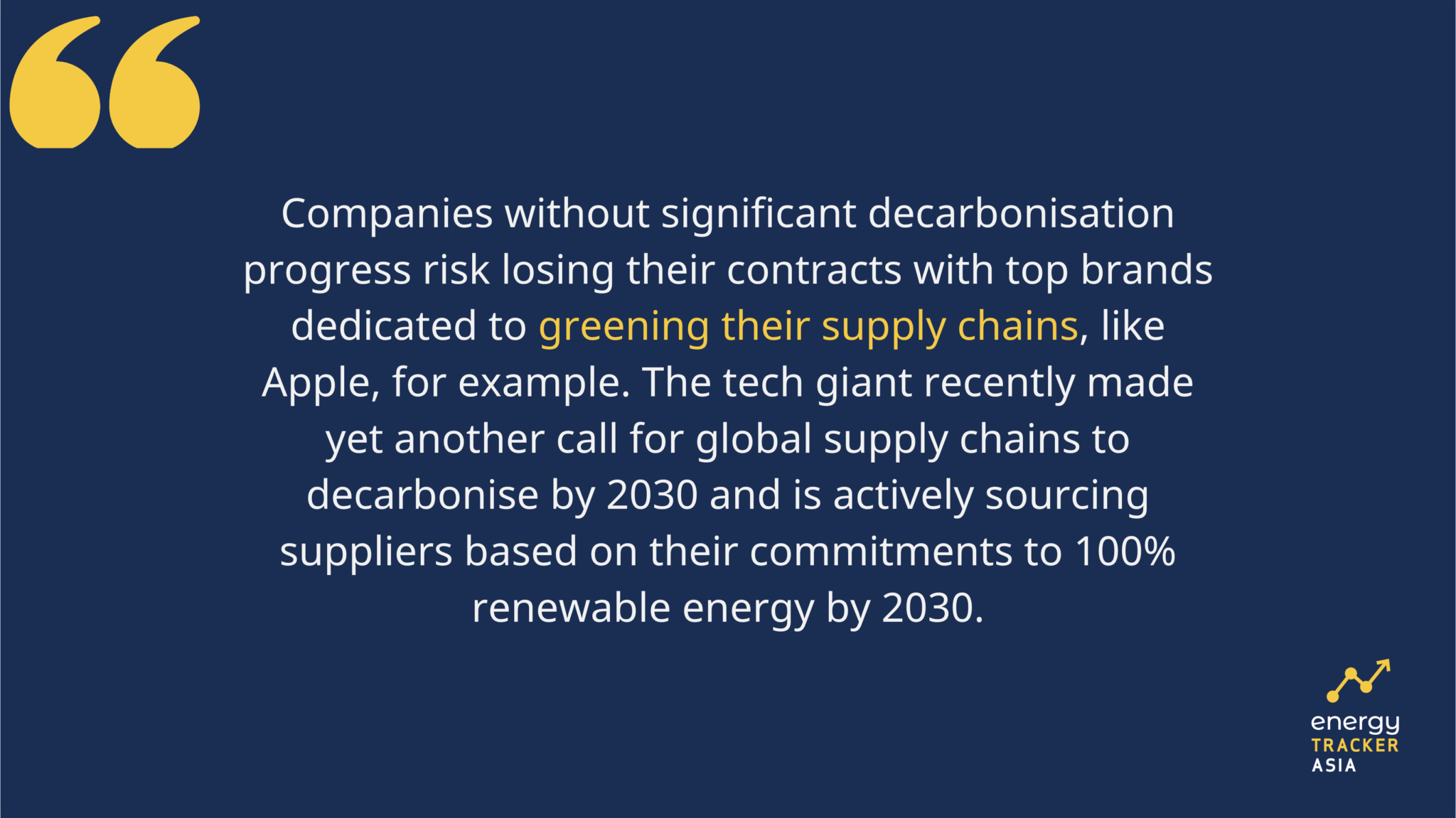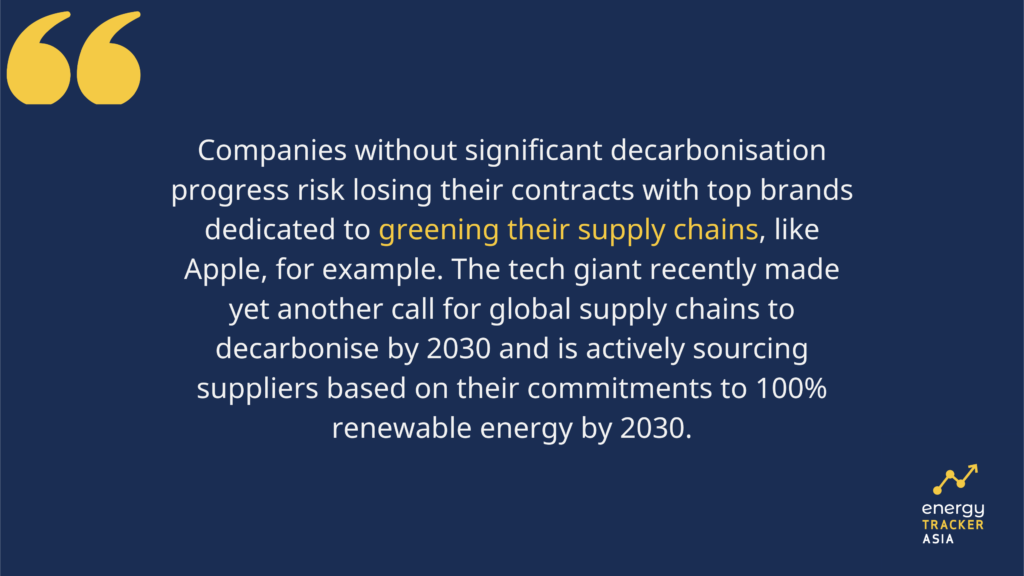 by Viktor Tachev
Viktor has years of experience in financial markets and energy finance, working as a marketing consultant and content creator for leading institutions, NGOs, and tech startups. He is a regular contributor to knowledge hubs and magazines, tackling the latest trends in sustainability and green energy.
Read more