Greenwashing Ads: Fossil Fuel Giants Dominate Social Media
Twin Design / Shutterstock.com
Social media platforms are proving the perfect environment for the oil and gas industry to run greenwashing campaigns. Without swift and adequate action, tech companies risk becoming complicit partners in delaying and derailing necessary climate action.
16 March 2023 – by Viktor Tachev
A new report by Stop Funding Heat finds that online platforms and the practice of running greenwashing ads are becoming the dominant tool in the arsenal of the fossil fuel industry. Using advertising is the latest strategy of the oil and gas lobby to extend the life of fossil fuels and continue doing business as usual. Since social media platforms don't do much to prevent greenwashing ads from their users, the ads are becoming an invaluable resource for the fossil fuel industry.
Oil and Gas Giants: Environmental Claims and A History of Profiting From the Climate Crisis
Fossil fuel companies have known about climate change for decades.
It was an internal research paper that first made Exxon's management aware of the impact of greenhouse gas emissions on the climate back in 1982. According to Harvard scientists, the company had predicted climate change through incredibly accurate models in the 1970s.
Exxon even studied how to address the problem but decided against it. Since then, the company has been subject to investigations, lawsuits from different states and growing frustration from activists. The company, on the other hand, describes the campaigns against it as "orchestrated". It also accused those behind them of releasing "flawed academic reports" to stigmatise ExxonMobil.
Other oil companies knew as well. Total became aware of climate change in the 1970s. In 1988, Shell finished an extensive internal report, predicting that global warming from fossil fuels and carbon emissions would cause the greatest changes in recorded history, including rising sea levels and global migration. The study was classified as confidential but resurfaced back in 2018.
But, Exxon, Shell and Total weren't the first and only culprits. The topic of climate change started circulating within the oil and gas niche even earlier. At the Energy and Man industry symposium in 1959, the famous scientist Edward Teller warned the audience about global warming.
After that, the link between fossil fuels and GHG emissions with rising temperatures became a mainstay at oil and gas industry conferences and a key focus area of confidential reports, secret committees and research work.
Choosing Profits Over Climate Change
In 2022, while fossil fuel-dependent countries struggled with high energy prices, oil and gas companies saw record-breaking profits. Some companies even made USD 220,000 a minute at the start of the Russia-Ukraine war. In the past year, these gains have surged even further.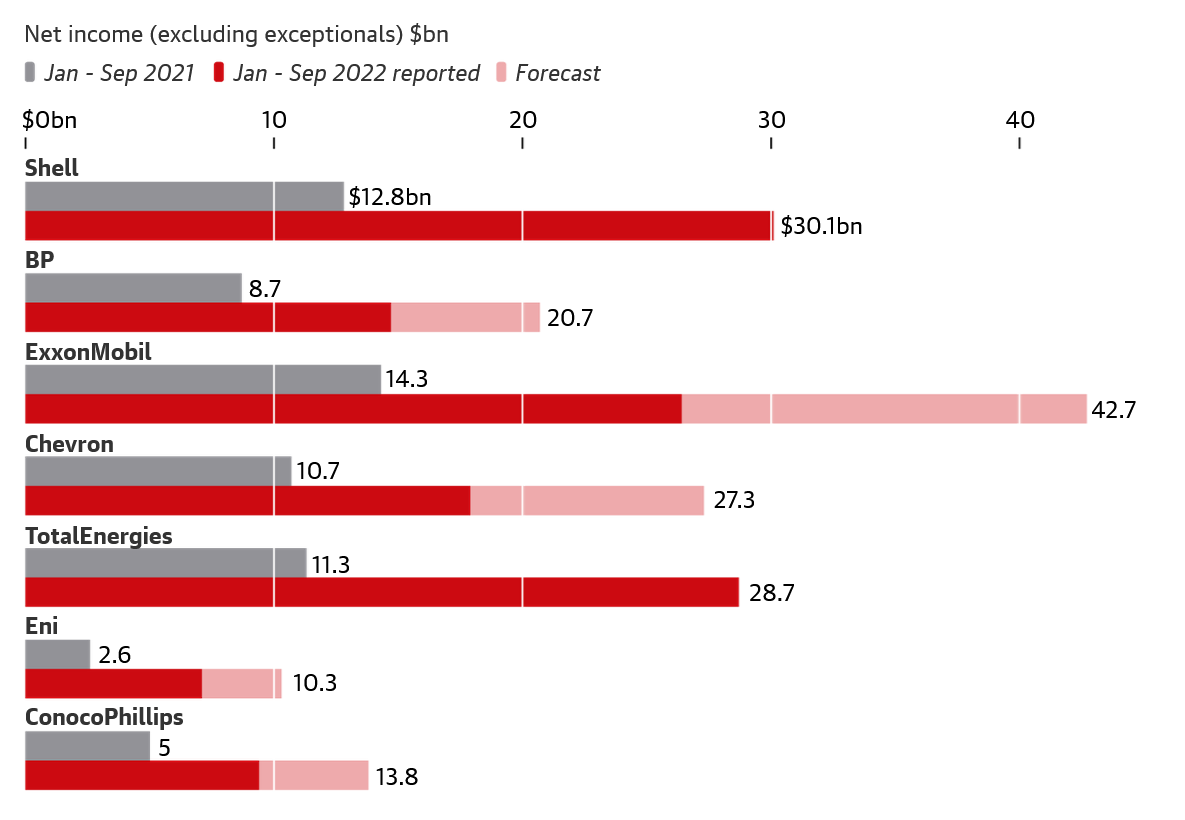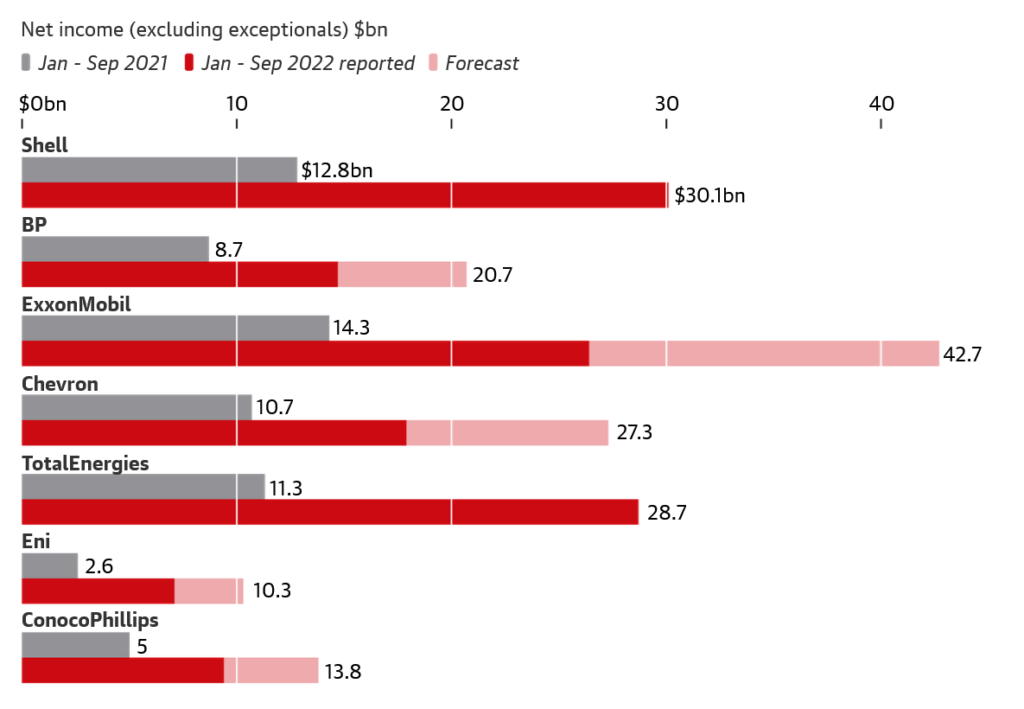 The IEA recognised the soaring profits as a "once-in-a-generation opportunity" for fossil fuel companies to accelerate their decarbonisation activities.
Still, they were found to be investing just 5% of their profits on average in renewables. Their main priority was returning the surplus cash to shareholders and continuing investment in oil and gas extraction.
From Climate Denial to Greenwashing: The Modern Tactics of Fossil Fuel Companies
The industry's greenwashing practices are well documented. Back in 1989, the fossil fuel lobby founded the Global Climate Coalition. While its name might suggest the group would have the planet's future at heart, its goal was to sow climate change doubt.
However, rebuffing climate science and sowing climate doubt became more challenging over time. Fossil fuel companies had to shift their climate change communication approach.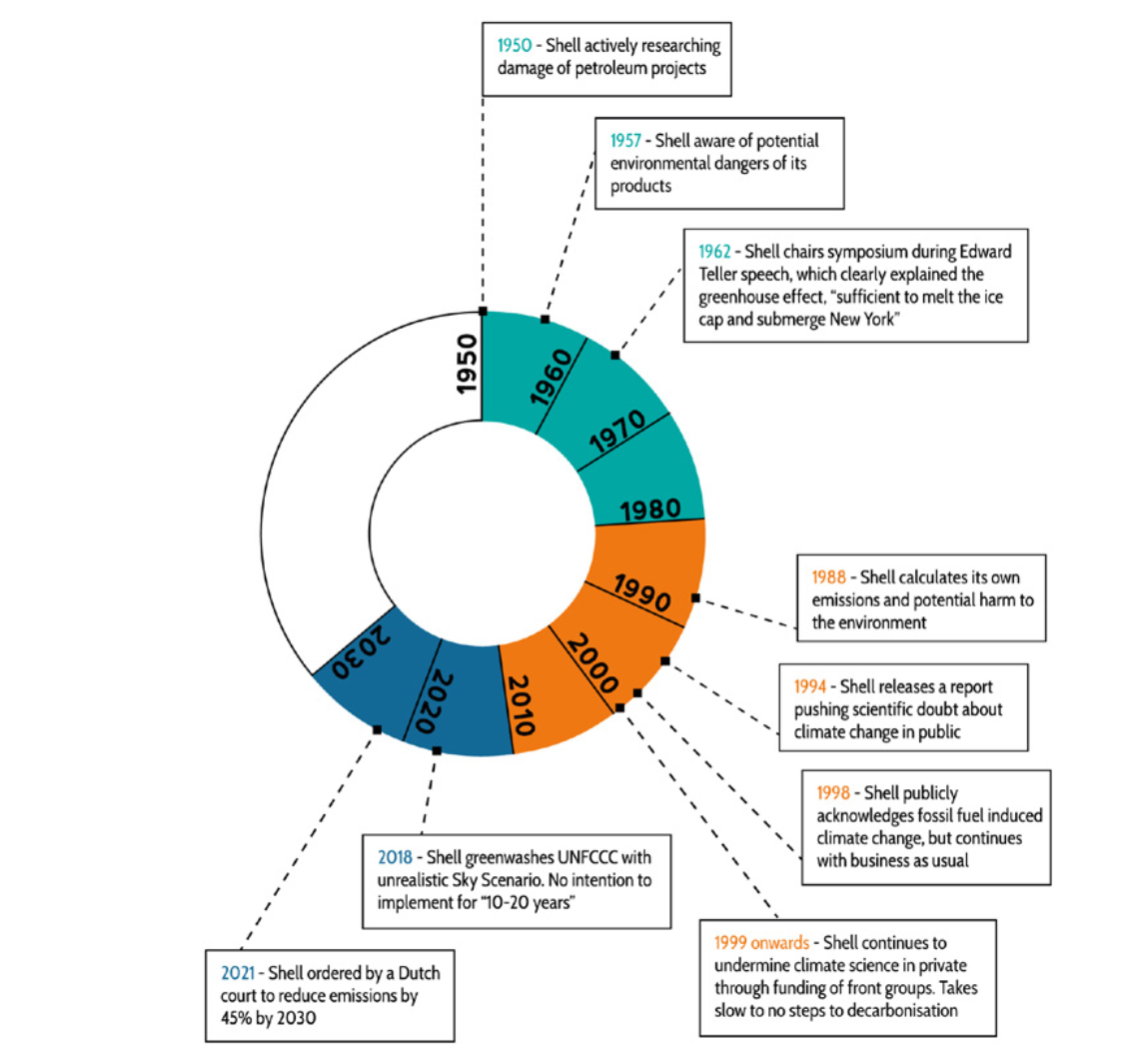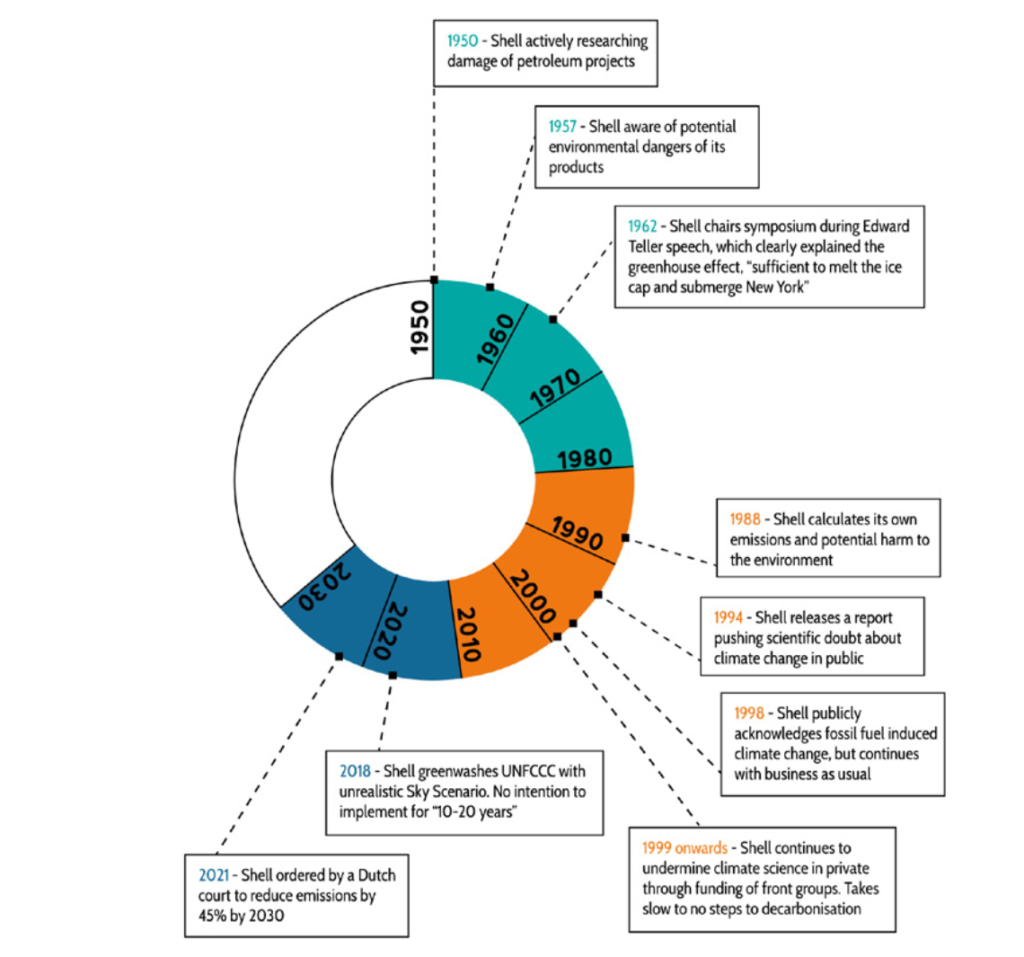 Most oil and gas companies nowadays no longer publicly deny climate science. Instead, they work to portray themselves as positive and proactive on resolving climate change.
According to InfluenceMap, in the three years following the Paris Agreement, five oil companies invested over USD 1 billion of shareholder funds on "misleading climate-related branding and lobbying". Currently, USD 750 million annually is spent on "climate-related communication activities". Exxon, for example, concentrates around 65% of its public communication on green campaigns. Meanwhile, it only invests 8% of its spending in clean energy solutions.
Fossil fuel companies are also accused of employing various other strategies, including:
The Role of Tech Companies in Exacerbating the Problem
With the rise of social media platforms as the new mass communication channel, the greenwashing problem is reaching gigantic proportions.
Companies like Google, Meta, Twitter, LinkedIn, TikTok and Pinterest all sell advertising space and have millions of users. This has turned them into the perfect communication medium for the fossil fuel industry to spread climate misinformation, misleading claims and perform greenwashing.
After analysing the transparency levels of different online platforms for tracking fossil fuel advertising, the Cashing in on Climate Delay: Big Tech's Role in Greenwashing the Fossil Fuel Industry report by Stop Funding Heat finds that Twitter and Pinterest have the weakest policies.
Greenwashing Through Paid Ads and Organic Content
Meta has a reported history of earning millions of dollars from greenwashing ads, including during COP26.
These estimates are likely below the actual amounts received by tech platforms. For example, the Center for Countering Digital Hate found that Google accepted around USD 23.7 million over two years from the world's five largest oil and gas producers for for green advertising published.
In a separate study, InfluenceMap found that over 20% of the ads that appeared when searching 78 climate-related terms were from companies "with significant interests in fossil fuels".
Global Witness found that in the first seven months of 2022, BP more than doubled its spending on misleading environmental claims ads on Facebook and Instagram compared to 2021. Meanwhile, Shell has continued to run ads that greenwash its image. Each ad has also been found to promote a company agenda on climate action.
In the weeks leading up to COP27 and during the conference, the University of Exeter found that fossil fuel companies, petrostates and industry trade groups had spent between USD 3 and USD 4 million on ads on Meta's services.
Furthermore, fossil fuel companies are accused of hiring influencers to improve their corporate brand image on social media.
Paid promotion aside, greenwashers rely on organic content, including social media posts. Some studies estimate that tweets about sustainability from fossil fuel companies, including Exxon, BP, Shell and Chevron, significantly outnumber "business as usual" posts by up to five to one.
How Can Social Media Platforms Address the Problem of Greenwashing Ads?
Tech giants are making bold claims about the importance of taking immediate action against climate change and reaching net zero. Despite this, Stop Funding Heat warns that tech giants are actively supporting the fossil fuel industry in its climate change denial and greenwashing activities. It also notes that all the analysed platforms lacked any mention of greenwashing or fossil fuel misinformation in their policies or sustainability documentation.
This turns tech giants into an ally of the oil and gas lobby. The solution to this is technically feasible and mostly a question of will. According to Stop Funding Heat, the steps that tech companies can take to fight against greenwashing from fossil fuel companies include:
publicly acknowledging the harm of greenwashing,
tackling climate misinformation campaigns,
imposing stricter advertising requirements and banning misleading ads from the fossil fuel lobby,
considering warnings for all content about fossil fuels and
launching a publicly accessible advertising library to store all fossil fuel industry advertisements to improve transparency.
Stop Funding Heat's report also focuses on the growing global regulatory momentum against greenwashing and false advertising by the fossil fuel industry. For example, France has already banned fossil fuel product advertisements, with similar policies also on the way in other countries.
Furthermore, some media outlets have taken their own initiative to end fossil fuel product promotion. If social media companies don't follow suit, they risk becoming the fossil fuel industry's complicit partners in derailing necessary climate action.
Tech Giants as the Decisive Factor
Experts have found that the goal behind fossil fuel companies' greenwashing is to put off their emissions reduction responsibilities for as long as possible and to produce even more fossil fuels in the years ahead.
Expecting them to voluntarily stop greenwashing is unrealistic. But, if social media platforms do their part in ensuring the credibility of the shared information, they can eradicate one of the most effective ways for the fossil fuel industry to continue manipulating public opinion.
by Viktor Tachev
Viktor has years of experience in financial markets and energy finance, working as a marketing consultant and content creator for leading institutions, NGOs, and tech startups. He is a regular contributor to knowledge hubs and magazines, tackling the latest trends in sustainability and green energy.
Read more