Indonesia Bans Coal Exports for January – What it Means for the World
The effect of Indonesia's decision to ban January coal exports ripples through the leading Asian economies. Coal shipment bans from leading exporters are yet another reminder that fossil fuels are a dead end and surface an extensive universe of risks. However, they might prove detrimental in putting the industry to bed.
12 January 2022 – by Viktor Tachev
Not long ago, Indonesia was talking about expanding coal to sate the expanding energy needs of one of Southeast Asia's economic powerhouses. But the country's latest decision to ban coal exports proves that the energy landscape is changing fast. Consequently, coal miners, coal companies, and the coal industry have a lot to be concerned about – not just in Indonesia but also across the globe. It will affect the current market prices of coal and also coal stocks. Indonesian coal miners association didn't welcome this coal export ban by Indonesia.
Indonesia as the Global Exporter of Thermal Coal
Pre-2000's Indonesia's role as a coal exporter was fringe at best. Yet, over the last 20 years, they are second only to China, surpassing even Australia as leading coal exporters. Between 2000-2017, Indonesia's thermal coal exports soared by 547%. Today, by weight, Indonesia is the world's biggest exporter of coal, with shipments culminating to 455 Metric tonnes (Mt) in 2019 and 405 Mt in 2020. All things constant, the International Energy Agency (IEA) predicts Indonesia will remain a coal export heavyweight until 2024.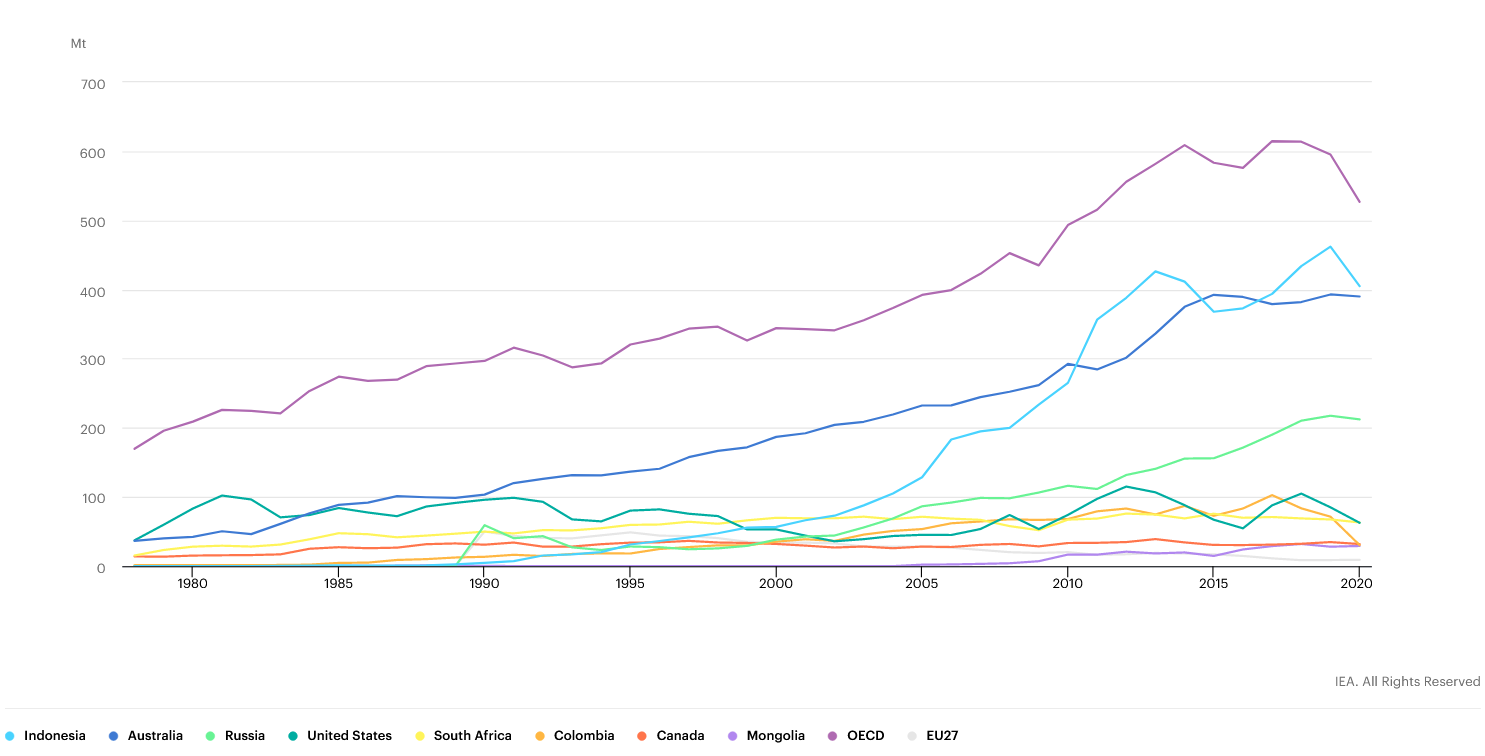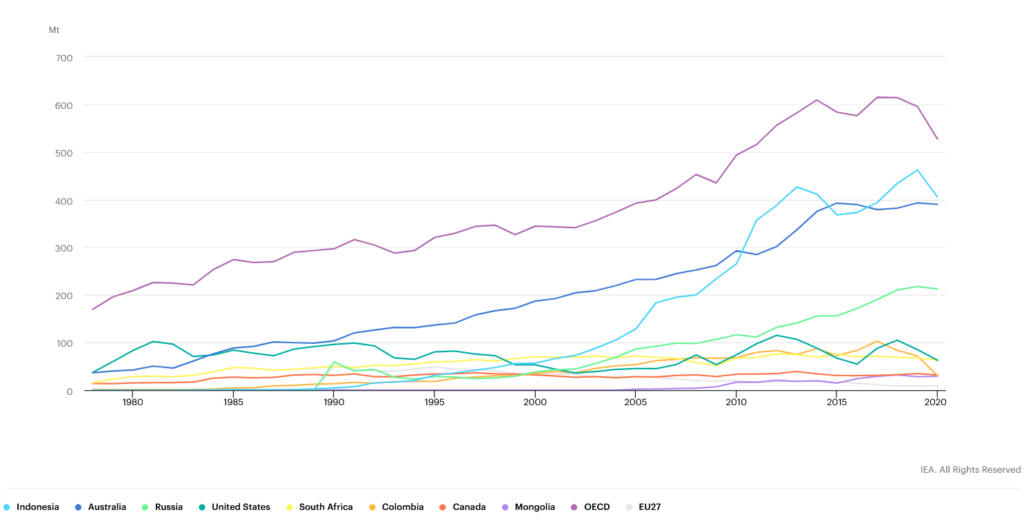 Indonesia Suspended Coal Exports in January 2022 due to Domestic Power Plants Supply Concerns
Starting 2022 with a bang, Indonesia banned its January coal exports after mines failed to meet domestic market obligations and because of domestic power plants supply concerns. This seemingly set off government concerns about potential widespread power outages from growing demand.
However, the move isn't a total surprise. Indonesia has a history of curbing coal exports to prioritise domestic demand. Yet, the drastic measures to completely halt exports left many countries stunned and left the coal industry in Indonesia unnerved.
Indonesian Coal Miners Commit to Meet Domestic Supply
After the ban on thermal coal exports in January, coal miners of Indonesia committed 2.9 mil mt domestic supply. The Indonesian coal mining association (APBI) called the decision "not appropriate." Indonesia's energy ministry (ESDM) said: "The suspension of coal exports will be evaluated and reviewed on realisation of supplies to state-controlled utility PLN and its subsidiaries and other independent power producers in the country."
What the Indonesia Coal Exports Ban Means for Countries Dependent on Indonesian Coal?
Indonesia's ban on coal exports means nothing but more instability for global coal markets and global coal prices. This builds on a volatile year for coal. Prices in 2021 saw the fossil fuel trade for USD 158 per tonne in October but plunged to USD 68 in December.
Firstly, the ban could see countries like China, India, Japan and south Korea – who make up 73% of Indonesian coal exports – face energy price spikes. Soaring coal prices, for example, were part of the reason why blackouts rippled across China in 2021. China is the world's biggest consumer of coal.
Secondly, the ongoing phaseout of coal sweeping across the globe post-COP26 is proving difficult for the industry to handle. Indonesia's export ban means dramatically shrinking the already troubled supply market. As a result, coal prices will experience magnifying erratic price swings.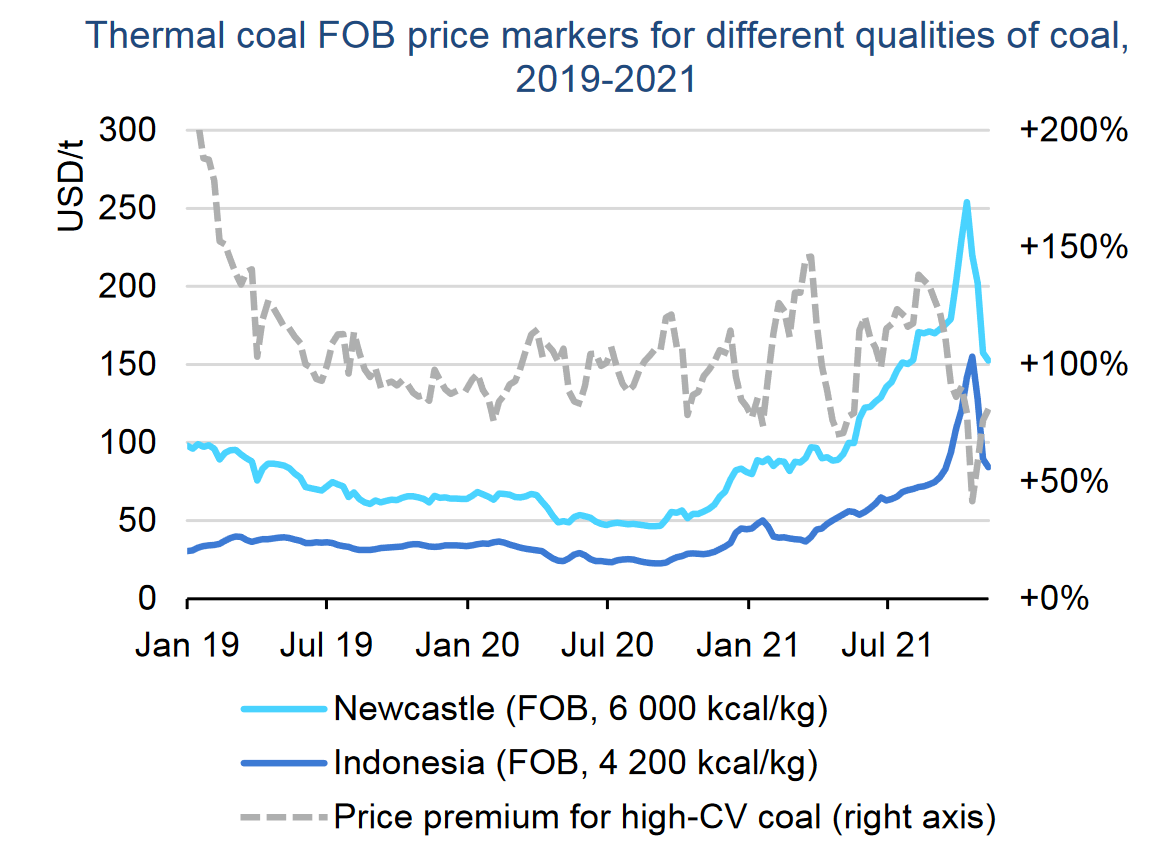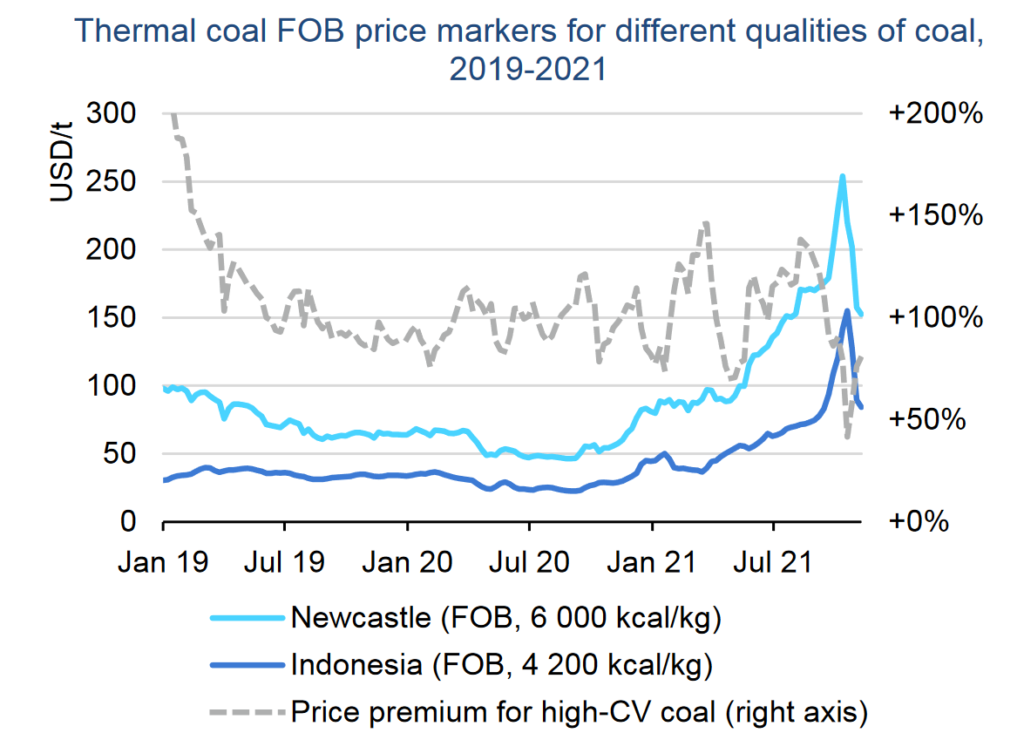 Indonesia's Renewable Energy Energy Transition in the Wake of its Coal Export Ban
Indonesia is among the last stewards of the dying coal industry. It has already planned to cease commissioning new coal-fired power plants and cut out coal for electricity use by 2056. For what coal plants remain, Indonesia intends to pluck out value by deploying unproven capture capture and storage technologies.
Despite Indonesia's long history of solid coal support, renewables are fast making inroads into the energy mix. The country's electricity procurement plan, RUPTL, sees renewables accounting for over 51% of its energy. Together with Regulation No. 26/2021, the latest solar rooftop legislation, the policies encourage Indonesia to capitalise on its clean energy potential.
Steps to Empower the Renewable Energy Transition in the Country
On the other hand, there are lots of potential hurdles ahead. First, Indonesia's clean energy progress is largely stagnant. As of 2020, renewables accounted for just 11.2% of the total energy mix for power generation. Furthermore, since 2012, Indonesia's installed renewable energy capacity has grown by only 4% per year. Compared to its regional neighbour's, like Malaysia, Singapore, Vietnam and Thailand, all growing at 10%, it is not good enough.


Secondly, a big concern hovers over the lack of a smart grid and energy storage connecting with the national electricity network. To overcome this, the Indonesian government needs to pursue improvements to its electricity network. If successful, Indonesia would ensure resilience throughout its national electricity network.
Finally, improving the investment climate and addressing skill shortages through re-skilling programmes to fill skyrocketing demand for clean energy jobs are also crucial steps in the process. According to Accenture, one way to address the latter is through decommissioning existing coal plants earlier and repurposing them with solar.
Coal Exports Bans – the Harbinger of a Certain Outcome
Even if the Indonesian government reevaluates the coal export ban and lifts restrictions, the implications are enormous. Coal is no longer stable, and countries are beginning to realise that and are also actively moving away from fossil fuels. As renewables accelerate in deployment, coal will continue its path toward volatility, supply chain problems, financial risks from stranded assets, and health risks for populations increasingly thinking about people and the planet.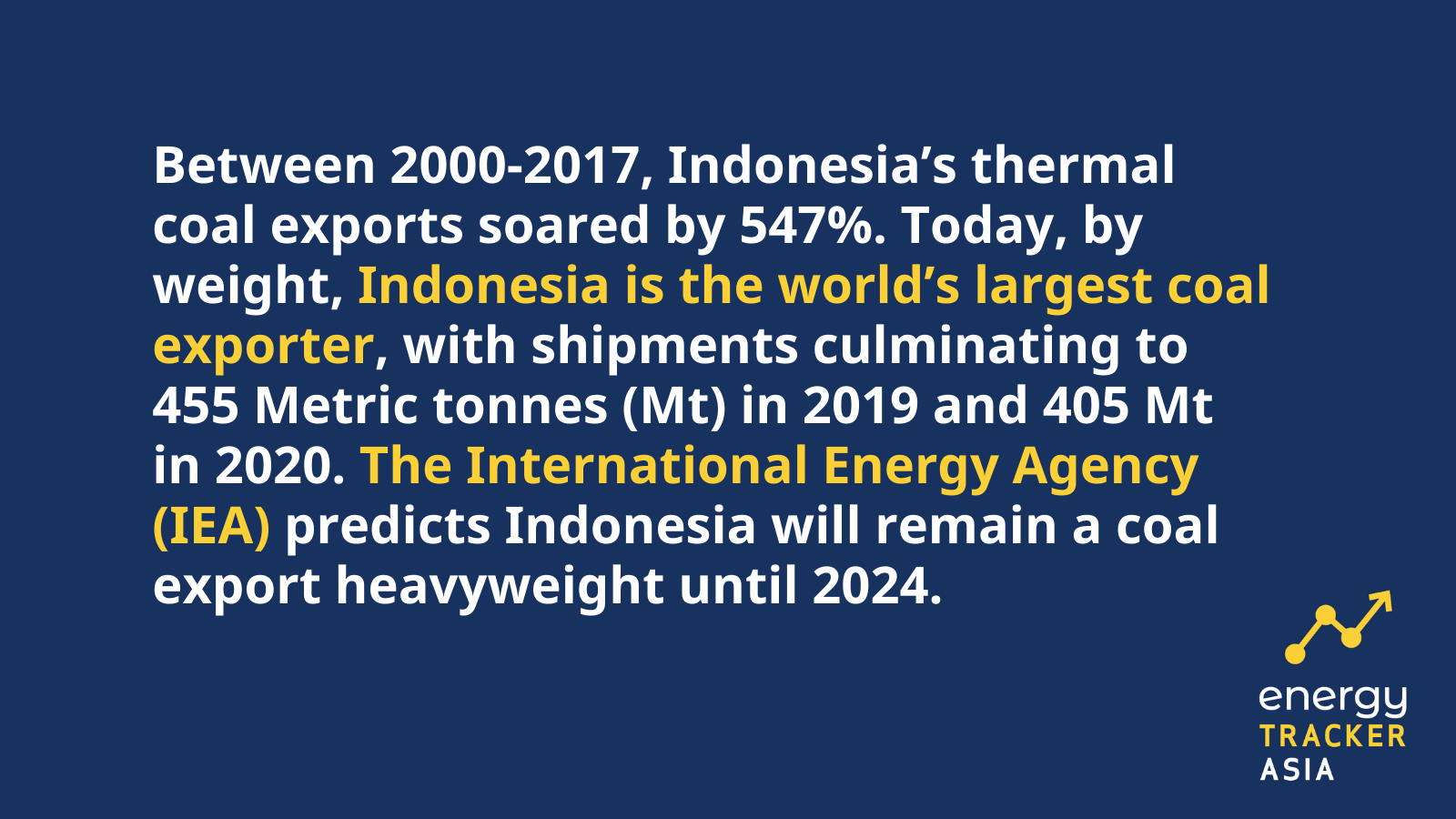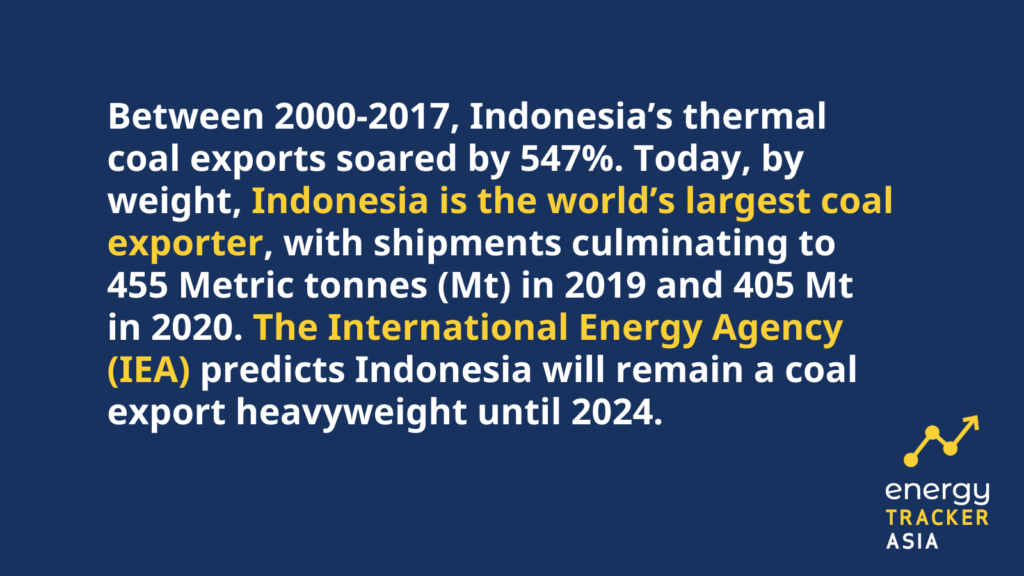 by Viktor Tachev
Viktor has years of experience in financial markets and energy finance, working as a marketing consultant and content creator for leading institutions, NGOs, and tech startups. He is a regular contributor to knowledge hubs and magazines, tackling the latest trends in sustainability and green energy.
Read more