Japanese Technology Expansion: Southeast Asia Pays the Price
Tanes Ngamsom / Shutterstock.com
This year's G7 meeting, which Japan will chair, remains an important moment for its international credibility in the battle against the climate crisis.
05 March 2023 – by Viktor Tachev
Japan's fossil fuel obsession is well known, and the country has suffered its fair share of criticism for it. The problem has global ramifications, as Japan is the fifth-highest CO2 emitter. Even worse, instead of prioritising decarbonisation, the country's efforts have been focused on extending the life of fossil fuels through dirty Japanese technology and infrastructure. And now, it is starting to spread this problem to Southeast Asia – an issue that might have long-lasting effects on local communities.
Japan's Decarbonisation Strategy: A Story of Fossil Fuel Financing and Questionable Japanese Technology
Japan has been accused of using loopholes and greenwashing to circumvent global efforts to end coal.
Domestically, the country still operates 167 coal plants, with four under construction and three mothballed. The country has the fourth-largest coal power plant fleet globally. Only seven projects in total have been cancelled or retired in Japan.
According to reports, the country has been actively advocating for prolonged coal use. Furthermore, its unofficial plans don't include abandoning the dirtiest fuel anytime soon.
On top of that, Oil Change International identifies Japan as the world's largest public fossil fuel finance provider. In addition to Japan's addiction to coal, the country is also the world's biggest LNG importer.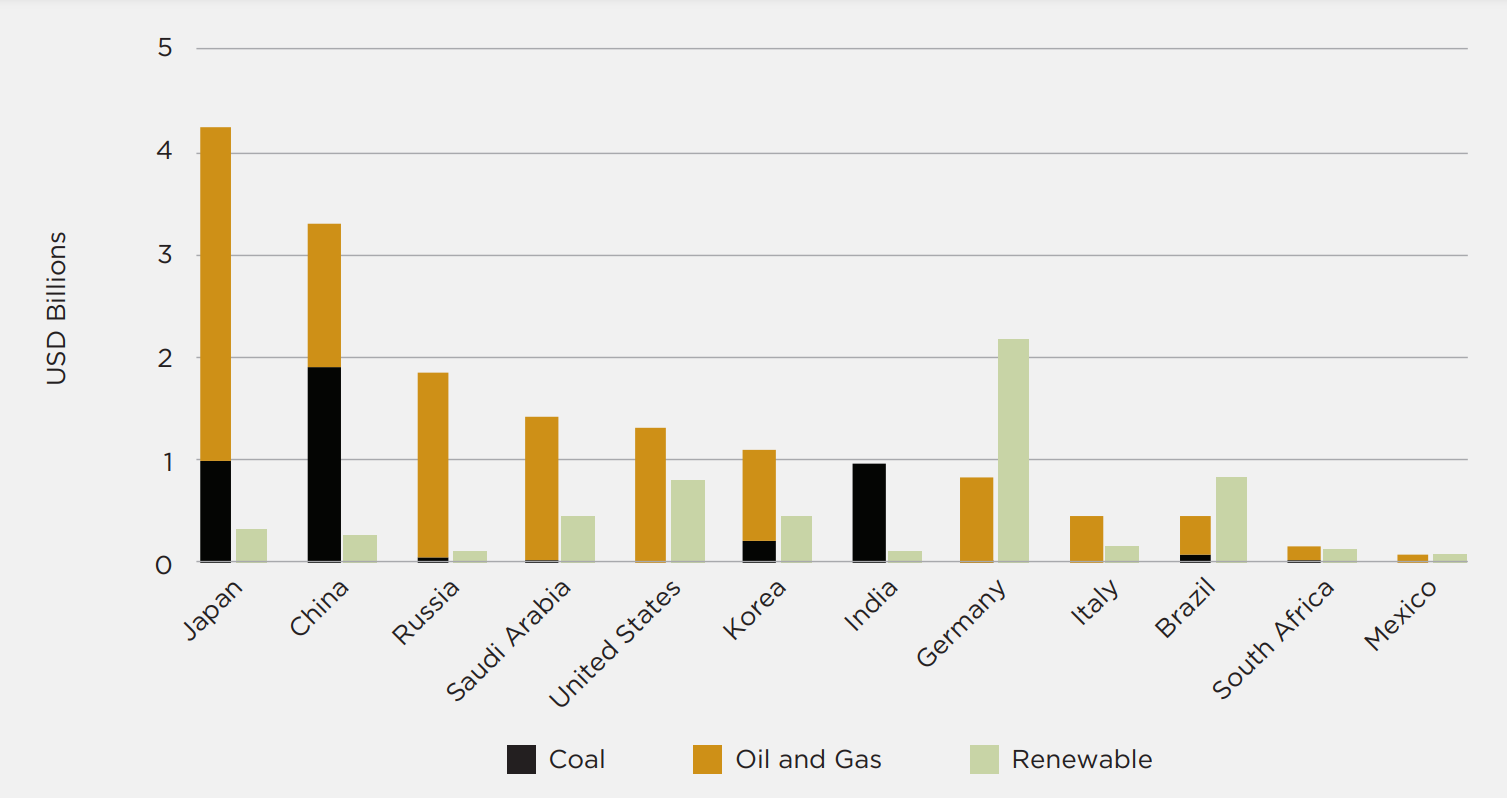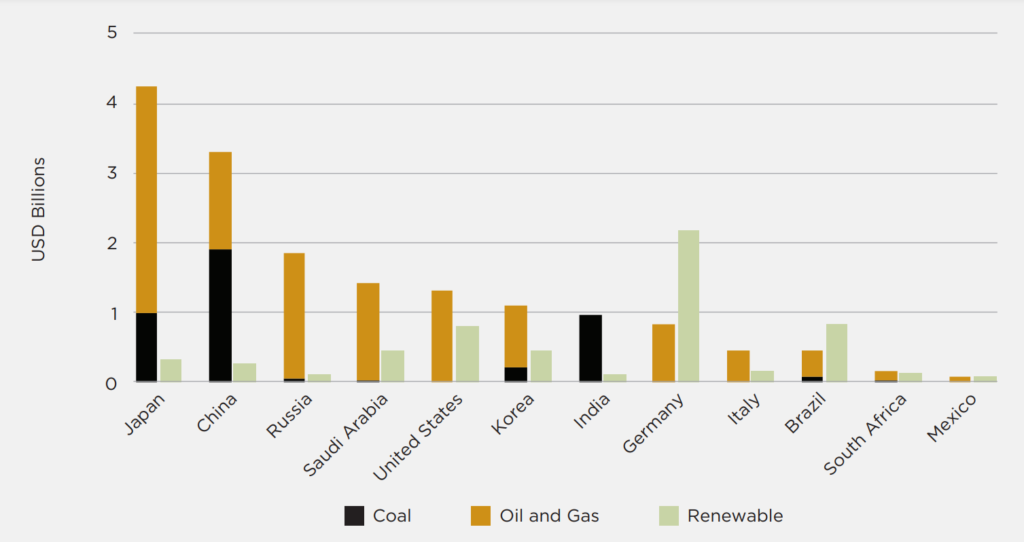 Transforming Instead of Retiring
Aside from directly financing new fossil fuel projects, the country is actively investing in technologies to extend the life of coal plants and increase the use of gas power.
First, Japan is aiming to become the leading hydrogen-based economy. However, as previously reported, the plans are based on blue hydrogen. Furthermore, according to experts, hydrogen, as a whole, remains a widely untested, expensive and inefficient technology.
Next, by blending coal with ammonia, Japan is promoting the idea of "clean coal". The country targets an ammonia-coal co-firing rate of more than 50% by 2030. The country expects to make coal a "regulating power source" through technologies like these, supplementing renewables in the years ahead. According to officials, Japanese technology to make coal cleaner will "contribute to Japan's climate targets".
However, this is a narrative that only Japanese officials share. In reality, such technologies have little practical success, harmful environmental effects and notable economic drawbacks.
On top of failing to radically reduce emissions, such approaches will also lock Japan into a future of energy dependence. Bloomberg NEF concludes that this will result in high power costs. Today, the country meets nearly 100% of its coal needs with imports. Its ammonia and hydrogen demand will also be met with deliveries.
What's worse is that these questionable technologies aren't costly only to Japan. Now, the country is actively trying to promote them across Southeast Asian nations.
Exporting the Problem: The Impact of Japan's Decarbonisation Strategy on Other Asian Countries
At COP26, Japan promised to "lead the way in the clean energy transition, with a particular focus on Asia" and "undertake efforts toward net-zero emissions in Asia".
Japan's Asia Energy Transition Initiative, under which the country has pledged to provide USD 10 billion in financial aid for decarbonisation projects in Asia, is the main tool for this. However, aside from clean energy investments, the initiative also promises to support "cleaner fuel sources", including ammonia and hydrogen.
As a result, Japan is actively promoting "Band-Aid" solutions. They will prolong the use of fossil fuels across developing Southeast Asian economies.
Japanese banks continue to finance coal project development in Vietnam. The 3.2 GW power plants, which are recipients of the financial support, make Japan the fifth-leading coal plant financier globally.
According to analysts, Japan can continue backing overseas coal projects by exploiting existing loopholes. For example, the legal status of the Japan International Cooperation Agency (JICA), a leading fossil fuel financier in Asia, defines it as an independent administrative institution even though it operates like a government agency.
The IEEFA also accused Japan of continued efforts to push its expensive coal-fired power technology on developing nations through the Japan Bank for International Cooperation.
The country also plans to boost investments in upstream LNG projects. Japanese companies remain among the leading overseas investors in such projects.
On top of that, Japan has hinted at exporting "clean coal" technologies to developing countries in Southeast Asia. The technologies will go to young coal plants that may face difficulty phasing them out.
Some countries where Japan will fund or assist the development of ammonia co-firing and hydrogen plants are India, Indonesia, Vietnam, the Philippines, Thailand and Singapore.
The Risks For Recipient Countries
Japan's proposed solutions create problems. More importantly, however, they are being promoted to countries already doing better than Japan in some aspects of their energy systems.
For example, in terms of energy independence, Japan has one of the lowest scores in Asia at just 13.7%. This is way below the energy independence scores of the countries it is trying to help, including Thailand (48.4%), the Philippines (53.7%), Vietnam (62%) and Indonesia (100%).
Japan plans to import massive amounts of hydrogen and ammonia for its domestic projects. Developing Asian nations that push ahead with similar plans will also have to meet their demand with imports.
In a nutshell, by pursuing Japan's hydrogen and ammonia/coal co-firing decarbonisation blueprint, developing Asian nations risk stalling their progress and becoming more energy dependent. This comes at a time when these nations have already started embracing renewables and reaping the rewards. Any other technologies will prove to be unnecessary and costly distractions with little-to-no commercial viability in the short term.
Many Southeast Asian nations need solutions that will make an immediate difference in the battle against the climate crisis, as many are among the top 10 most vulnerable – and so is Japan.
They also need solutions that will increase their energy independence while ensuring low energy costs for their rapidly growing economies.
In a nutshell, many of the Southeast Asian countries that Japan is trying to "export" its technologies to already have better decarbonisation solutions at the present time. Therefore, Japan's technologies are more likely to diverge Southeast Asian countries from their trajectory rather than speed up their decarbonisation journey.
Japan Can Change Course at the G7 Meeting
Japan's failure to take meaningful action on decarbonisation has attracted public criticism. Fellow G7 members criticised the country for remaining out of touch with the group regarding coal. Environmentalists and activists from various organisations across Asia, including countries that would be affected by the proposed plans, have repeatedly voiced their concerns.
The plan to help Southeast Asian nations explore Japan's questionable technologies proves that the country does not have the region's best interests at heart. The IEEFA notes that JBIC and the Japanese government aren't serious about their climate concerns or the financial burden of coal power in developing nations. Moreover, Japan's plans will hinder nations with technologies that they don't need, increasing power generation costs and raising power tariffs for consumers.
Japan is a G7 member and the chair of this year's meeting. It must set the correct example by helping Southeast Asian economies solve, and not exacerbate, their problems.
by Viktor Tachev
Viktor has years of experience in financial markets and energy finance, working as a marketing consultant and content creator for leading institutions, NGOs, and tech startups. He is a regular contributor to knowledge hubs and magazines, tackling the latest trends in sustainability and green energy.
Read more