Korean and Japanese Companies in Vietnam Are the Main Gas Expansion Advocates
The pressure from Japanese and Korean companies on Vietnam to move in the direction of gas expansion risks tarnishing the country's clean energy progress and locking it into a future of energy instability, high electricity prices and stranded assets.
15 August 2022 – by Viktor Tachev
The latest report from Influence Map finds that Korean and Japanese companies in Vietnam actively advocate for LNG expansion in the Vietnamese market. While Korea and Japan are known as stewards of the fossil fuel industry, Vietnam has started shaping itself as Asia's clean energy powerhouse. However, if the country succumbs to pressure from the LNG lobby, it will expose itself to economic and energy dependency risks.
Influence Map's Report Exposes the Korean and Japanese Companies in Vietnam Advocating for Gas Expansion
At COP26, Vietnam pledged to achieve carbon neutrality by 2050. However, a report by Influence Map from June 2022 finds that South Korean and Japanese companies in Vietnam continue to advocate new LNG infrastructure investment in the country.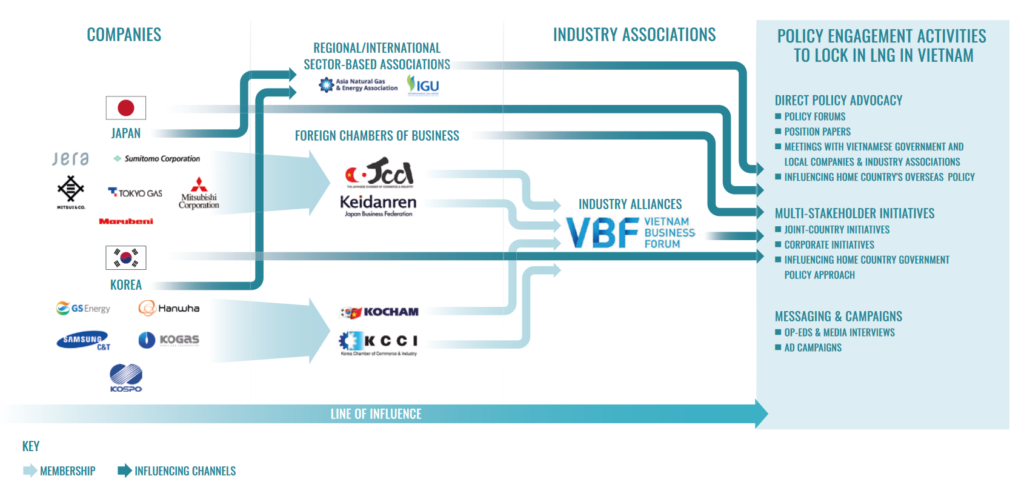 List of Top Japanese Companies in Vietnam – Exposed
The report identifies following six top Japanese companies as culprits of gas expansion advocacy:
JERA
Mitsubishi Corporation,
Marubeni,
Mitsui & Co,
Sumitomo Corp
Tokyo Gas
List of Top Korean Companies in Vietnam – Exposed
GS Energy
Hanwha Energy
Korea Gas Corporation
Korea Southern Power
Samsung C&T.
The gas lobby is found to be employing various influencing tactics to promote LNG expansion in Vietnam. Among them is direct advocacy to Vietnamese policy-makers to support investment in new LNG infrastructure within the PDP8.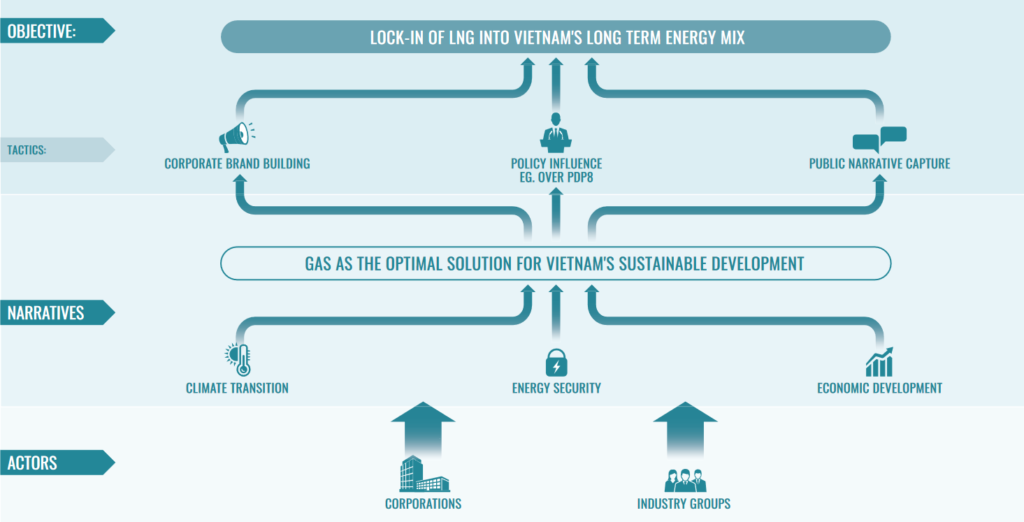 The report also finds that the companies utilise a network of industry associations to engage with Vietnamese energy policy-makers. The common channels for this include:
direct advocacy by chambers of commerce/business,
alliances with other foreign industry associations,
capturing the global narrative on the role of gas in the energy mix,
foreign government channels
and MOUs and alliances with local state and non-state partners.
The Messaging Used by the Korean and Japanese Enterprises in Vietnam
The report notes that the oil and gas lobby has a "playbook" to promote fossil gas for the Asia region. Its three main narratives are that gas supports:
a low carbon energy transition,
energy security and reliability
and economic and social development.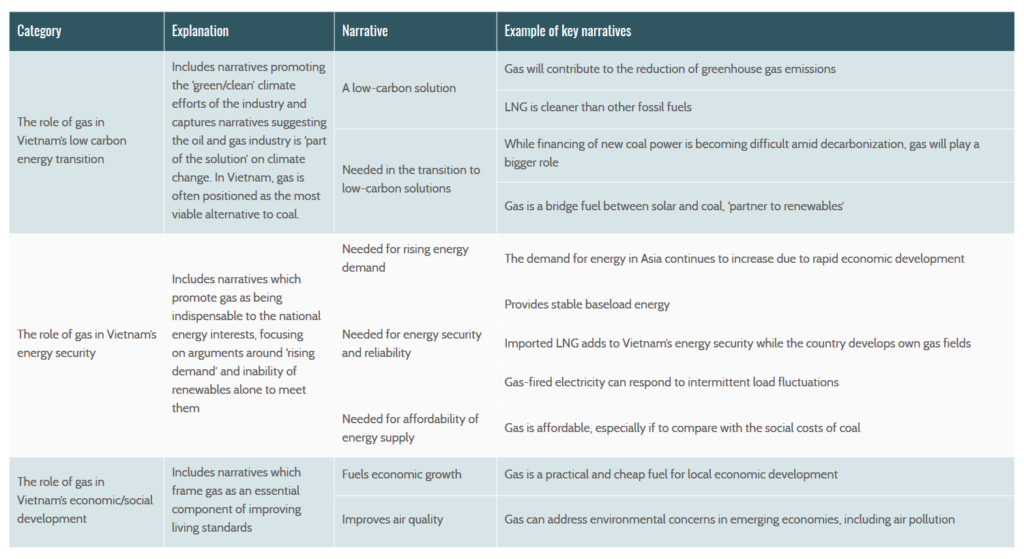 After analysing the public statements from the gas lobby in Japan and South Korea regarding Vietnam, the report's authors found that in 2019, only 11% of those in favour of LNG referenced the "low carbon" argument. However, after COP26 and Vietnam's goal for net zero by 2050, the number rose to 85%.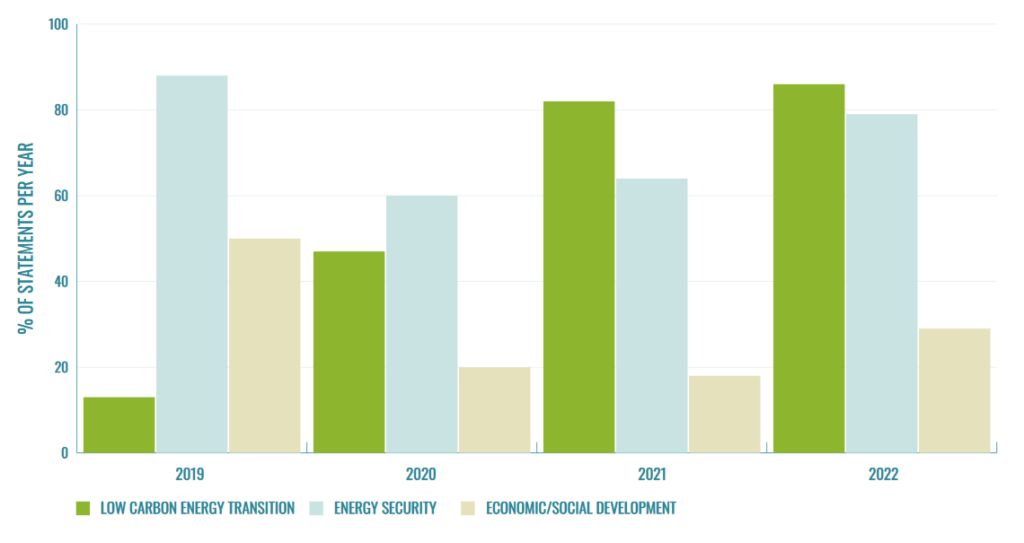 South Korea and Japan as Asia's Fossil Fuel Stewards
The report notes that the Japanese and Korean business chambers and organisations have consistently called on the Vietnam government to fast-track and approve new LNG infrastructure projects through PDP8 and other regulatory mechanisms. On the other hand, the European Chamber of Commerce has urged the region to abandon fossil fuels and invest in renewables.
Yuna Chang, InfluenceMap Korea's country manager, stated, "Vietnam is at an energy crossroads. As it considers which path to take in its latest Power Development Plan (PDP8), the Vietnamese government has been clear that its energy transition will require foreign investment." She added, "However, rather than helping Vietnam shift the economy from coal to renewables, South Korean and Japanese business interests appear to be pushing Vietnam to embrace gas. This has the potential to delay Vietnam's goal of reaching net-zero."
Korea and Japan have a history of active fossil fuel policies at home and abroad. The Japanese government, for example, continues publicly supporting upstream oil and gas projects, despite its G7 pledge.
However, if Japan fulfils its G7 commitment, it would shift USD 33 billion annually from fossil fuels to clean energy. This can speed up the net-zero transition in the region. This is a much-needed move, considering that many of the countries (Vietnam included) with the highest climate risk are in the South and Southeast Asia regions.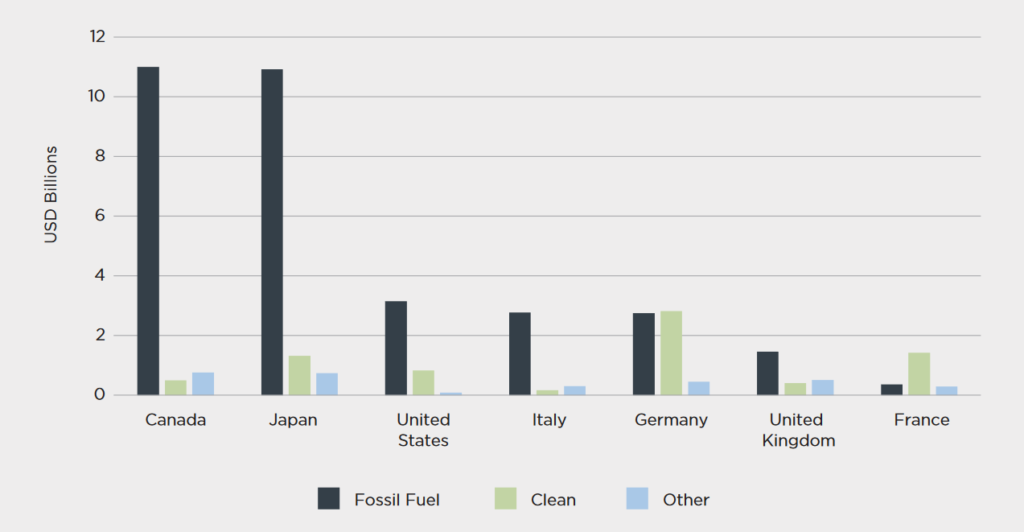 The Risks of the Korean and Japanese Firms' Approach to Vietnam
Vietnam has plans for 24 new gas-based power plants. Their total generation potential is estimated at 23 GW by 2025 and 84 GW by 2035. They will begin operation after 2025.
However, IEA notes that gas has no role in the power sector of developing countries beyond 2040. Considering Vietnam's net-zero goal by 2050, the infrastructure built today will burden the country with a massive stranded asset risk.
Furthermore, Carbon Tracker concludes that any new gas plant developer will have minimal time to build and start operating their units before finding that the assets have become unable to compete with renewables. In fact, new solar and onshore wind power in Japan, South Korea and Vietnam are either already or will soon become cheaper overall investments than new gas units by 2025. According to McKinsey, the price of renewables can even continue dropping by up to 10% per year. At the same time, Asia is currently paying some of the highest LNG prices in the world.
Succumbing to the external pressure will also contradict Vietnam's decision to become a signatory to the Global Methane Pledge. The pact aims for a 30% cut of methane emissions by 2030.
Furthermore, the rapid energy demand growth and regular power outages have made securing reliable power sources a key priority for Vietnam. However, as recent history proves, LNG isn't the solution to this. In the current geopolitical context, continuing to lean on gas can also be risky for project investors. For example, several mine developments and exploratory drilling projects in Vietnam are currently at risk due to equipment shortages. Speaking to the Vietnam Investment Review, Tran Hong Nam, CEO of PetroVietnam Exploration Production Corporation, admits that collaborating on developing oil and gas projects is getting extremely difficult, and the ongoing war doesn't help.
Vietnam's Next Move
Fossil fuel to fossil fuel switching is a limited and potentially dangerous strategy. That is why developed countries like Japan and South Korea should empower developing nations on their journey to decarbonisation instead of making them backtrack, locking themselves into a fossil fuel future.
Vietnam has no reason to pursue gas expansion. Instead, the nation should embrace its technical potential for 600 GW of wind power and continue building upon its exemplary track record, including the 100-fold increase in solar power capacity it achieved in just two years. The country has already proven itself as a renewable energy success story – not only in the region but also globally. Now it's time to retain its crown and be the example others can follow.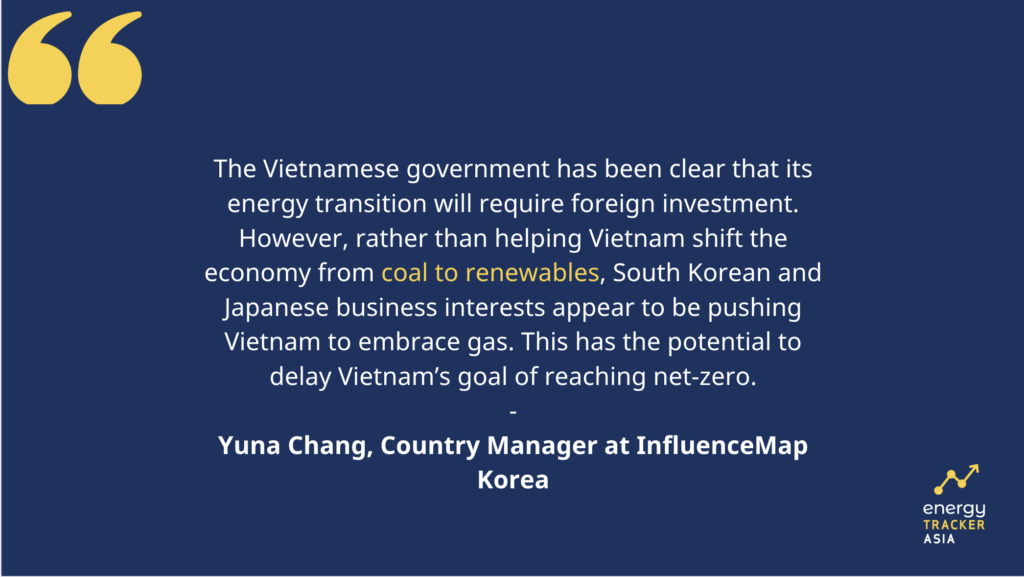 by Viktor Tachev
Viktor has years of experience in financial markets and energy finance, working as a marketing consultant and content creator for leading institutions, NGOs, and tech startups. He is a regular contributor to knowledge hubs and magazines, tackling the latest trends in sustainability and green energy.
Read more