Many Uses of Coal are Being Replaced With Renewable Energy
A miner at work in the KWK Pniowek coal mine in Pawlowice, Poland. SEAN GALLUP/GETTY IMAGES
07 April 2021 – by Eric Koons
Last updated on 22 July 2021
Since 2013 global coal consumption has plateaued, yet overall demand for energy has increased. There are many uses of coal, but alternative types of energy have continued to become more viable. Since 2013, global coal demand has ranged between 7,000-8,000 million tons (Mt), with 7,766 and 7,627 Mt in 2018 and 2019, respectively (1.79 percent decrease).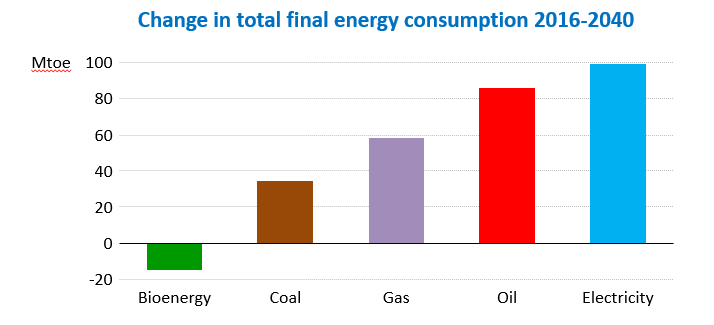 Why global Coal demand will decrease in the future
2025 forecasts predict global coal demand will continue to plateau and three factors will likely jump start the long term trend of decreasing coal demand.
Retirement of coal-fired power plants is accelerating
Adoption of renewable energy technology is increasing
The cost incentive of coal-powered electricity is changing
For example, 2019 saw a 3% drop in global demand for coal-powered electricity even though coal still has many uses. This can likely be attributed to an increase in renewable energy contributions and cheaper alternative fuels (natural gas).
The Fall of Coal in South Korea
The impact of these three factors can be observed across the globe, including in a number of Asian countries.
In South Korea, the Ministry of Trade, Industry and Energy announced it would seek to significantly reduce its reliance on coal-fired power generation. The country is planning on closing half of its coal-fired power plants by 2034. In part because they contribute significantly to air pollution rates. In 2019 the Government had to temporarily close a quarter of its coal-fired power plants due to unhealthy levels of fine dust.
The Future of Coal Use in ASEAN
The ASEAN member states are collectively aiming to secure 23 percent of their energy from renewable sources by 2025. Each member state has its individual targets, but there are some over-arching key drivers behind the pursuit of these goals. Like:
Environmental protection
Uses of coal being replaced
Climate change mitigation
Energy security
Socio-economic benefits (e.g.: job creation, income generation)
Moreover, China, the world's largest coal consumer, is aiming to secure 25 percent of its energy from non-fossil fuel sources by 2030.
The Economic Incentive to Replace Coal Use with Renewables
Additionally, the economic incentive for renewable energy will significantly improve in certain parts of Asia. In Vietnam, utility photovoltaic (PV) power is projected to become cost competitive with coal by 2021-2022. In China, the average levelized cost of electricity (LCOE) for solar and wind power is projected to become cost-competitive with coal by 2026. And in Indonesia, the LCOE for solar, geothermal and wind power is projected to become cost-competitive with coal by 2030 and 2050.
Global coal demand has plateaued and its long-term future seems uncertain. Coal-fired power is proven to create public health risks and is losing its price advantage. In comparison. renewable energy is increasingly becoming cheaper, more efficient and is associated with numerous other benefits – such as producing little to no air pollution, creating new jobs, resilience to energy disruptions and improving access to energy. All of which are making renewable energy an increasingly attractive investment across economic sectors.
by Eric Koons
Eric is a passionate environmental advocate that believes renewable energy is a key piece in meeting the world's growing energy demands. He received an environmental science degree from the University of California and has worked to promote environmentally and socially sustainable practices since. Eric's expertise extends across the environmental field, yet he maintains a strong focus on renewable energy. His work has been featured by leading environmental organizations, such as World Resources Institute and Hitachi ABB Power Grids.
Read more