Net-Zero Investments in Asia – What the Latest AIGCC Report Tells Us
The 3rd edition of the AIGCC's Net-Zero Investment in Asia report signals a notable positive change in momentum and perception of climate-aligned investments. Considering the importance of Asia for global net-zero goals this is a welcome sign that one of the most essential parts of the market is moving in the right direction.
16 March 2022 – by Viktor Tachev
The appetite for net-zero investments in Asia is growing. Institutional investors and public and private financing institutions are increasingly abandoning fossil fuels and rerouting their capital towards clean investments with minor exclusions. While this paints a good picture, challenges remain. Fortunately, addressing them isn't a question of significant restructuring or hefty effort but targeted and actionable policies, along with incentives that are already in adoption.
Growing Net-Zero Investments in Asia
The 3rd edition of Asia Investor Group on Climate Change (AIGCC) 's Net Zero Investment Report found that investors are increasingly launching new climate-related investment solutions across different asset classes and geographies.
This indicates a fundamental change. The conventional financial system, traditionally legacy and not so innovation-prone, is moving towards green financing and investments. This major transformation touches all investors globally.
Out of 20 Asian asset managers surveyed, 41% admit that they plan to launch up to five new investment solutions in the next two years.
"It's a promising sign that more climate-aligned investment products are coming to market and that investors are alert to the dangers of greenwashing. Progress reporting will be key to keep up the accelerated momentum and monitoring of climate integration in the region. It will also ensure investor accountability against commitments and frameworks."
– AIGCC Chief Executive Officer Rebecca Mikula-Wright
The report also singles out several asset managers paving the way for more net-zero investing. For example, AM One, one of the largest asset managers in Japan and among the first founding signatories of the Net Zero Asset Managers (NZAM) initiative, is moving in several directions. It has committed to a 2030 interim target and focuses on raising awareness for climate-aligned investments. Furthermore, it collaborates with policymakers and aims to pressure corporates through voting rights.
Maitri Asset Management is also mentioned as a leader in ESG investing and a pioneer in setting up interim net-zero targets.
The report also recognised BlackRock and Fidelity International's efforts as they step in the right direction. This includes various initiatives, internal controls and rating systems, climate-aligned funds and investment products. However, as a recent report showed, the two leading global asset managers continue to support fossil fuels on the side.
The Remaining Challenges and How They Can Be Addressed
One of the critical challenges that remain is identifying greenwashing practices. Asset managers are aware that any association with greenwashing in the era of ESG and net-zero investments means reputational risk. Furthermore, this is especially dangerous in an industry as competitive as finance, where profits are no longer the sole detrimental factor to decision-making.
Another critical challenge is the lack of adequate reporting and disclosure. The Net-Zero Investment report indicates that many investors in Asia are becoming more cautious about climate-related risks and opportunities. Additionally, they seek ways to be more transparent by disclosing or intending to disclose information. Currently, over 45% of Asian investors consider the lack of tools for tracking "green impact" as the top barrier to investment.
Other notable challenges include a lack of client demand and opportunities with risk-return objectives. Fortunately, using several measures, these challenges are being addressed.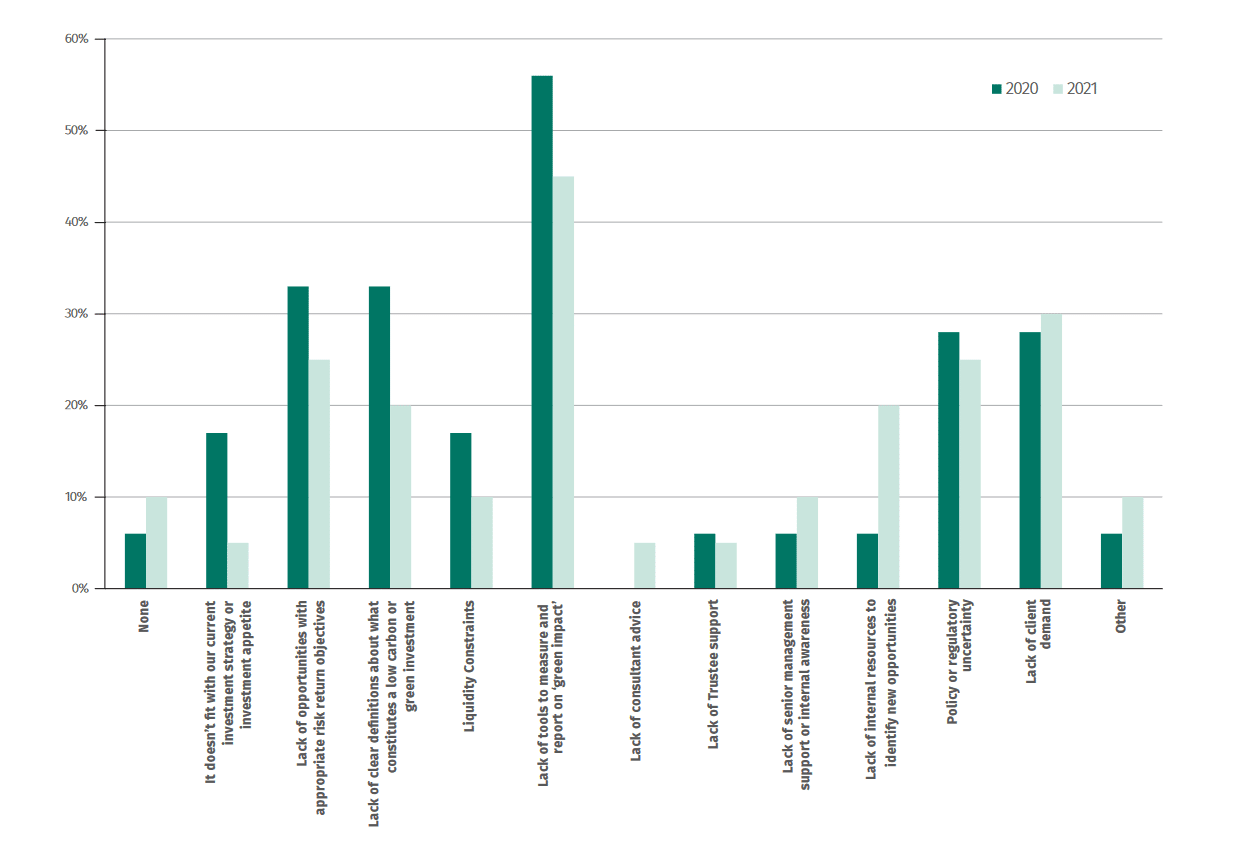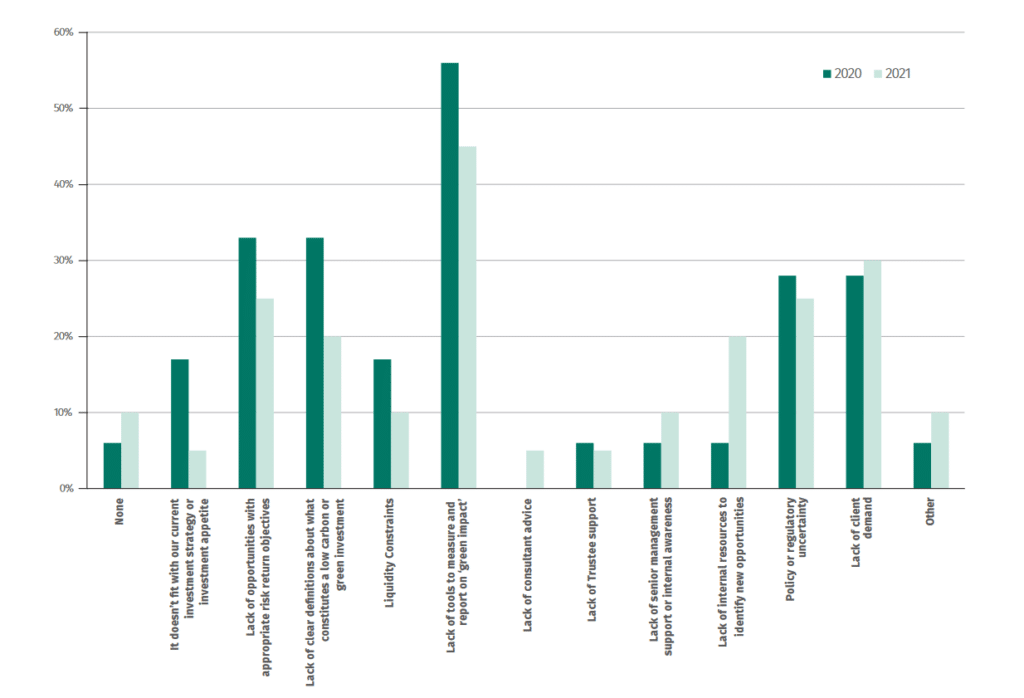 Tools, Regulatory Guidance and Conscious Voting
The report found that policy and regulatory uncertainty is no longer the significant barrier it was in the past. This indicates increased regulatory attention in Asia.
Investors are now adopting different tools to navigate transition pathways and align portfolios to net-zero emissions to ensure the ability to recognise greenwashing practices. In addition to the increased adoption of international guidance frameworks, Asian investors are also developing additional in-house capabilities. Their goal is to ensure broader and more complete coverage of their portfolios.
Organisations also show more willingness to engage with investors on climate-related matters. This is a clear sign of increased corporate engagement and shows that voting on climate-related net-zero investing is rising.
Interim Targets and Commitments
Commitments and targets without accountability are borderline greenwashing. Asset managers are increasingly focusing on interim targets as a key testament for genuine Paris-aligned commitments to avoid association with such practices. For example, in 2021, 40% of the respondents have made portfolio-wide commitments, compared to none in the previous year.
Regarding portfolio-wide interim targets, 25% currently have one, with 55% actively considering going in that direction.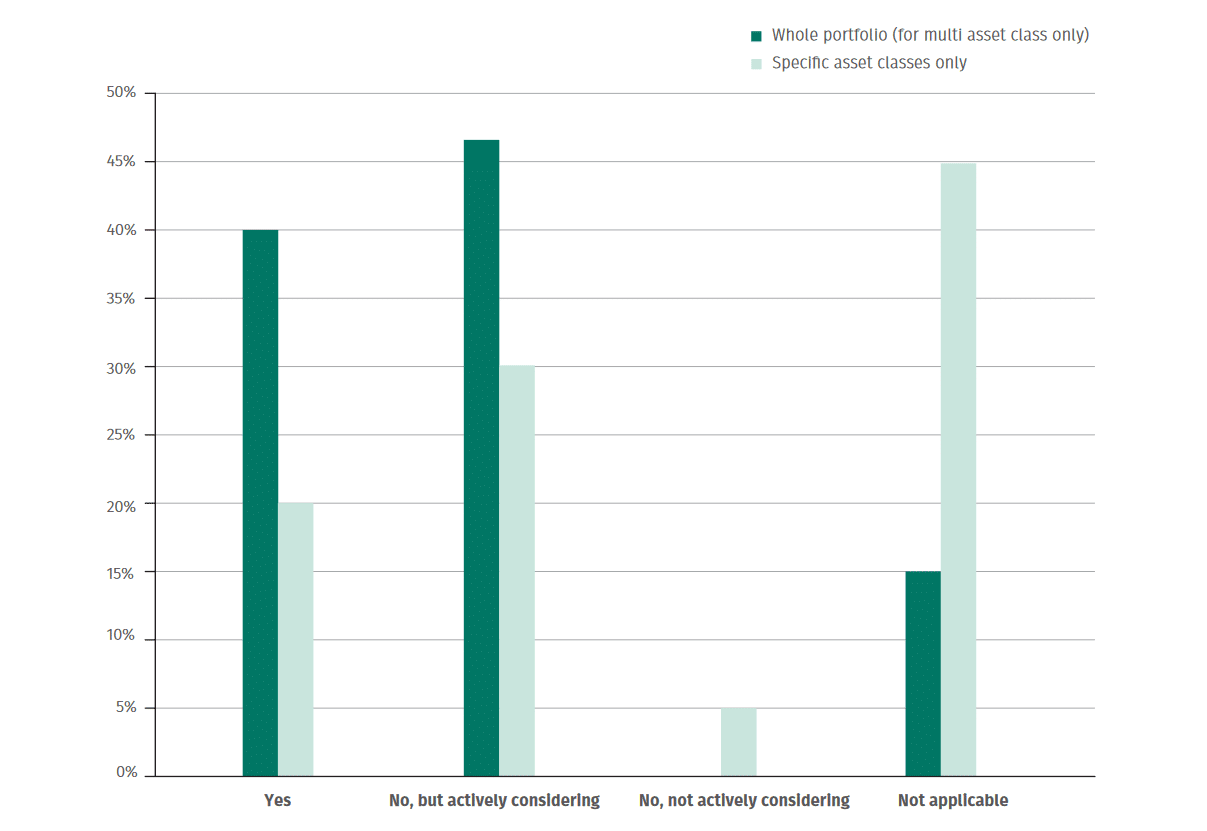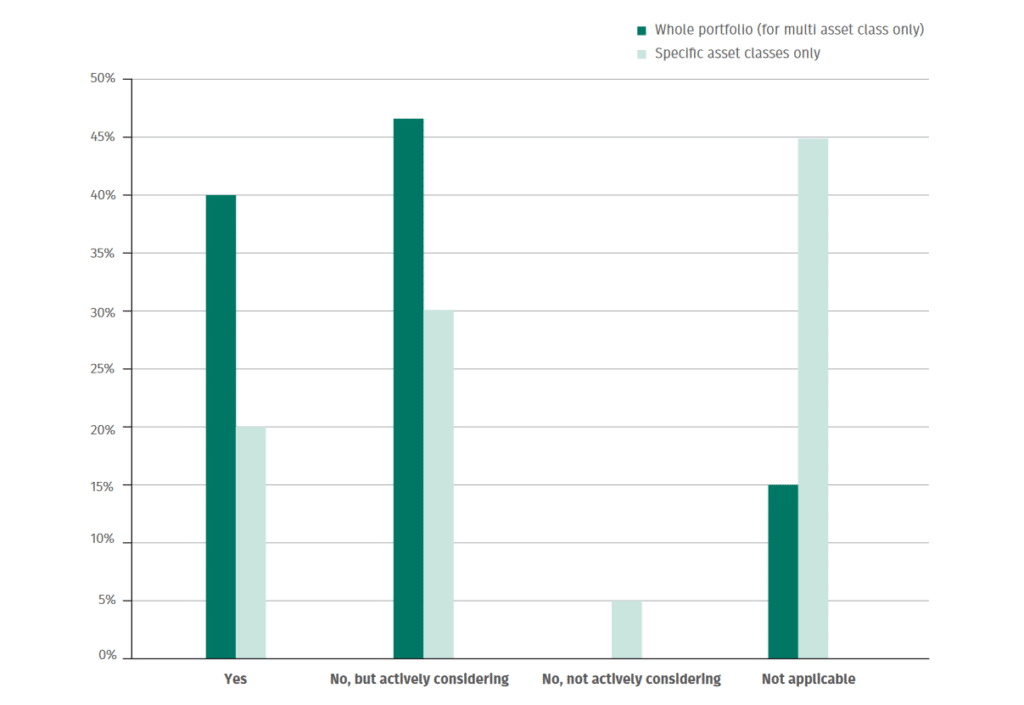 Focus on Reporting and Disclosing
The report also found that 65% of respondents intend to measure avoided emissions or net-climate impact. Furthermore, they are starting or are already measuring Scope 3 emissions specific to their investment portfolio. This signals a significant increase compared to 2020's 44%.
The report also identifies a trend of accelerated adoption of Task Forces on Climate-related Financial Disclosure (TCFD) reporting. As of 2021, 74% of respondents employ an external reporting framework, compared to 55% in 2020. The trend is harmonious with global momentum.
What the Future Holds for Net-Zero Investments in Asia
AIGCC's report shows a positive change in momentum for net-zero investments across Asia. Asset managers are pursuing increased transparency and are also looking towards green projects. They seek and initiate increased collaboration and discussions on local and international levels, including through forums like the Paris Aligned Investment Initiative.
With COP27 around the corner and the shift of focus of Asian investors, the outlook for green investments looks promising. Promises and commitments will hopefully transform into reality.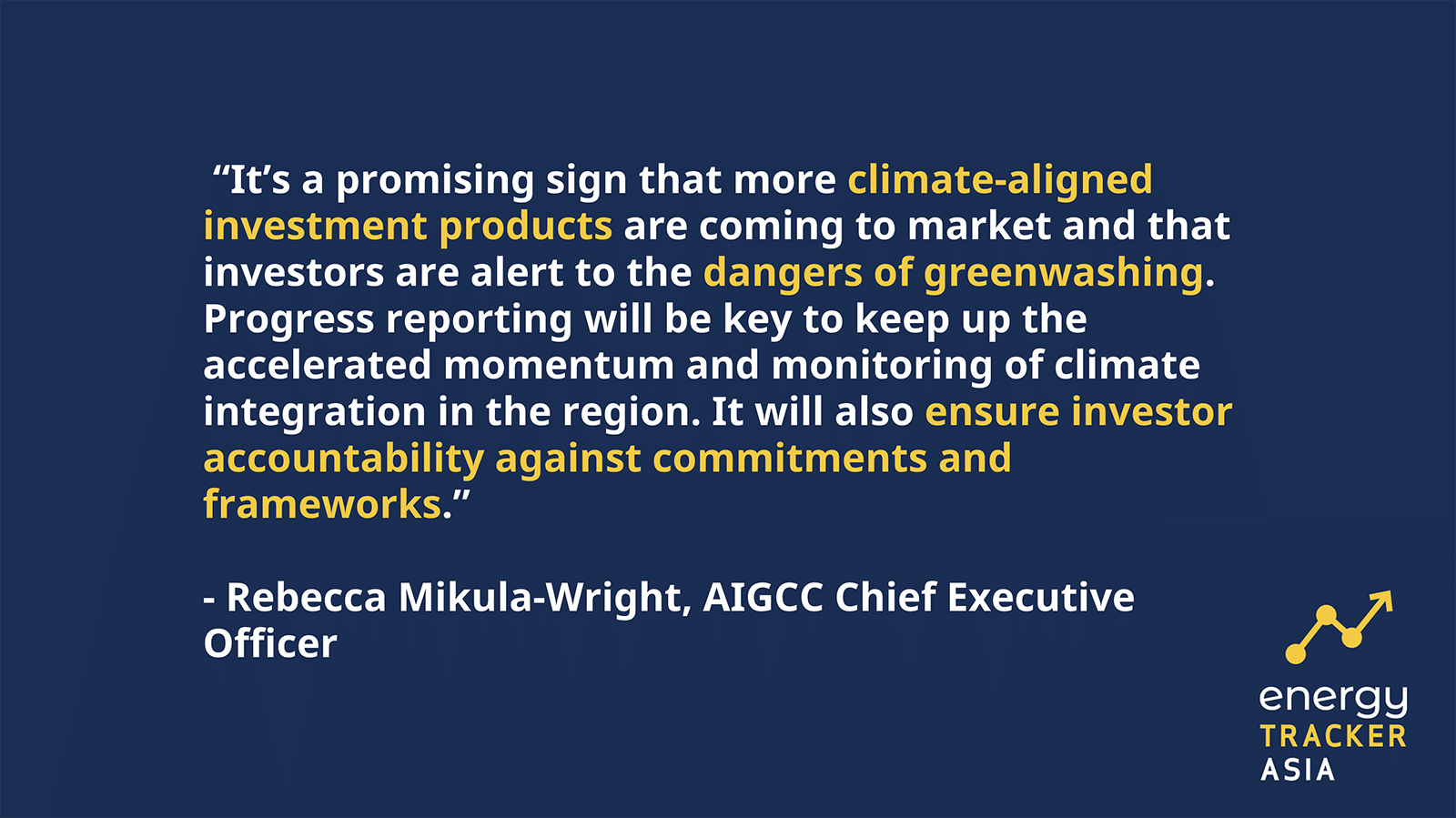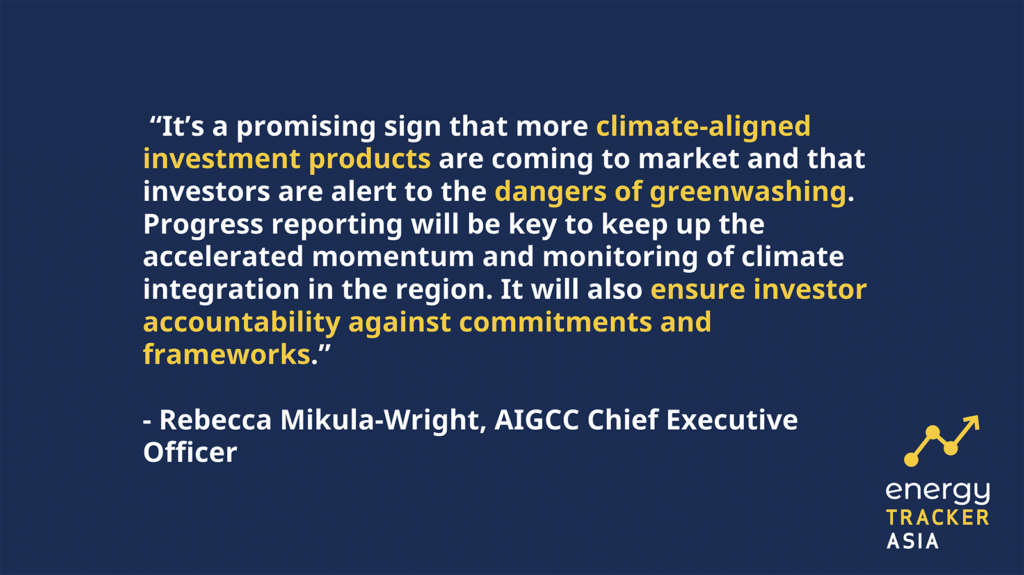 by Viktor Tachev
Viktor has years of experience in financial markets and energy finance, working as a marketing consultant and content creator for leading institutions, NGOs, and tech startups. He is a regular contributor to knowledge hubs and magazines, tackling the latest trends in sustainability and green energy.
Read more