The Curious Case of SMBC Group – Financing Climate Change Offenders
While SMBC Group has taken some positive steps in terms of its green commitments, it falls way behind global and even local competitors. Unless the financial institution makes a dramatic U-turn, it will bear the consequences of excessive stranded asset and reputational risks.
21 June 2022 – by Viktor Tachev
The Sumitomo Mitsui Financial Group (SMBC Group) is the second-largest banking institution in Japan, engaged in the consumer finance business, securities and leasing services etc. This makes it a critical cog for the development of the region. Through its financing activities, the bank has the power to either speed up the decarbonisation efforts of Japan and the region or further distance the country away from its net-zero goal. So far, SMBC Group is actively contributing to the latter.
Sumitomo Mitsui Financial Group – Fueling the Climate Crisis and Lacking Meaningful Commitments
SMBC Group has a history of fuelling the climate crisis. According to Banking on Climate Chaos 2022, it has provided USD 109.27 billion in fossil fuel project funding between 2016 and 2021. This places it among the top 20 leading global fossil fuel advocates in the banking industry on a global scale.
Fossil Fuel Financing
BankTrack's analysis gives SMBC Group a score of just 8.5 out of 200 for its overall fossil fuel financing policy performance. It describes it as "laggard". The individual scores are as follows:
oil and gas policy – 2/120
offshore oil and gas – 0/18
LNG – 0/18
coal policy – 6.5/80
fossil fuel expansion policy – 4.5/82
coal infrastructure policy – 0/16
Financing Climate Offenders
After analysing the world's worst climate offenders, a group of NGOs ranked SMBC Group third on a list of the leading coal lenders, behind two other Japanese banks. This is a reflection of a dominant trend across the financial industry in Japan. To date, it remains among the most active fossil fuel supporters globally.
Inadequate and Insufficient Pledges
SMBC Group has announced climate goals, including net-zero for Scope 1 and 2 emissions by 2030, zero balance for loans extended to coal-fired power generations by 2040 and net-zero for Scope 3 emissions by 2050. The financial institution also aims to enhance businesses addressing climate change and decarbonisation. To do that, it will execute JPY 30 trillion of sustainable finance by 2030.
An analysis by 350.org Japan, Market Forces, Rainforest Action Network and Kiko Network finds that SMBC Group's most recent policy update and board opinions don't consider shareholder proposals. Furthermore, they don't disclose short and medium-term targets for emissions reduction. Besides, the policy update struggles to convey that the bank isn't financing the expansion of new fossil fuel infrastructure.


For example, SMBC Group has only announced an intensity target for financed emissions in the power sector. However, the bank can meet it while still increasing its fossil fuel power sector financing and absolute financed emissions. In addition, the target only applies to lending, which doesn't take into account investment and underwriting.
According to the report's authors, the bank will announce its 2030 emissions targets for coal, oil and gas in August 2022. However, they are expected to be limited to "upstream businesses", leaving critical infrastructure like LNG terminals out of scope.
Falling Behind the Others
The bank's May 2022 climate commitments update states that it won't support the construction or expansion of any new or existing thermal coal mining projects. However, it doesn't address the issue of corporate finance to companies pursuing new coal mines or coal mine expansion.
Fossil Free Japan calls out SMBC Group for providing continued support for coal, oil and gas-related projects in Japan and overseas. For example, between 2006 and 2021, the bank provided USD 713 million in loans (USD 400 million in 2021 alone) to Adaro Energy Indonesia, a coal giant with 96% of its revenue from coal mining. Furthermore, it granted AUD 115 million to Australian Whitehaven Coal – a company working on new coal mines and expansions. Again, SMBC Group doesn't restrict additional loans to these companies.
To date, SMBC Group remains the only Japanese bank that has increased its coal financing compared to 2016 levels. Globally, it ranks 4th for financing the LNG sector and 8th for funding oil and gas in the Arctic region. It falls behind domestic competitors like Mizuho and MUFG regarding topics like conducting business with coal companies, stimulating clients to engage in the decarbonisation of their businesses and more.
Sumitomo Mitsui Banking Corporation Echoes Japan's Wobbly Climate Policy
Japan, as a whole, is among the countries that still struggle to convince others that it is honest about decarbonisation. While it pledged to end overseas coal financing, it remains the third biggest coal financier globally. Today, over 40% of the funds for fossil fuels come from government policy institutions.
Currently, Japan's Government Pension Investment Fund is the fifth-biggest institutional investor in coal globally.
The country's questionable moves have already attracted greenwashing accusations.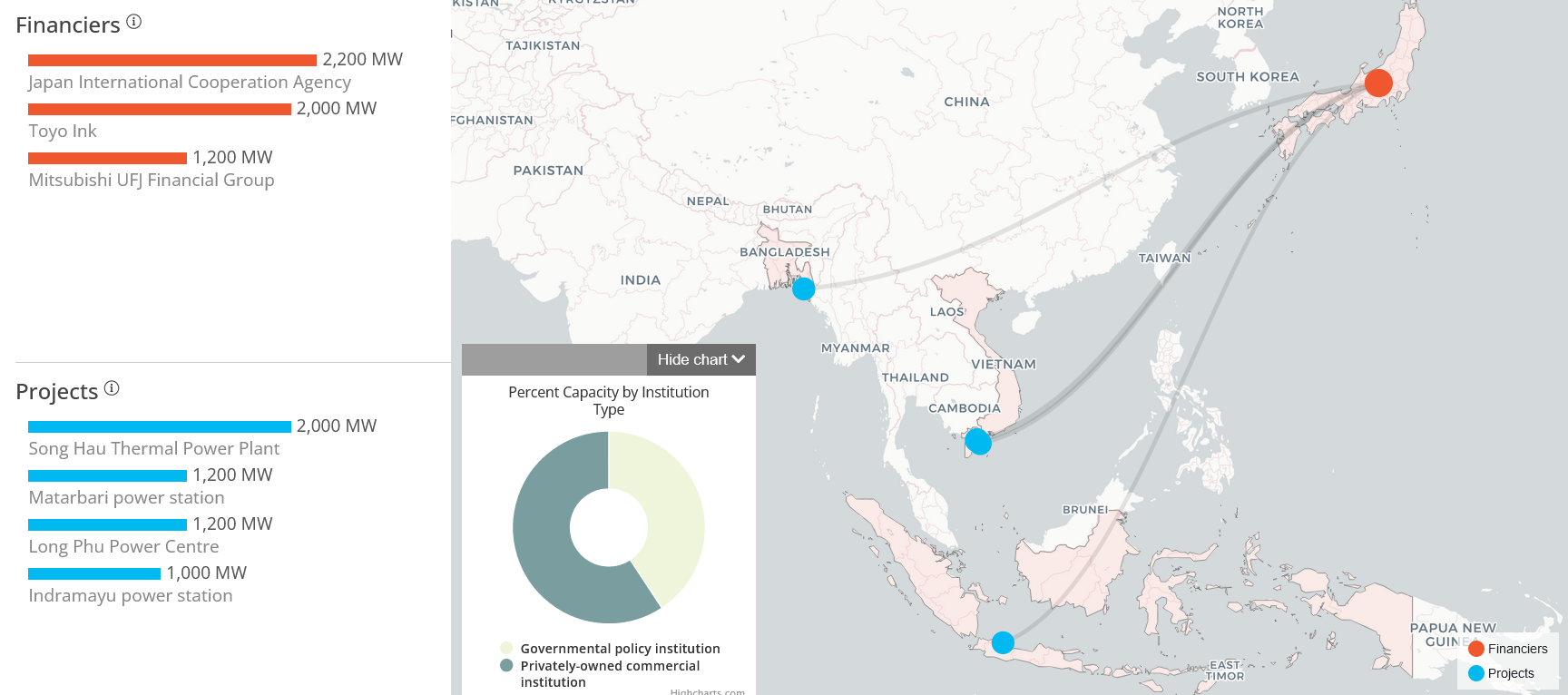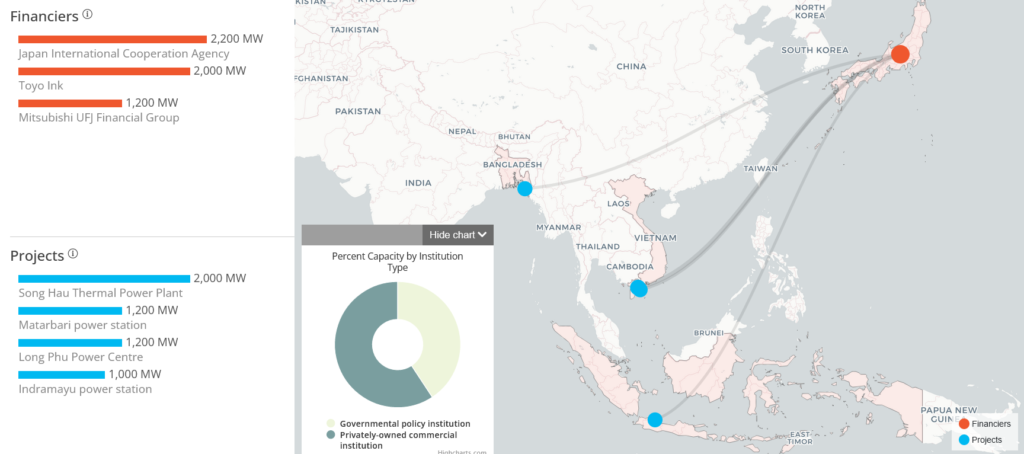 SMBC Group – Is Its Transformation Possible?
The bank has consistently rebuffed the call for amendments to the Articles of Incorporation, citing various reasons for this. However, in light of the Companies Act of Japan, these amendments remain the only legal way climate-related resolutions and shareholder proposals can avoid being rejected by the company as unlawful.
Investors must pressure the bank to go beyond simply pledging carbon neutrality by 2050. It should adopt a concrete road map with meaningful short and medium-term targets. These commitments shouldn't stimulate fossil fuel projects in any form and avoid leaving room for exploitation. Considering that SMBC Group will have its annual general meeting on June 29, 2022, the public has the perfect opportunity to act.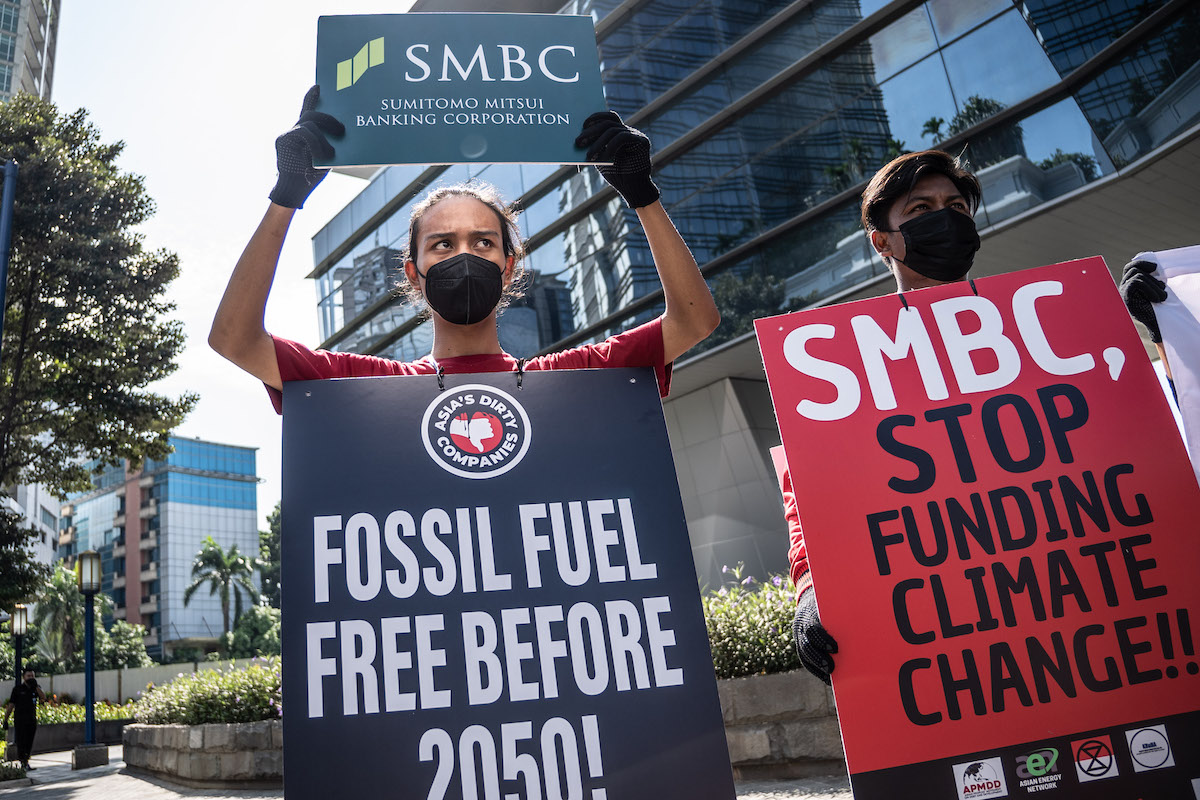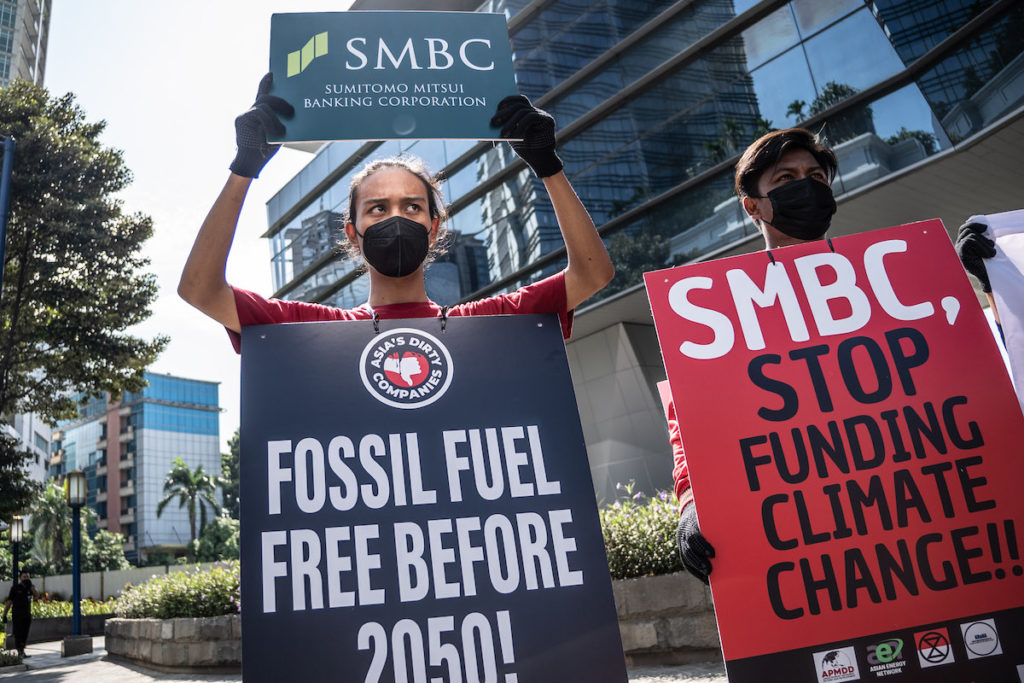 The result of these actions will become clearer soon. The first possible sign would be whether the bank renews its loan commitment to Adaro in July 2022.
If the bank is honest about its responsibility to support its customers "in their genuine and realistic efforts towards a decarbonised society, " it should be ready to change its business approach. This is also increasingly important for its competitiveness, considering the massive stranded asset and reputational risk accompanying the continuous fossil fuel financing. Halting the support for the dirtiest fuels will also demonstrate leadership on climate change action – something that SMBC Group has so far recognised more as a marketing opportunity than a real mission.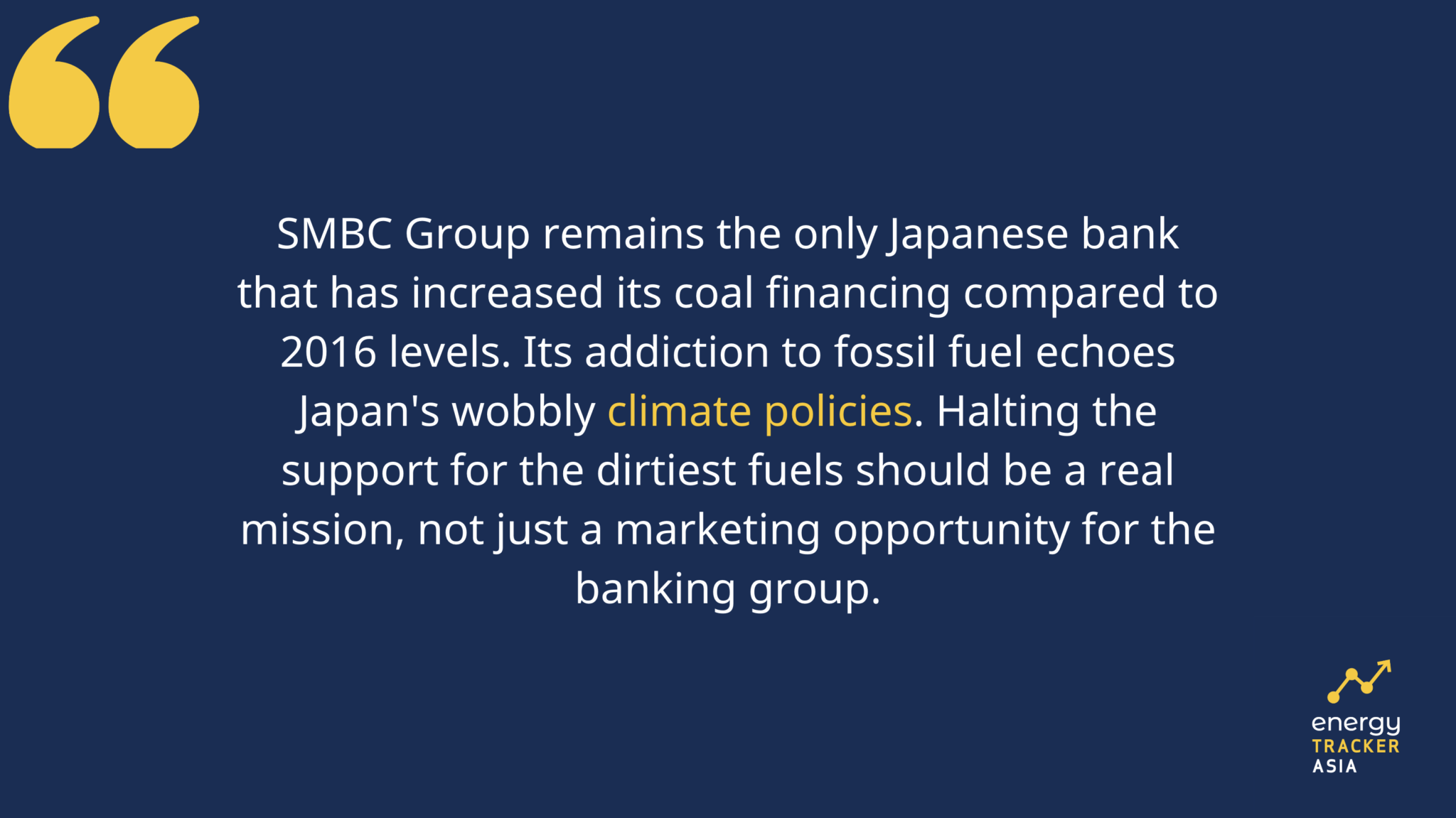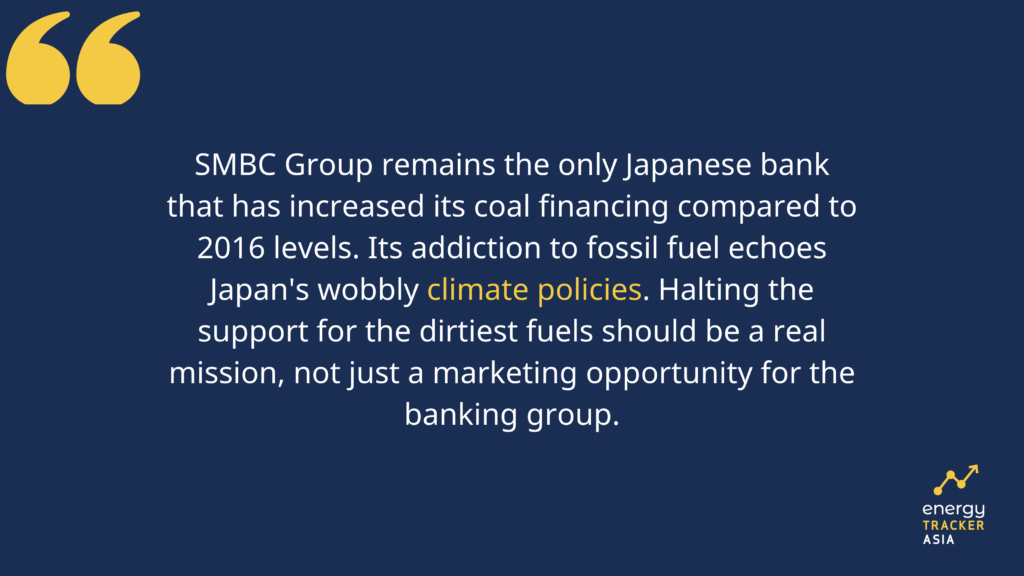 by Viktor Tachev
Viktor has years of experience in financial markets and energy finance, working as a marketing consultant and content creator for leading institutions, NGOs, and tech startups. He is a regular contributor to knowledge hubs and magazines, tackling the latest trends in sustainability and green energy.
Read more