Vietnam's National Climate Change Strategy to 2050 and the Plan for Meeting Its COP26 Commitments
Vietnam's latest move is proving that despite the growing needs of its energy-hungry economy, it will actively pursue its net-zero commitment and prioritise climate change mitigation and adaptation efforts – a move that other Asian countries should take note of.
22 August 2022 – by Viktor Tachev
The latest plan for implementing Vietnam's COP26 commitments has put the country back on its path to becoming Asia's renewable energy champion. While the pressure from the LNG lobby will inevitably continue, as recent reports show, Vietnam's government has so far continued to honour its commitments. The positive example of leadership, alongside the potential benefits for the country, can boost the entire Southeast Asia region.
The New Implementation Plan for Vietnam's COP26 Commitments
With Decision No. 888/QD-TTG on July 25, 2022, Deputy Prime Minister Le Van Thanh approved the "National Climate Change Strategy to 2050". The government plans to implement its COP26 commitments through various tasks and solutions through this national strategy. Vietnam will increase its participation in low-carbon technology development, mobilise natural resources and align the economy with its net-zero commitment. The end goal is to develop a better response to climate change.
The Key Target is to Mitigate Greenhouse Gas Emissions
Vietnam's key target is to lower greenhouse gas emissions by 43.5% by 2030 compared to a business-as-usual scenario. The country also aims to peak carbon emissions in 2035 and achieve net zero emissions by 2050.
No New Coal Projects
Vietnam won't develop new coal-fired power plants after 2030 and will gradually reduce the coal fleet after 2035. Furthermore, the government plans to implement several offshore wind power projects in potential areas.
Solar Power and Other Renewable Energy Projects
The plan will also address the problems with energy storage, transmission and grid reliability, which were exposed after the massive boom in solar power capacity at the end of 2020. The country will look to develop a smart grid and implement power demand management and load adjustment programmes. Other areas of utmost priority are carbon capture and storage solutions, green ammonia and green hydrogen R&D, electric vehicle production and a focus on reskilling and experience sharing. Renewable energy sources such as solar and wind power are necessary to combat climate change.
The plan also features specific targets to mitigate the impact of climate change and achieve energy security. Among them are maintaining the forest coverage at 43%, supplying clean water for the entire population and providing safe houses to 100% of households in areas affected by natural disasters by 2050. Increased investment in the modernisation of climate change monitoring networks, hydrometeorological monitoring and weather forecasting are also areas of focus.
While the plan mentions a potential reduction in the proportion of fossil fuels in use, there is still a lack of specific figures.
Targets for 2030
hydro, solar and wind power and biomass power will have at least a 33% share in total electricity generation,
increased use of green energy in transportation,
energy sector greenhouse gas emission reduction target of 32.6%,
agricultural sector GHG emission reduction target of 43%,
forestry and land use GHG emission reduction target of 70%,
industry GHG emission reduction target of 38.3%
and waste treatment emission reduction target of 60.7%.
Targets for 2050
Energy sector emissions are to drop by 91.6%,
agriculture sector emissions to be cut by 63.1%,
forestry sector and land use emissions to reduce by 90%,
waste sector emissions to drop by 90.7%
and an industrial process emissions reduction target of 84.8%.
Why Is the Plan So Important?
At COP26, Vietnam announced its goal for net-zero emissions by 2050. The country offered an ambitious agenda to decarbonise the economy by phasing coal out by 2040 and prioritising clean energy.
However, as experience from other countries has already shown, pledges alone mean nothing. In the case of Vietnam, there was the same risk – considering that since COP26, the government has been going back and forth with its energy policy decisions. The continuous pivot between fossil fuels, coal and LNG left doubts about whether the country was committed to pursuing its net-zero goal.
The new implementation plan for Vietnam's COP26 commitments proves that the government has honest ambitions and is willing to follow a strict road map to pursue actionable targets.
Vietnam has a relatively low share of global GHG emissions. At the same time, the emissions are accelerating at one of the fastest rates in the world. According to the World Bank's latest report, Vietnam's 100 million population is among the most exposed to climate change's impacts. There are hazards all across the country's coastline and the Mekong Delta. Vietnam's plan to address climate change is a testament that the government is willing to do its part to protect its population and the region.
The Economic Benefits from the Implementation of Vietnam's COP26 Commitments
The decarbonisation of the Vietnamese economy will unlock massive economic gains.
First, switching to renewables will ensure that Vietnam is locking itself into a future of cheap electricity. McKinsey reports that renewables are now the cheapest form of new power generation in Vietnam on an LCOE basis.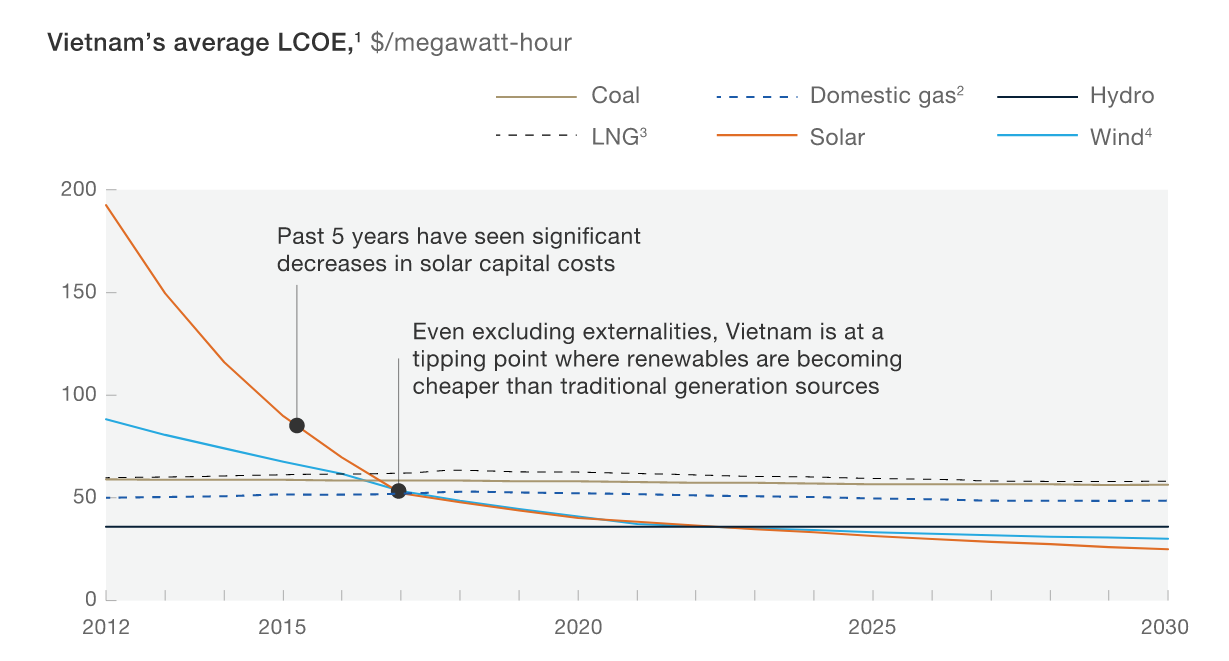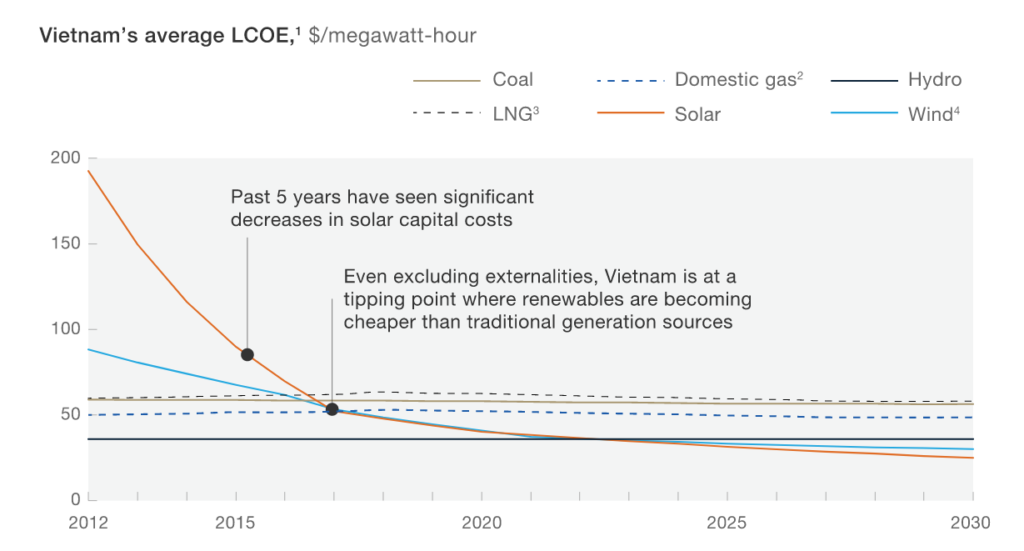 The consultancy also advises that a renewables-led pathway will ensure that Vietnam will have access to more secure energy where it would rely on 28% less total fuel and 60% fewer imports. Furthermore, it would help create an additional 465,000 jobs through 2030.
Moreover, the country will protect itself from future GDP losses due to the impacts of climate change. In 2020 alone, the country lost over USD 10 billion, or 3.2% of GDP, to climate impacts. According to the World Bank, without proper adaptation and mitigation measures, climate change will cost Vietnam between 12% and 14.5% of GDP a year by 2050. Going forward, the economic losses induced by climate change can total USD 523 billion by 2050.
Towards COP27
The latest move of the Vietnamese government shows that the country is making sure that, despite the growing needs of its power-hungry economy, it will actively pursue its net-zero commitment. So far, Vietnam seems to be on the right track. Other Asian economies should take note and do their part to reduce the region's emissions.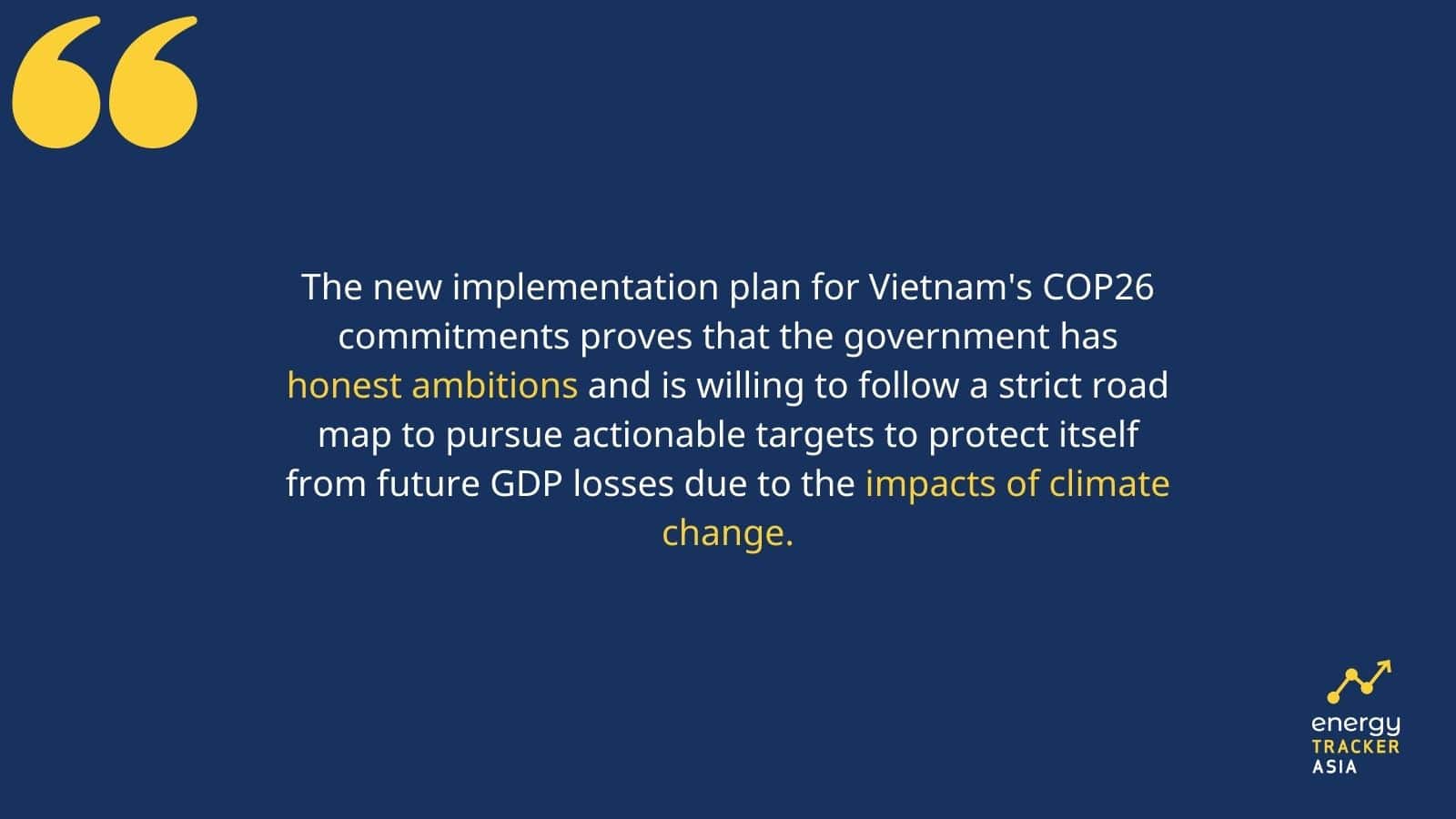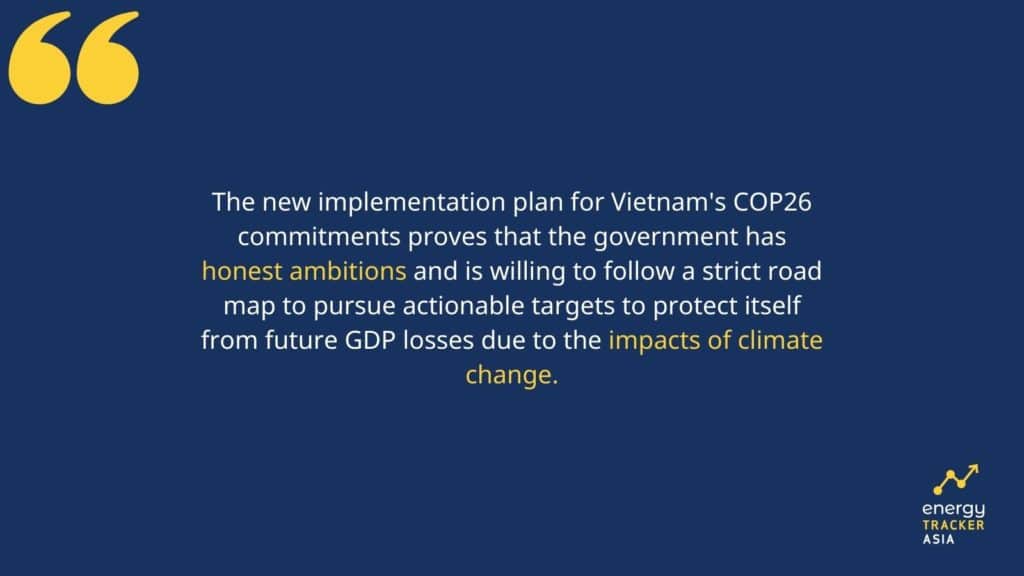 by Viktor Tachev
Viktor has years of experience in financial markets and energy finance, working as a marketing consultant and content creator for leading institutions, NGOs, and tech startups. He is a regular contributor to knowledge hubs and magazines, tackling the latest trends in sustainability and green energy.
Read more