Are Exxon's Asian Carbon Capture Intentions Genuine?
Exxon's carbon capture plans are grand. They hinge on developing an extensive CCS network centred in Singapore, connecting the surrounding countries. Ultimately, this will facilitate the adoption of carbon capture in Southeast Asia and place Exxon at the centre of this growing market.
28 June 2022 – by Eric Koons
With companies and governments taking action to reduce carbon emissions and the consequences of climate change, oil and natural gas companies like Exxon have come under the microscope for their decarbonisation plans, which often use carbon capture and storage (CCS).
What is Carbon Capture and Storage?
Carbon Capture and Storage (CCS) is a three-stage carbon removal system that captures, transports and stores carbon dioxide. Alternatively, the captured carbon can be used as a resource to produce fuel, building materials and more.
Reducing Carbon Dioxide and Greenhouse Gas Emissions
As fossil fuel companies decide how to manage their operations, the focus has shifted towards mitigating and reducing the impact of their extraction and processing activities. Therefore, CCS has become the strategy that Exxon wants implement in Southeast Asia.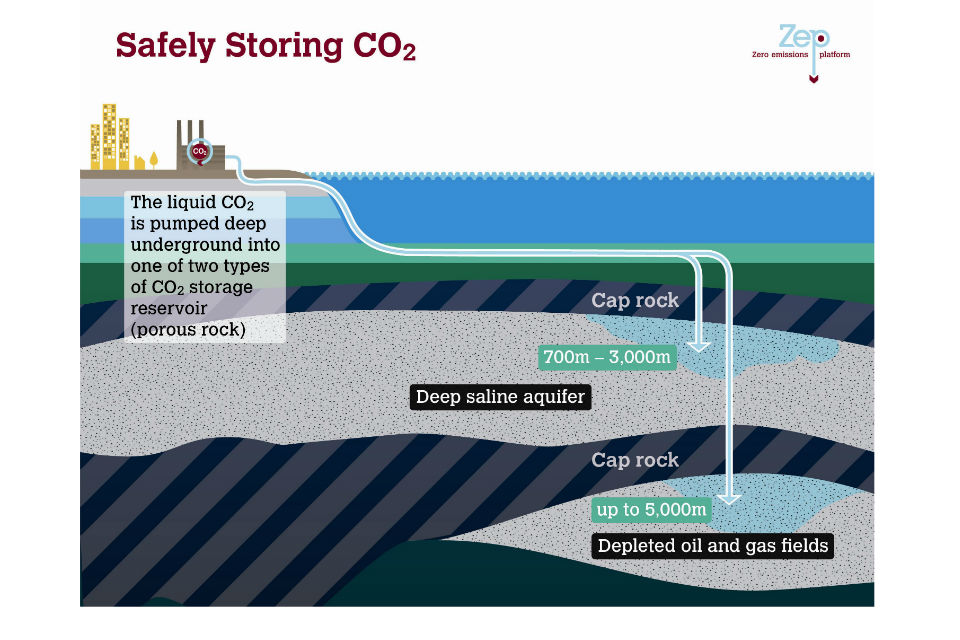 Changing Status Quo – Where Does Exxon's Carbon Capture Plan Fall?
While many fossil fuel and utility companies focus on shifting their energy production to renewable or low-carbon sources, some, like Exxon, want to extract fossil fuels further. This is being counterbalanced with offset programs or CCS. Unfortunately, both options have yet to show success on a large scale.
Exxon is Linked with Disinformation Campaigns Targeting Climate Change
Exxon's record on environmental matters is poor. For example, the fossil fuel giant is linked to disinformation campaigns targeting climate change and has dealt with several disasters at its operating plants. As a result, news of Exxon's plans to implement CCS in its operations across Asia is under scrutiny.
Exxon Carbon Capture Plan
While the oil giant is embracing a new business model that aligns with broader industry standards, the development of carbon capture at the scale envisioned by Exxon is different. The company seeks to build a CCS network that would serve major regional oil and gas producers. Currently, this focuses on Indonesia, Malaysia and Australia. The system would capture their emissions and send them to a hub in Singapore for initial storage and transport. This forms the basis for a carbon trading scheme that could rapidly decarbonise the region – a market that Exxon believes could be worth $4 trillion by 2050.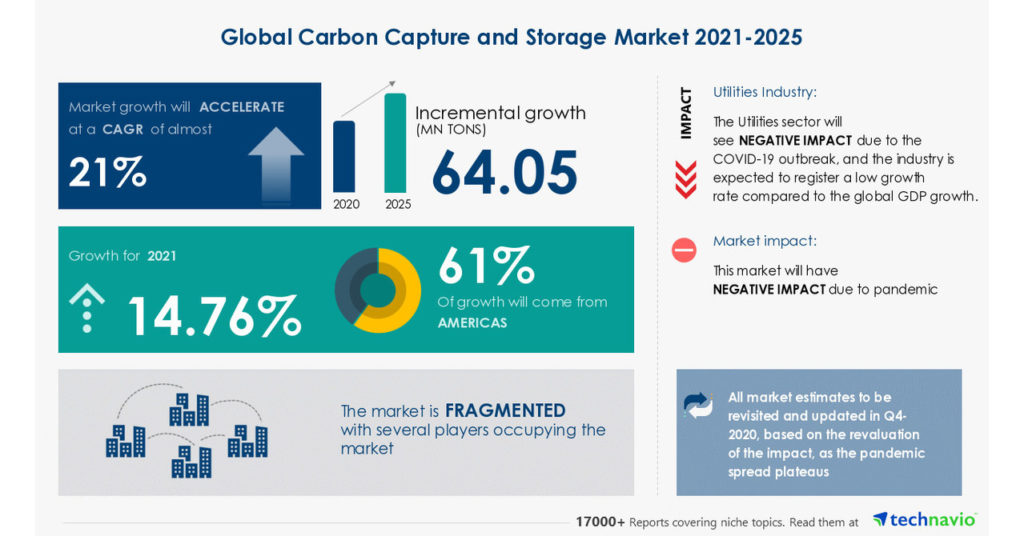 The Plan For Exxon's CCS Network
Exxon's carbon capture plans for Southeast Asia are not just speculative projects based on modelling. The CCS network Exxon plans to build is a larger version of the carbon capture facility at Exxon's Houston operation. Carbon is captured and stored on-site in the carbon capture facility by being pumped into the geological formations below. However, geology is a core difference between the Asian program and the one in Houston.
Many Asian carbon emissions-heavy regions, like Singapore, do not have the right geological makeup for long-term underground carbon storage. As a result, pipelines will connect oil and gas operations to aboveground storage sites in Singapore. Exxon will then transport the carbon for permanent storage elsewhere. Unfortunately, this adds another step, creating more opportunities for leaks and potentially reducing efficiency.
ExxonMobil's Low Carbon Solutions President Joe Blommaert said that according to a study by Singapore Energy Centre, there are nearly 300 billion tonnes of CO2 storage capacity in depleted oil and gas fields and saline formations in Southeast Asia. He added that for CCS to attract investment and become economically viable, the carbon price must be transparent across countries.
This, compounded with the size of the infrastructure envisioned, ensures that Exxon's carbon capture project could take some time to complete. However, it could be a lucrative venture should it succeed. On the other hand, this project could also end up emitting more emissions than it captures.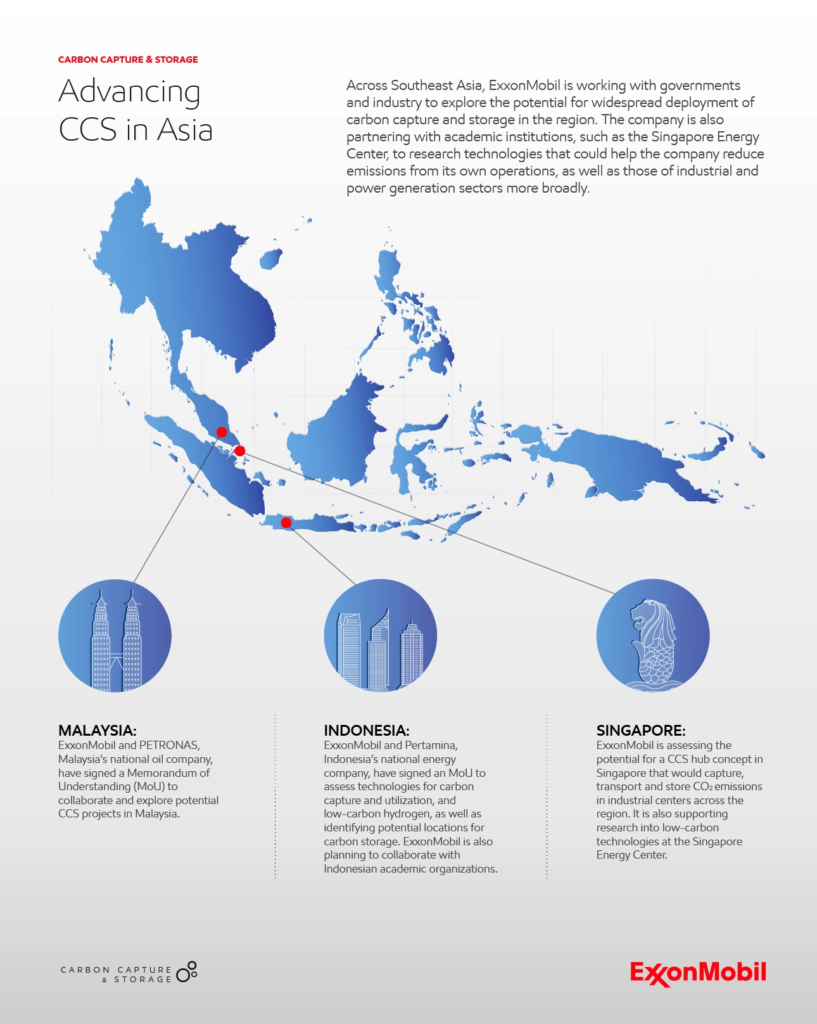 Can Exxon Succeed?
Greenwashing remains a major issue as the world begins its shift to low-carbon solutions. Exxon itself has been at the centre of multiple scandals regarding its handling of climate change data and its decisions to hide its role in creating the current environmental crisis.
CCS remains one of the most effective technologies currently for eliminating unavoidable emissions. As a result, it is becoming the go-to technology for fossil fuel companies and highly polluting industries seeking to decarbonise their operations.
Could CCS be another tool for fossil fuel companies to continue extraction? Could Exxon be promoting a technology capable of changing the sector? There is no simple answer for the time being, but Exxon's track record does not inspire confidence.
by Eric Koons
Eric is a passionate environmental advocate that believes renewable energy is a key piece in meeting the world's growing energy demands. He received an environmental science degree from the University of California and has worked to promote environmentally and socially sustainable practices since. Eric's expertise extends across the environmental field, yet he maintains a strong focus on renewable energy. His work has been featured by leading environmental organizations, such as World Resources Institute and Hitachi ABB Power Grids.
Read more