High LNG Prices in Asia: Risk Causing Permanent Demand Drop
The demand for LNG in Asia is plummeting. Developing nations can't bear with the high gas prices and are actively looking toward renewables. Even fossil fuel stewards are starting to have second thoughts. And if the high gas prices continue, which seems likely, the demand drop might be irreversible.
29 August 2022 – by Viktor Tachev
The geopolitical situation and the war in Ukraine have again highlighted the problem of the high LNG prices in Asia. In a new report, the IEEFA finds that sustained high average LNG price is taking an immediate toll on the global LNG supply and market. Furthermore, this can potentially lead to various long-term negative consequences for natural gas-oriented Asian economies.
IEEFA's Report Findings – What the High LNG Prices Mean for Asia
The Economic Case for LNG in Asia is Crumbling report by the IEEFA finds that, for the first seven months of 2022, the LNG sales in Asia have fallen by over 6% on a year-over-year basis. The drop in demand in China and India, two of the largest potential LNG growth markets, is 20% and 10% – respectively.
IEEFA warns that if the Asian LNG prices continue at their high levels, they can substantially decrease Asian LNG demand. And according to the current projections, the LNG prices will likely remain high for several years. The reasons include the competition for LNG cargoes and the potential supply constraints. These, and other market factors, make the predicted drop in demand a very plausible scenario.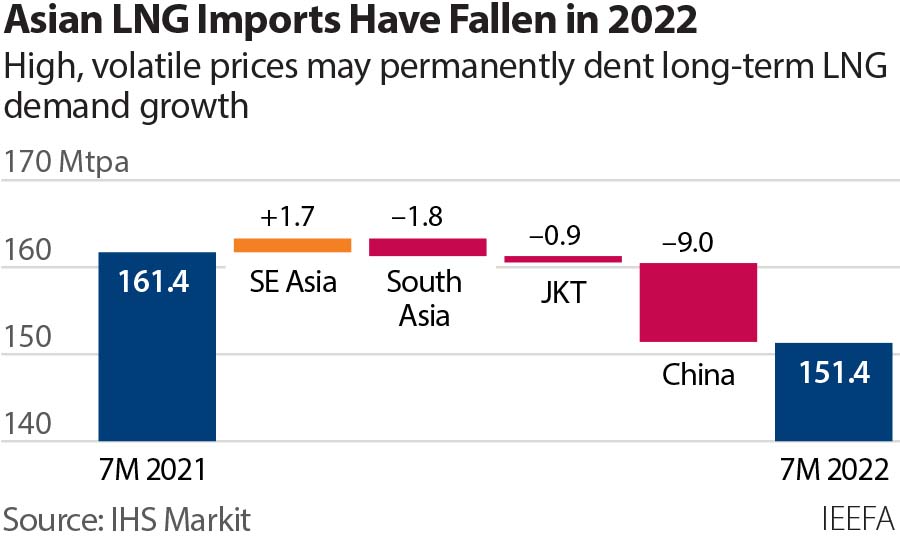 Furthermore, the lack of an economic case may cause the underutilisation of new gas infrastructure. Such a scenario might potentially result in billions of stranded assets. Currently, over USD 96.7 billion worth of proposed LNG-related infrastructure in Pakistan, Bangladesh, Vietnam and the Philippines is at risk of underutilisation or even cancellation.
According to the report's authors, long-lasting, high LNG prices in Asia will impact the long-term industry outlook. The reason is that the gas industry had high hopes that the emerging Asia markets would fuel its future growth.
Similar Findings from Other Organisations
In the wake of the soaring gas prices, the IEA now sees a 60% gas demand drop across Asia by 2025. While the IEA's previous forecast was for 370 bcm in potential gas demand, the agency revised its prediction to just 140 bcm in July.
The Oxford Institute for Energy Studies also sees a similar trend. The institute warns that the Russia-Ukraine war, accompanied by the higher gas prices and the rationing of gas supplies, may lead to a permanent demand drop in Asia and Europe. Such a scenario can cause long-lasting and irreversible damage to both sides of the global LNG industry. First, it poses severe challenges to LNG-importing countries. Next, LNG exporters risk developing new projects based demand growth predictions that likely won't materialise.
Bloomberg NEF has also cut its expectation for LNG demand in South Asia and Southeast Asia in 2025 by 37 bcm. Other forecasting agencies have slashed their LNG demand projections for Asia. These include Rystad Energy and Independent Commodity Intelligence Services.
The Effect of the High Liquefied Natural Gas Prices is Already Felt across Asia
Bangladesh is a country suffering from record-high natural gas prices and some of the harshest climate impacts. This has recently led it to step back from building a 3.6 GW LNG-fired plant. Officials cited two main reasons: the spiralling price of LNG on global markets and a lack of the need for new capacity before 2030. Furthermore, officials stated concerns that there was no guarantee of gas availability in the current situation.
In a previous report, the IEEFA found that the growing global energy crisis will likely hinder LNG projects under development in the Philippines, Vietnam and Thailand. Those countries are also facing the issue of securing supply for planned projects at competitive levels. Thailand, in particular, is up against what the IEEFA describes as "the perfect storm". According to the agency, the country is facing high LNG prices and declining domestic gas production and imports.
"Evidence that LNG demand is eroding in Asia will be of significant interest to investors in oil and gas companies, particularly those that are looking to open up new projects anticipating strong demand from Asia."

"The high costs of LNG, which is expected to continue in the medium-term, casts further doubt on the role of the fuel in the transition to net zero emissions for investors."

Laura Hillis, Director of Corporate Engagement, Investor Group on Climate Change (IGCC)
Even Japan and South Korea, two of the biggest gas advocates, are now going through developments that risk permanently affecting LNG demand.
The IEEFA sees a growing risk of planned LNG and gas infrastructure across Asia not being built due to lack of feasibility.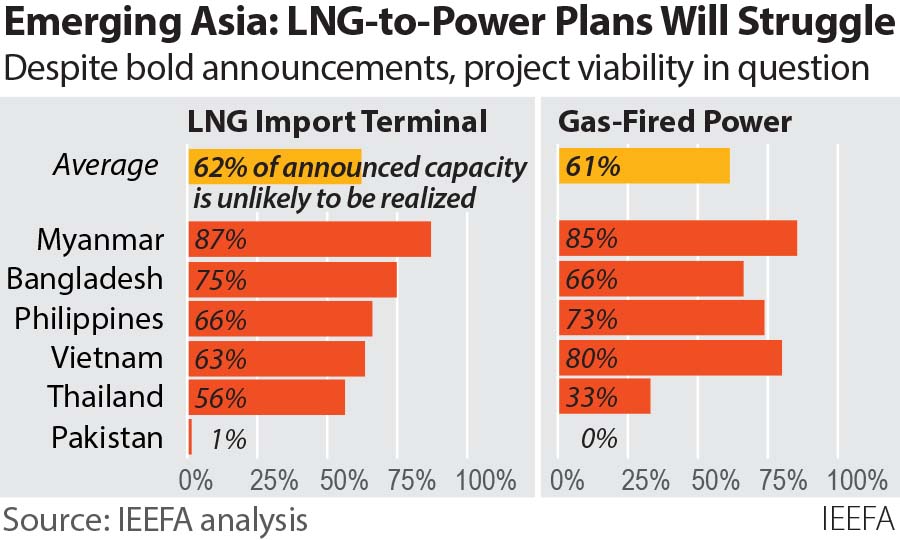 Renewables as the Answer
Countries like Bangladesh, Vietnam and the Philippines still have LNG projects in the pipeline. If those plans materialise, they risk surfacing a number of risks. Among them are high energy costs, stranded assets, energy dependence, unreliable gas supplies and decarbonisation challenges.
Renewable energy can provide a way out. Developing countries can avoid paying high LNG prices by speeding up their inevitable transition to clean energy. Investing in renewables and storage rather than new gas infrastructure is a more viable scenario. This is due to the price mismatch between the electricity derived from clean sources and LNG. New solar and onshore wind power will become cheaper investments than new gas infrastructure by 2025.
Furthermore, switching from coal to clean energy is now cheaper than switching to gas. McKinsey finds that the price of renewables can even continue to drop by up to 10% per year. Furthermore, every dollar invested in renewable energy is estimated to generate 3 to 8 times the return. All these factors mean there are more reasons to invest in renewables than gas.
The Shift Away from LNG Has Started
Sam Reynolds, an energy finance and LNG analyst with the IEEFA, says that the shift away from LNG is in its early stages. However, if the prices and the volatility remain high over the next few years, Reynolds sees the narrative of LNG as a viable alternative eroding further.
In fact, many Asian countries are already moving away from gas. Pakistan and Bangladesh are exploring domestic alternatives, including renewables. China plans for an unseen scale of renewable energy capacity expansion of 120 GW this year. Due to India's ambitious renewable energy targets, the annual LNG demand there may not surpass 2020 levels through 2025.
The trend is clear: the window of opportunity for LNG projects is closing quickly. And the main reason is the accelerating shift toward renewable energy. Countries that refuse to acknowledge this will have only themselves to blame.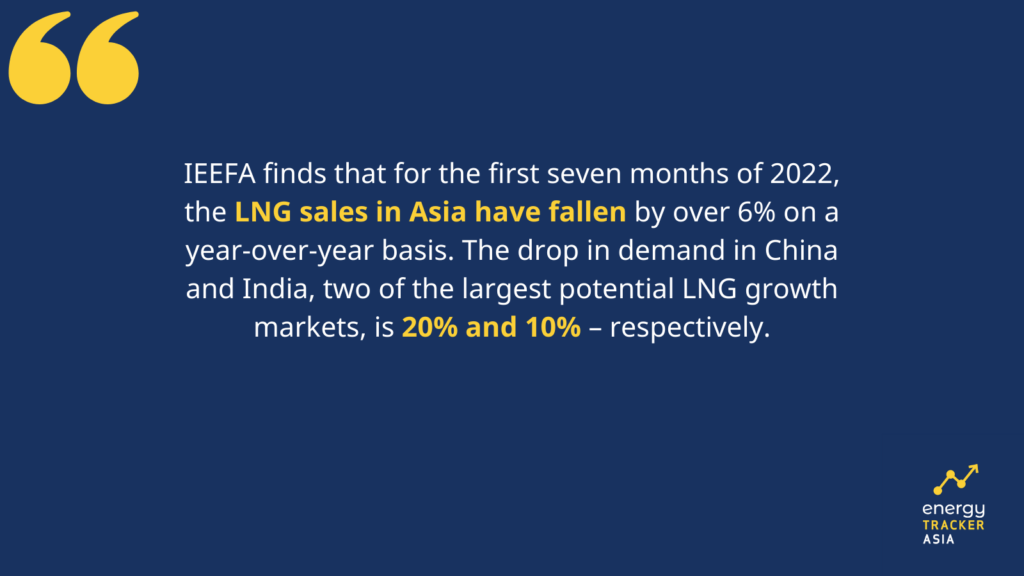 by Viktor Tachev
Viktor has years of experience in financial markets and energy finance, working as a marketing consultant and content creator for leading institutions, NGOs, and tech startups. He is a regular contributor to knowledge hubs and magazines, tackling the latest trends in sustainability and green energy.
Read more