SDG Targets: Collaboration is the Key to Asia's Energy Transition [Part I]
The successful implementation of the SDG targets is a universal goal. The lack of progress globally presents Asia with the unique opportunity to emerge as the much-needed leader to sustainable development. To do that, it should prioritise collaboration and partnerships.
06 January 2022 – by Viktor Tachev
Over recent years, Asia has increased commitments toward achieving its Sustainable Development Goal (SDG) targets. But huge gaps remain, and there is significantly more work needed. Collaboration is key to seeing the sustainable development goals (SDGs) met in Asia, but this means governments, businesses, and others coming together and driving toward a common goal. This includes advances in clean energy, of which Asia's potential is vast.
Asia and the SDG Targets
According to the latest Sustainable Development Report by the United Nations, East and South Asia are progressing more toward SDG targets than all other regions. Asia, in general, is making vital strides towards SDG 1 – no poverty and SDG 4 – quality education. Yet, no country is on target to meet SDG 2 – zero hunger, SDG 3 – good health and well-being, SDG5 – gender equality, SDG 10 – reduced inequalities, and SDG 14 and 15 focusing on biodiversity preservation. These failures primarily affect developing countries.
While Asia's progress is commendable, Southern Voice, a think tank network, suggests that Asia may fail to meet the crucial SDG 17 goal – partnerships for the goals. This results in the Asia-Pacific region only being on track with 22 of the 232 SDG indicators.
The problem, however, isn't a lack of effort. The issues stem from the complex process of adapting the SDG targets at the local level coupled with a lack of economic resources and financial and technical assistance.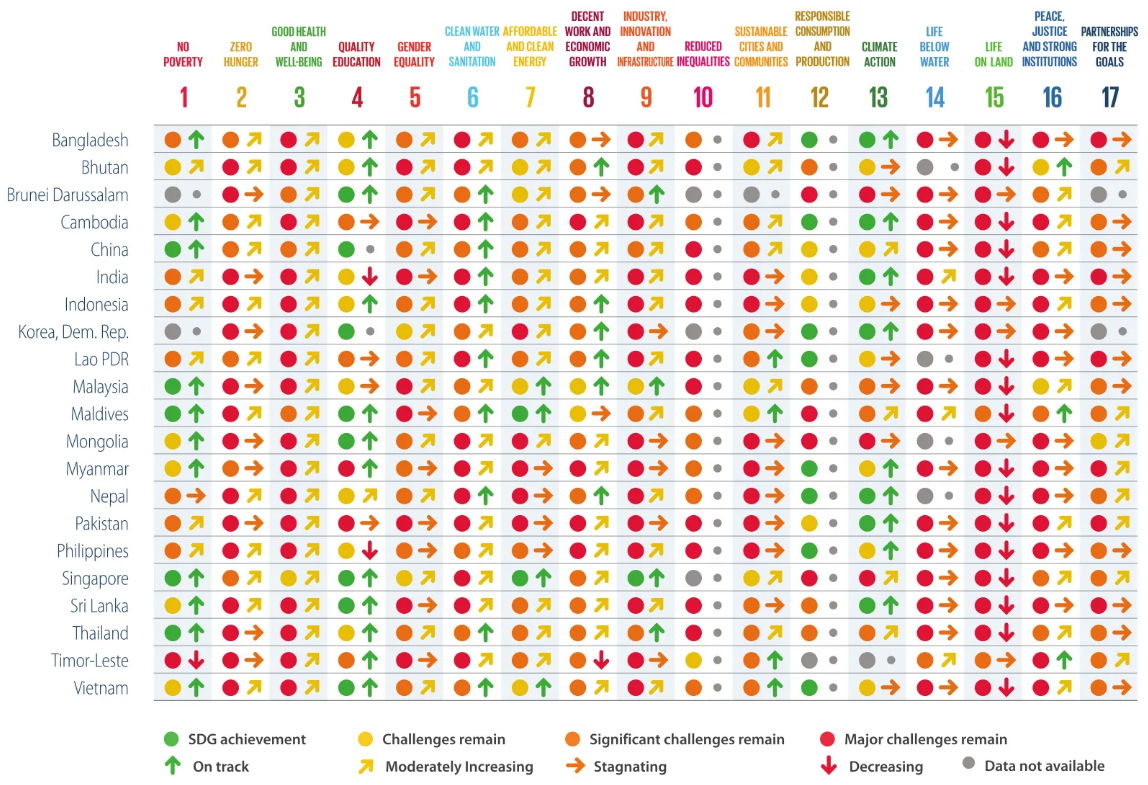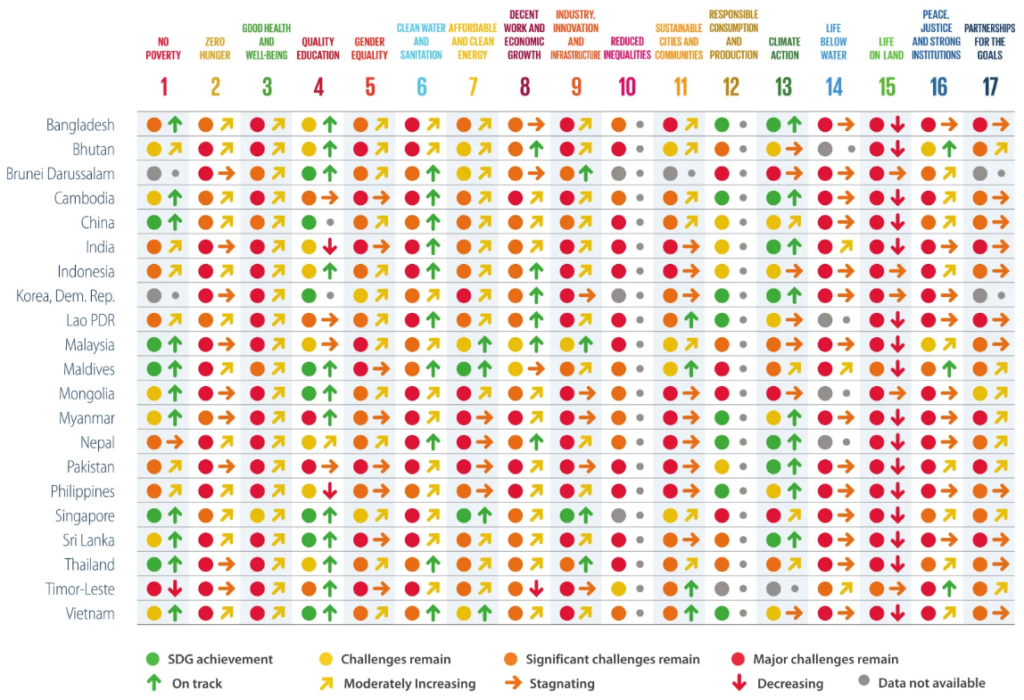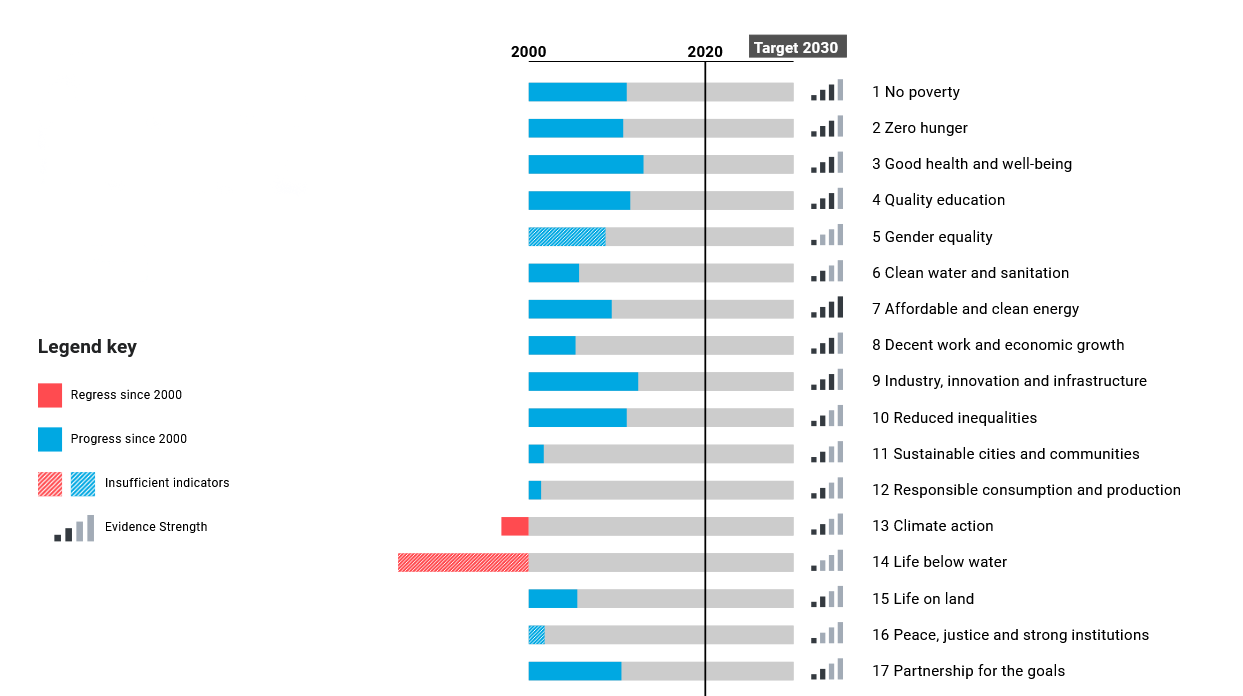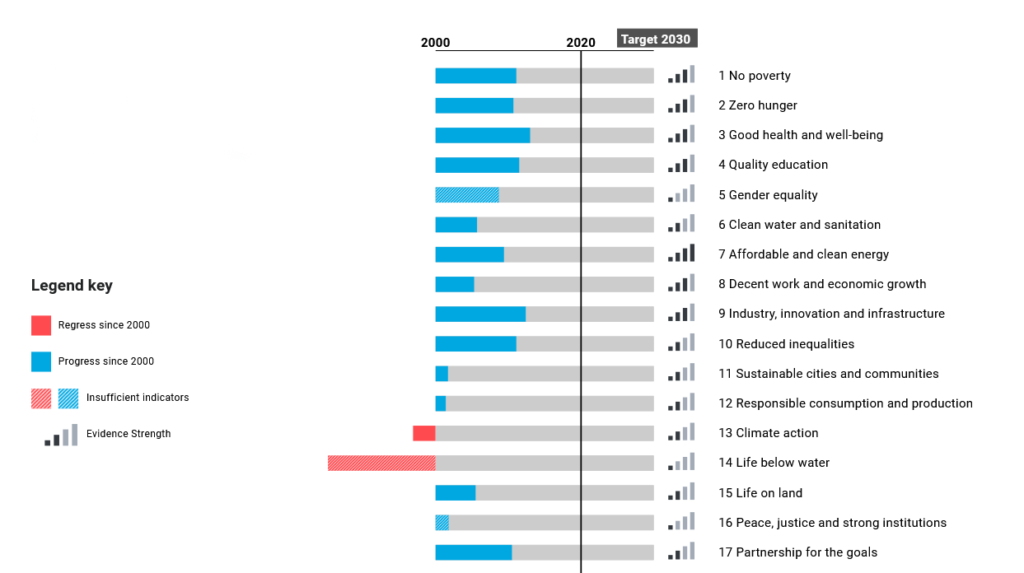 Placing a Focus on SDG 7
The tone isn't optimistic for SDG7 – affordable and clean energy. If the Asia-Pacific region continues its current pace, it will likely miss its 2030 energy access and efficiency target. Greater investment and international cooperation are needed for the area to reach its ambitions by 2030. Moreover, progress on renewable energy per capita is stagnant in South Asia and Southwest Asia, creating more challenges.
However, these challenges aren't unique to Asia. South America and Africa are heavily dependent on fossil fuels and have even smaller shares of renewables in their energy makeup. Moreover, the picture isn't sanguine on a global level either. According to a joint report between international bodies, failure is looming on ambitions for SDG 7.


Sustainable Food Production Systems and World Agricultural Markets
For global economic growth and sustainable future and to enhance agricultural productive capacity, world agricultural markets need to implement resilient agricultural practices and sustainable food production systems.
Partnerships and Collaboration Can Unlock Successful SDG Targets Implementation
To make the SDGs results possible, bringing together governments, a global partnership, the private sector, and others could streamline the SDGs planning, implementation and accountability processes. However, they should be applied on national and regional levels to make the most out of these initiatives.
National Levels
The first and crucial step for achieving SDG 7 – or any other SDG – is aligning it with national policies. The process requires considering the capacities and levels of development in different countries and aligning with their contextual reality. Furthermore, governments have to adjust their sectoral policies to prioritise SDGs. More importantly, the policies should account for SDG target implementation in budgeting plans.
Luckily, several Asian countries are taking steps to align their 2030 agendas to their national, sub-national and sectoral plans. For instance, Japan launched multiple initiatives to fulfil their SDG goals, like promoting efforts to reduce marine plastic pollution. Another example is Bangladesh's initiatives – "Citizen Platform for SDGs" and the "SDG Tracker". Both aim to help implement and monitor SDG goals.
Yet, despite the progress, challenges remain. Firstly, overarching institutional barriers hinder progress. Secondly, limited financing, cooperation, technology, logistics and human capital are others.
Regional and Global Levels
On a regional and global level, things look a little different. The Asia-Pacific Forum on Sustainable Development has emerged as a leading network supporting the region to achieve its SDGs. Additionally, this works in concert with the UN's regional offices that also offer assistance towards regional SDGs.
ASEAN, an economic union of Southeast Asian countries, is now integrating SDG targets in its "ASEAN Vision 2025". It aims to coordinate and support the processes across the region.
The Asian Development Bank (ADB) plays a significant role in financing and assisting developing member countries in the financing world. Its "Strategy 2030" programme is explicitly aligned with the SDGs. Through this, ADB is now partnering with the UN, other banks, civil society and the private sector to promote new investments, provide technical assistance and knowledge support to see Asia gear towards its SDG goals.
Collaboration is Necessary to Meet Sustainable Development Goals (SDG) Targets
Achieving the SDG is no small feat. However, it remains clear that without collaboration between multiple levels of society, reaching them by 2030 will not be possible. Despite the seemingly bad news related to dawdling progress, things are happening. Hopefully, this time, a sense of urgency is settling in.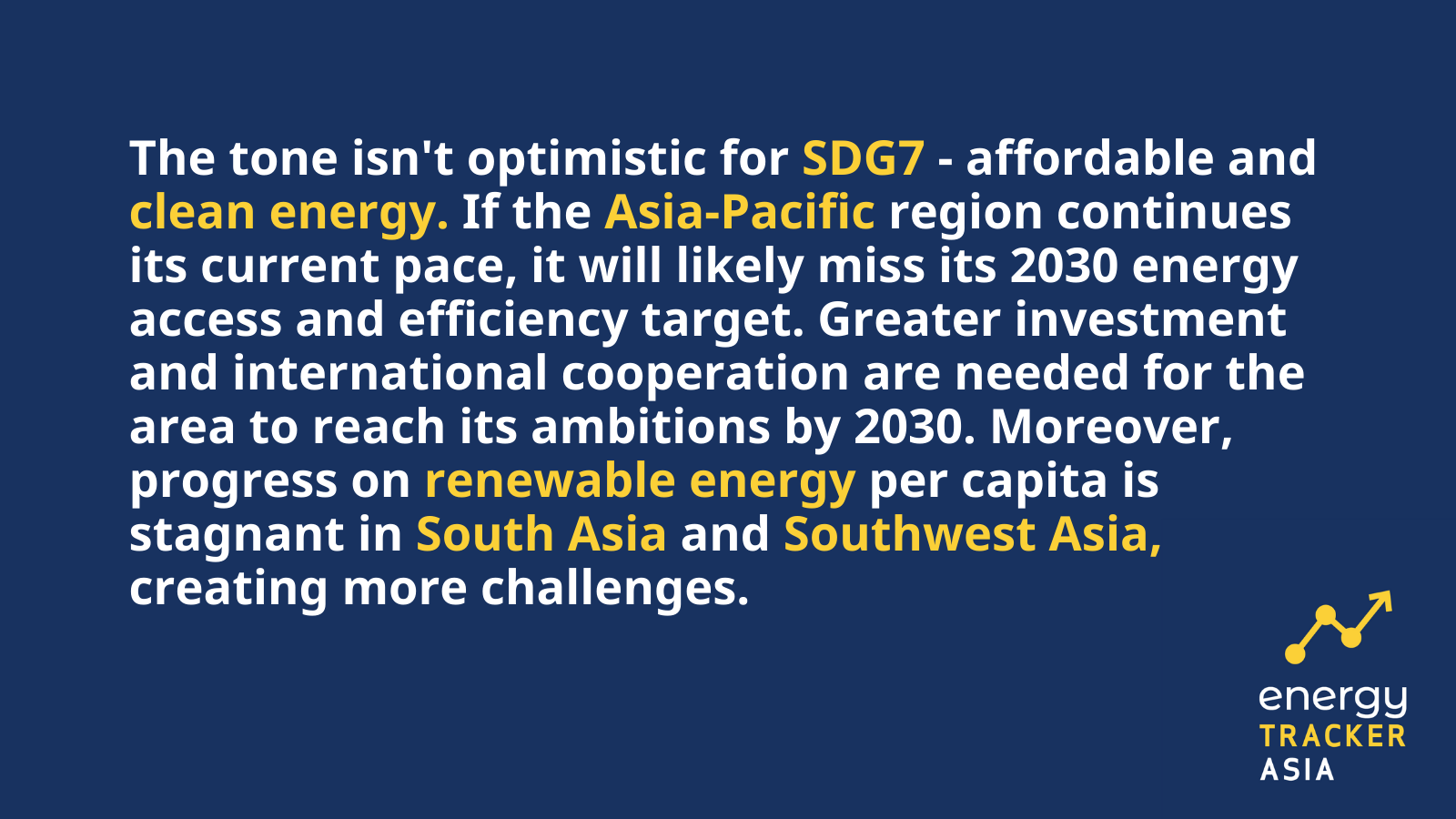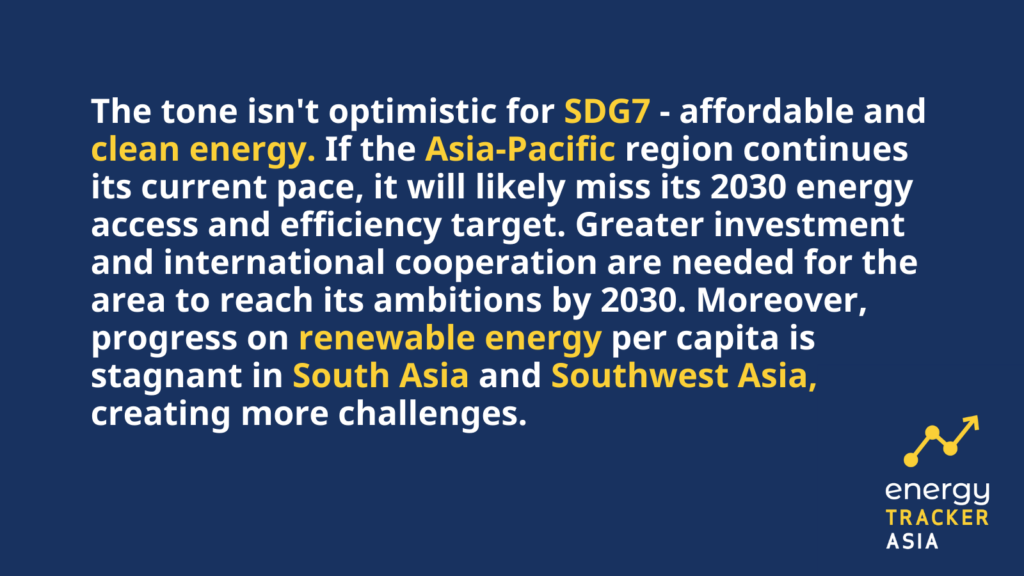 by Viktor Tachev
Viktor has years of experience in financial markets and energy finance, working as a marketing consultant and content creator for leading institutions, NGOs, and tech startups. He is a regular contributor to knowledge hubs and magazines, tackling the latest trends in sustainability and green energy.
Read more