Global Inflation 2022: The Culprit – Fossil Fuel Prices
Aside from taking a toll on the climate and the environment, fossil fuels are also bearing massive financial and economic risks, including stranded infrastructure, cascading inflation and unstable energy supplies.
21 November 2022 – by Viktor Tachev
Last updated on 23 November 2022
Fossil fuel prices are on the rise, exacerbating the global inflation crisis, pushing up energy and food prices and worsening economic well-being across the world. The global economy and the entire world are going through higher inflation. For many developed countries and major economies, this high inflation might be bearable, but for low-income and developing nations across Asia, it isn't. The situation, once again, highlights the issue of energy poverty. However, global inflation in 2022 can be a blessing in disguise, as it could motivate developing countries to start moving away from fossil fuels. It remains to be seen how willing developing Asian countries will be to ensure a more sustainable and stable future for their populations.
How Fossil Fuel Price Hikes Affect Global Inflation
Fossil fuels remain the most dominant power source, holding an 84% share of global energy production. They play a significant part in producing and distributing the goods and services we buy. Due to this, their price volatility directly affects the prices of those goods and services, highlighting their influence.
Rising Inflation in United States
The recent fossil fuel price hikes are directly fuelling the rising inflation worldwide. In the US, inflation has been at its highest level since 40 years ago. Furthermore, 10 of the past 12 economic recessions in the country were preceded by significant oil price increases. Historically, fossil fuel price hikes have exacerbated economic instability.
According to officials, the situation might get even worse, as gas prices will likely remain high in the near future. Europe is facing five to 10 more "difficult winters" ahead. And the closer we get to winter, the higher the demand and the scarcer the fossil fuel supplies will get. As a result, the energy crisis' implications will become severer, forcing some countries to pay above market prices to ensure deliveries while leaving developing nations starving for LNG. Meanwhile, Asian countries aren't well positioned to withstand such a market shock, forcing them to, perhaps, leave the market.
How Fossil Fuel Price Volatility Affects Asian Countries
Fossil fuels expose consumers to geopolitical and climate risks. While consumers from richer countries might be able to withstand rising prices and inflationary pressures, Asia is home to many countries struggling with energy poverty. The fossil fuel price jumps and the exacerbated inflation will further worsen this problem, disproportionately burdening low-income and vulnerable households.
Fossil fuel price volatility also affects project developers and investors, creating permanent demand destruction. The 1,000% jump in gas prices between April 2020 and January 2021 put over USD 50 billion worth of projects in Bangladesh, Pakistan and Vietnam at risk. Recently, SMC, one of Asia's leading fossil gas developers, announced losses of over USD 250 million (P15 billion) due to fossil fuel price volatility. The company even filed a petition for a temporary energy price increase to recover part of the losses. However, the regulator turned it down to avoid further increasing the already high energy prices in the country.
Furthermore, a number of major fossil fuel projects in Asia are at risk of not being built. Even if they go ahead, the fossil fuel price volatility and quickly approaching phase-out dates will leave the infrastructure stranded before their operational life spans end.
Fossil fuels also have an indirect cost since they intensify the climate crisis. As we saw in 2022, Asian countries receive some of the harshest consequences of climate change. Due to this, fossil fuels have a cascading effect on future economic well-being, as countries have to address loss and damage – the financing for which is scarce.
Renewables as a Way Out of the Fossil Fuel Crisis
The high volatility is embedded in the DNA of fossil fuel pricing mechanisms. The unstable prices and the supply disruptions affecting Asian economies precede the recent geopolitical instabilities, the COVID pandemic and the war in Ukraine.
However, according to researchers, even if countries boost domestic fossil fuel production and limit reliance on imports, they still won't be able to guarantee low or stable energy prices.
Fossil fuels bear multiple drawbacks, from energy dependency and stranded assets to environmental and climate risks. The only way to avoid them is by embracing cleaner and cheaper renewable energy sources.
Such a move would also help tame similar high-inflationary periods in the future. According to research by the Roosevelt Institute, transitioning to electrified renewable energy can significantly increase price stability.
Renewable Energy Is Getting More Affordable by the Day
Wind and solar investments are already cheaper than existing gas plants. The levelised costs for solar and wind technologies will fall by 60% and 70%, respectively. This is below the long-run marginal cost for natural gas by 2030. The cost of producing electricity from renewables is already cheaper in many parts of the world. The cost also will continue trending downward over the next 10 years. As academics explain, faster growth will lead to lower costs, driving even more rapid growth.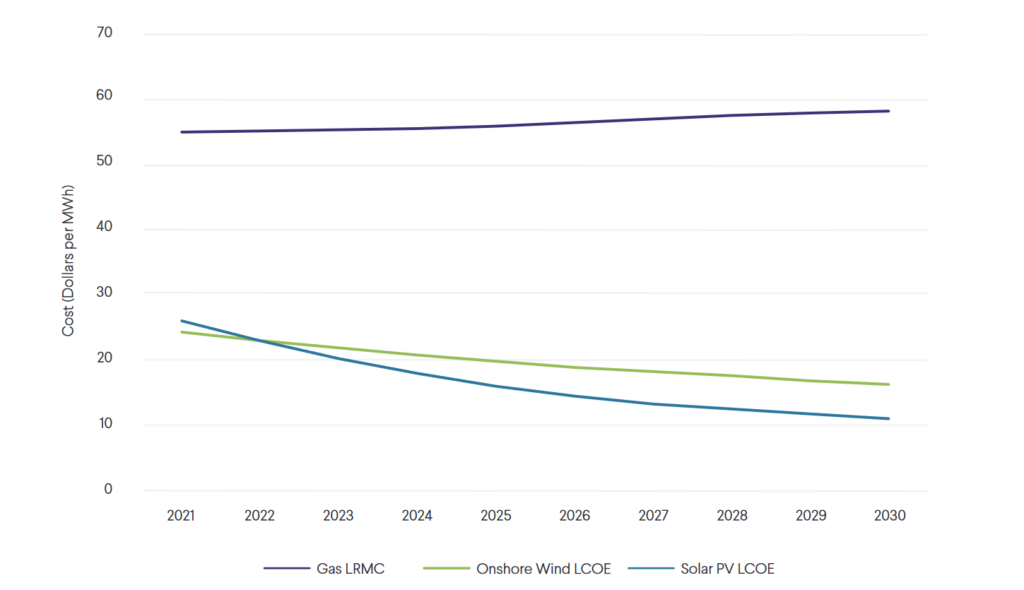 Over the past decade, renewable electricity costs fell by up to 90%. In 2020, it also beat fossil-fueled power in over 90% of the world. Due to this, renewables will provide around 95% of the world's new generating capacity.
The sooner Asian countries drop their plans for fossil fuel expansion and start transitioning to renewables, the higher the energy cost reduction and the better the climate will be.
"I talk to energy policymakers all the time and none of them complain of relying too much on clean energy. On the contrary, they wish they had more. They regret not moving faster to build solar and wind plants, to improve the energy efficiency of buildings and vehicles or to extend the lifetime of nuclear plants. More low-carbon energy would have helped ease the crisis — and a faster transition from fossil fuels towards clean energy represents the best way out of it."

Fatih Birol, Executive Director of the International Energy Agency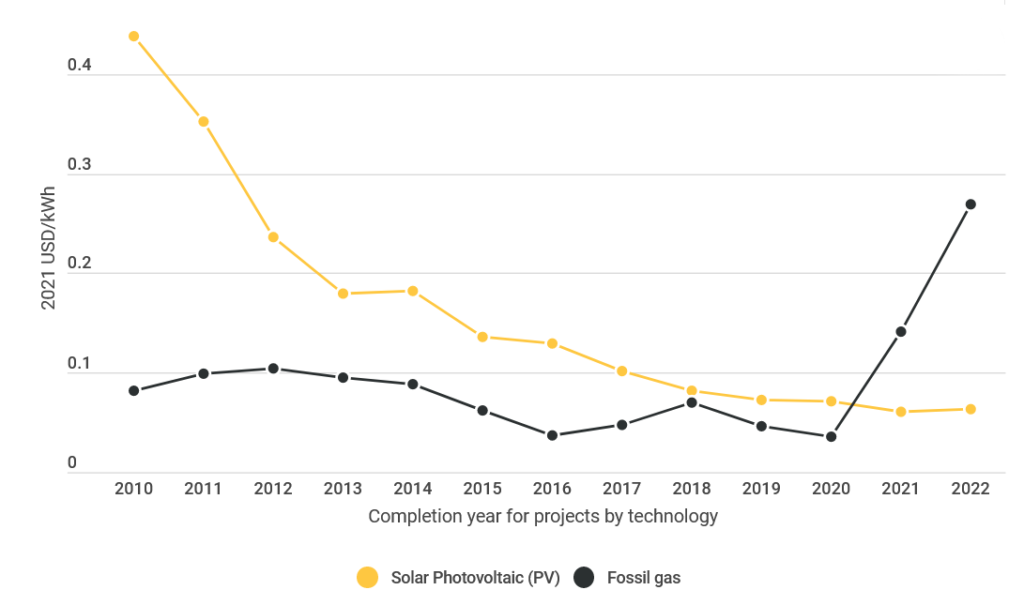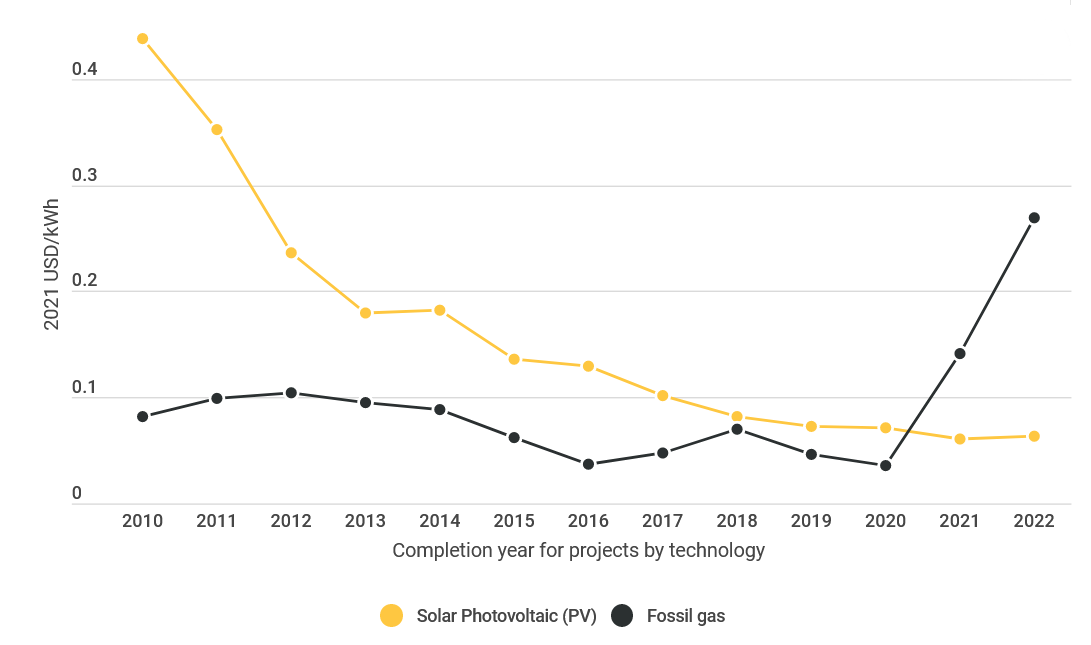 Global Inflation Rate and High Fossil Fuel Prices Have Sealed the Pivot to Renewables
A glaring sign that the energy transition is happening is seeing the biggest polluters move away from fossil fuels.
With its REPowerEU plan, the EU is raising its renewables and energy efficiency targets. The US government introduced the Inflation Reduction Act to harness the potential of clean energy technologies.
India stated that the energy crisis has accelerated the switch to renewables and hastened the end of fossil fuels. It is now working to establish a carbon market and boost both building and appliance energy efficiency. Alongside China, the countries plan to meet almost all their electricity demand growth through mostly solar and wind. Furthermore, China intends to abandon oil and build transport systems based on electricity. In 2021, China's solar cell capacity doubled, reaching 361 GW. It is projected to hit 600 GW by the end of 2022. The country is also building wind power capacity at unprecedented rates.
Other Asian countries should follow. Southeast Asian nations, in particular, have massive renewable energy potential. The current situation puts them in the perfect position to stop being at the mercy of fossil fuel exporters and make a historic turn towards cleaner, more secure and more affordable energy systems.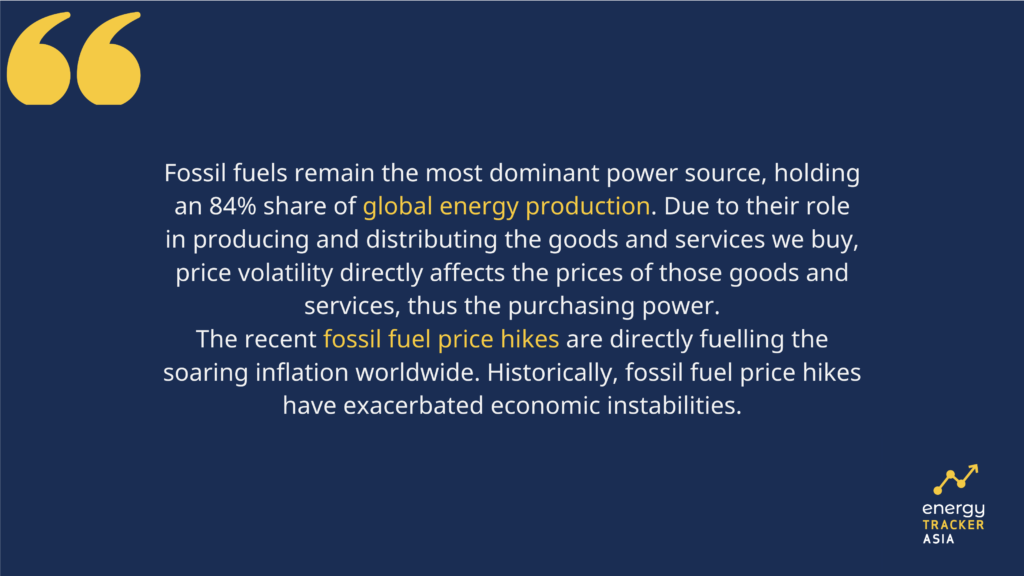 by Viktor Tachev
Viktor has years of experience in financial markets and energy finance, working as a marketing consultant and content creator for leading institutions, NGOs, and tech startups. He is a regular contributor to knowledge hubs and magazines, tackling the latest trends in sustainability and green energy.
Read more