Renewable Energy in Singapore: Sources, Plan and Strategy
Over 95% of the energy currently consumed in Singapore is from LNG and oil. However, the country has robust renewable energy targets for the next several decades, largely driven by local solar energy production and importing clean energy from neighbouring countries.
20 June 2022 – by Eric Koons
Last updated on 01 September 2022
Renewable energy in Singapore is produced in a liberalised energy market, meaning that most, if not all, of its energy investments are commercial. However, as Singapore resumes its production in the post-COVID era, energy demand in the Singapore is rising, along with climate change concerns, and production needs to increase. This is fueled, in part, by the electrification of the transportation segment. Additionally, the high initial investment for developing renewable energy systems keeps solar PV systems investments relatively low.
We are hopeful that the country's changing renewable energy policies will create a shift in its energy investment profile. The rise in its carbon tax from S$5 to S$10-15 per tCO2e by 2023 will drive this change. As a result, the carbon tax should reshape commercial investment in the energy market to favour renewable energy sources.
Singapore's Current Energy Mix in 2022 – Natural Gas and Solar Energy Systems
For most of its energy security and production, Singapore relies on liquefied natural gas (LNG) and oil. On the other hand, Singapore's renewable energy initiative is led by solar power. Singapore has reached its target of 350 MWp solar production (its 2020 green energy agenda goal) and is targeting 2 GW by 2030.
| | | | |
| --- | --- | --- | --- |
| Energy Source Classification | Energy Source | Total Production Capacity in 2021 | Percent Change 1965-2021 |
| non-renewable | coal | 0.00 TWh | not available* |
| non-renewable | oil | 1.58 TWh | -89% |
| non-renewable | LNG | 50.30 TWh | +250% |
| green, non-renewable | nuclear | 0.00 TWh | not available* |
| renewable | solar | 0.72 TWh | not available* |
| renewable | wind | 0.00 TWh | not available* |
| renewable | hydropower | 0.00 TWh | not available* |
| renewable | other renewables | 0.41 TWh | not available* |
Source: OurWorldInData
* – the resource was not or is not being utilised
Singapore's Energy Mix over Time
Singapore is undertaking bold steps to reduce its carbon footprint and increase renewable energy capacity. Firstly, Singapore altered its energy capacity by switching from oil to natural gas. This effectively brought down the carbon emissions by 30%.
Secondly, solar power is being brought into Singapore's energy mix. With a total expected solar capacity of around 2 GW by 2030, Singapore is seriously rethinking its electricity generation and is moving towards renewable energy options.
Thirdly, Singapore aims to connect with regional power grids to access cost-effective clean energy. This is already underway with the Singapore-Australia Sun Cable, which will supply 15% of Singapore's energy needs (or 30GW).
Finally, hard-to-decarbonise industries will harness carbon capture and storage/utilisation (CCSU) technologies to meet greenhouse gas emissions targets.
Singapore Renewable Energy Percentage
Due to various reasons, there has been minimal investment in renewable energy in Singapore in recent decades. As of 2020, solar energy only accounted for 0.08% of the country's total energy consumption, while fossil fuels like oil and natural gas accounted for around 98%.
Furthermore, the Singapore-Australia Sun Cable will likely change this ratio in favour of solar, but construction will not start until 2024.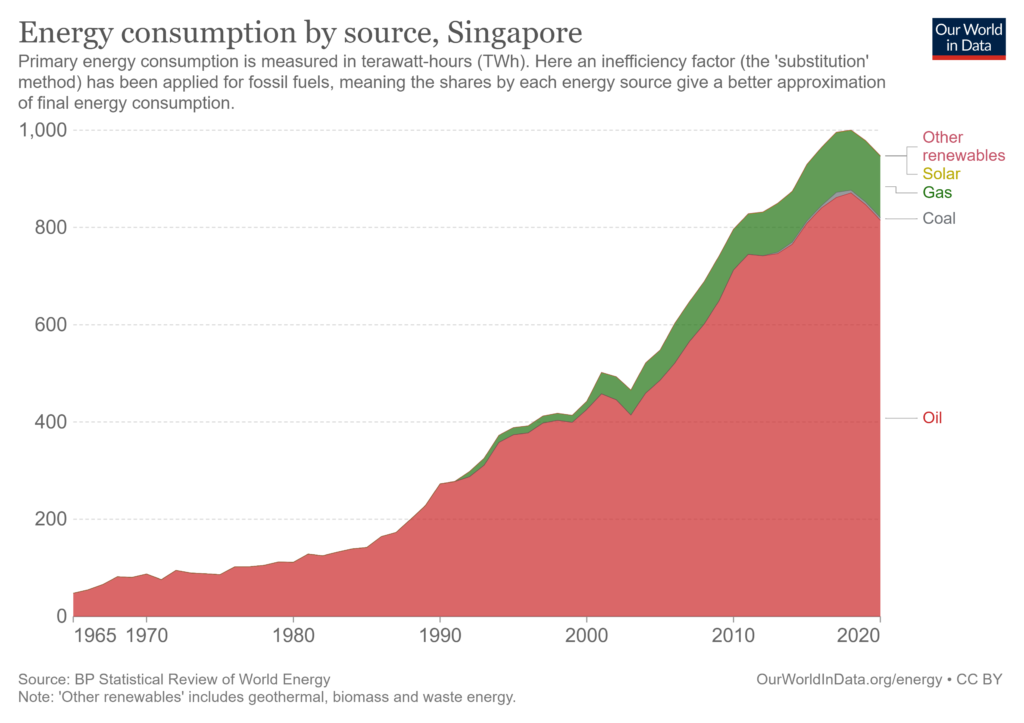 Solar Energy in Singapore Is Leading The Way
Only a few types of renewable energy are viable in Singapore. The country has a very small amount of land, with low wind speeds and large ports limiting tidal energy potential. Therefore, solar is leading the way in Singapore, although there is a small amount of land available for deploying solar panels. Moreover, further investments in solar energy production, international energy generation and regional grids for clean electricity importation are critical to sustainable renewable energy growth.
What is Singapore's Renewable Energy Plan?
In addition to bringing online 2 GW of domestic solar production by 2030, Singapore plans on supplying 30% of its energy needs with low-carbon imports by 2035. In addition to solar, many other renewable energy options are being thrown around. For example, Sembcorp Industries is introducing a green hydrogen (decarbonised) production facility in the country.
Renewable Energy Singapore: A Changing Policy Landscape Will Spur Growth
The pro-renewable energy agenda ensures that investments in Singapore's renewable energy sector are fully utilised. It also ensures future renewable investment for both the residential and non-residential sectors. So, with the current energy mix largely dependent on oil and LNG, many changes will be in the coming decades.
by Eric Koons
Eric is a passionate environmental advocate that believes renewable energy is a key piece in meeting the world's growing energy demands. He received an environmental science degree from the University of California and has worked to promote environmentally and socially sustainable practices since. Eric's expertise extends across the environmental field, yet he maintains a strong focus on renewable energy. His work has been featured by leading environmental organizations, such as World Resources Institute and Hitachi ABB Power Grids.
Read more