Solar Energy in Malaysia: A Bright Future or Dim Prospect?
Malaysia's renewable energy targets heavily rely on expanding its solar energy capacity. Meanwhile, the country is ideally located for large-scale solar adoption. However, government policies still need improvement, and significantly more investment is required to facilitate this transition.
21 September 2023 – by Eric Koons
Solar energy in Malaysia is at its early stage. As climate change accelerates, Southeast Asia is focusing increasingly on clean and renewable energy to reduce greenhouse gas emissions. This starkly contrasts the region's historically heavy reliance on fossil fuels, which has fueled major economic growth over the last two decades. Southeast Asia's energy demand has doubled since 2000, and renewable capacity has nearly tripled.
Malaysia has followed this trend, with renewable energy capacity increasing by over 3.5 times since 2000. However, even with this significant increase, renewable energy only makes up about 8% of its total energy mix. This is heavily dependent on hydropower (6.3% of the energy mix), a reliable source of low-carbon energy. However, its use is regionally specific and primarily in Borneo Malaysia.
The country is looking for alternative options to to generate electricity and increase renewable energy access, and solar is coming into the spotlight.
Solar Energy in Malaysia: Current State and Prospects
Solar power in Malaysia is still in its nascent stages, contributing to less than 1% of the country's total energy consumption. However, the government's goal of increasing the country's share of renewable energy to 31% by 2025 places a significant emphasis on solar.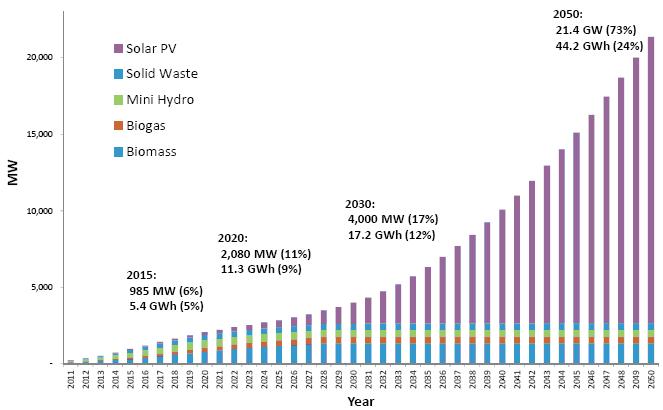 This growth will hinge on three leading considerations. First, there will be a major revamp of government policies to facilitate utility-scale solar projects. Second, the country's solar PV module production capacity, the third-largest in the world, will focus on domestic use instead of lucrative external markets. Third, an investment of USD 375 billion by 2050 will be made in renewable energy infrastructure.
If successful, Malaysia can tap into a valuable portion of its 337 GW of potential solar capacity available.
Is Malaysia Suitable for Solar Energy?
Malaysia's high solar energy capacity is primarily due to its geographic location. Straddling the equator, it receives solar radiation at a direct 90-degree angle. This allows solar radiation to reach Earth more densely than at higher latitudes – providing more energy per square metre.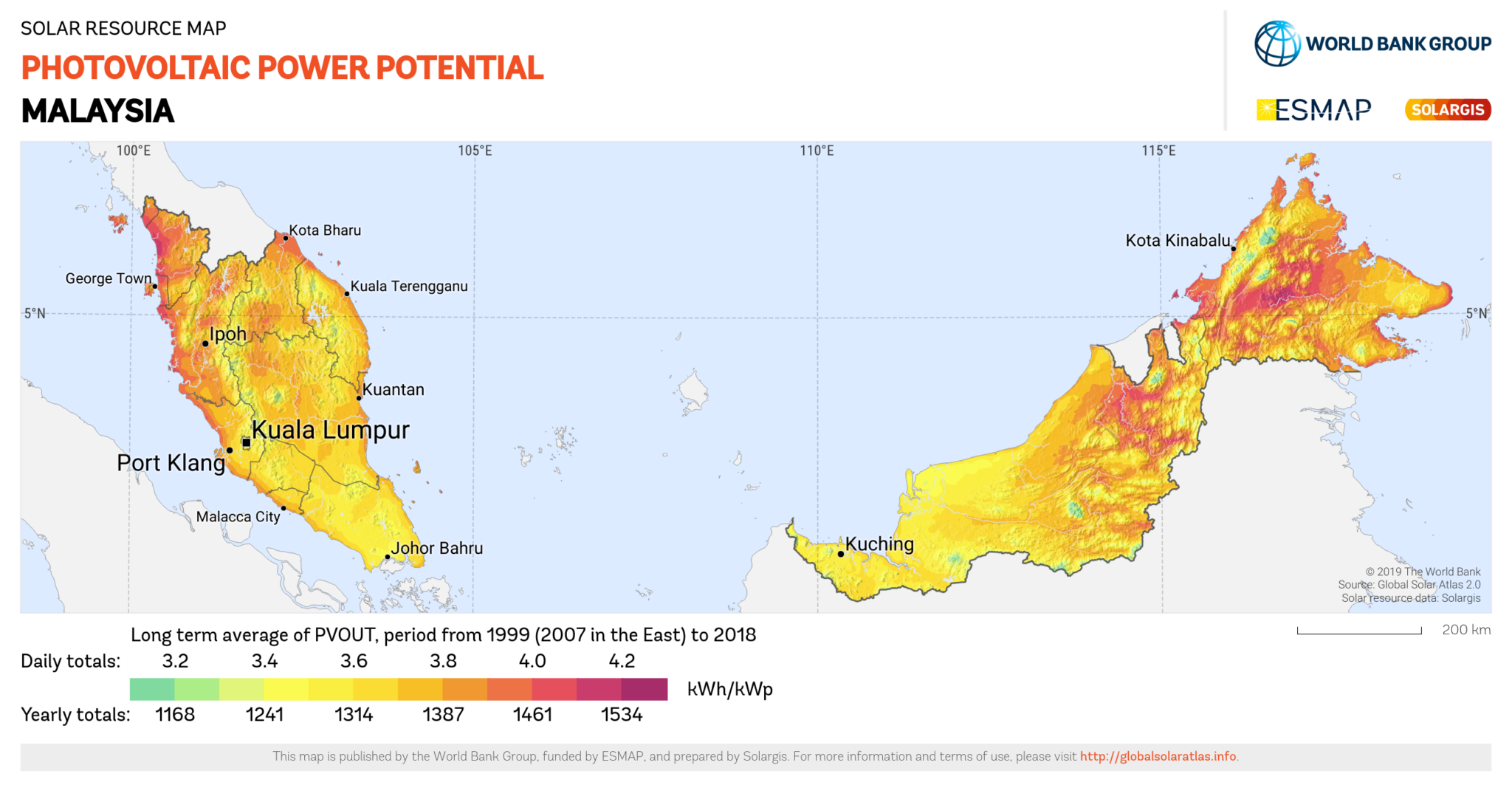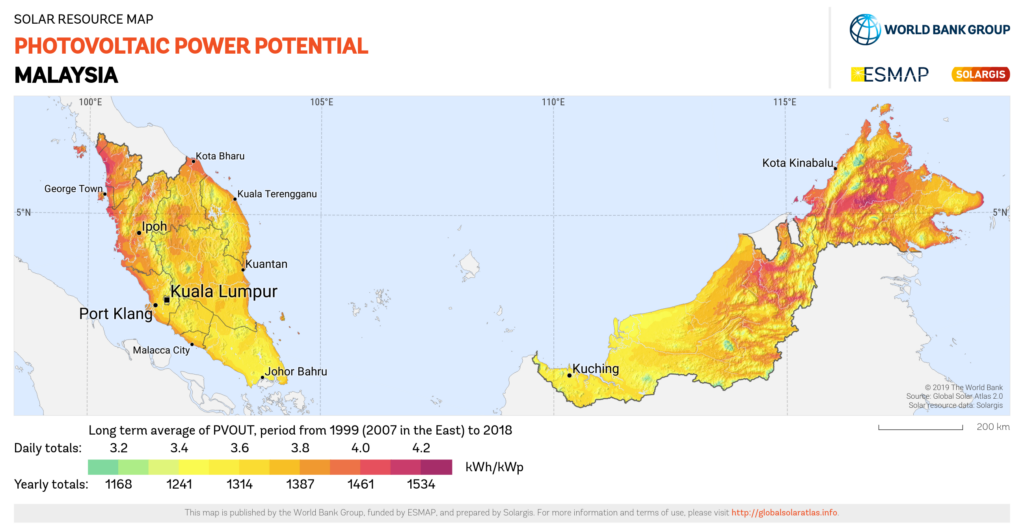 However, the country's tropical climate counterbalances this with frequent cloud cover, leading to an average of 6 hours of sunlight daily. Malaysia receives approximately 4-5 kWh/m2 of solar irradiance per day, one of the highest rates in Southeast Asia.
So Why Is Solar Power Not Popular in Malaysia?
Even with a high capacity for solar, adoption remains low for both residential and utility-scale systems. In both cases, costs for implementing solar are still higher than alternatives. While solar prices have steadily declined, they must compete with already subsidised electricity costs and a government-supported fossil fuel industry. Reducing this gap will rely on solar-specific subsidies and incentives.
On the residential side, another major roadblock is the lack of knowledge and preparedness for solar energy adoption. Studies show that many homeowners are unaware of where to get solar panels, installation cost, the benefits they can provide and any government incentives for installing a solar system. Not only does the government need to offer financial incentives for the residential sector, but it needs to develop awareness campaigns and provide education.
Domestic Solar Panels Price
Focusing on the pricing issue, the cost to install solar panels is disproportionately higher than in other countries.
For example, the average solar panel system cost in Malaysia is about USD 1.50 per watt compared to USD 3.00 in the U.S. However, the per capita GDP of the U.S. is over six times as large as Malaysia. This makes the real cost of solar installation significantly more expensive in Malaysia.
Improving the domestic supply of locally produced solar PV panels and government tax incentives or subsidies can help drive down these costs and can motivate adopting solar energy in Malaysia.
Solar PV System in Malaysia: Where Should Government Incentives Go?
Looking at Malaysia's existing solar PV systems and infrastructure helps determine where government investment should flow.
Currently, Malaysia's solar energy systems are primarily dominated by grid-connected systems. Grid-connected systems are directly tied to the local electricity grid, which allows excess energy to be sent back into the power grid for use elsewhere. This is what most urban and utility-scale facilities use.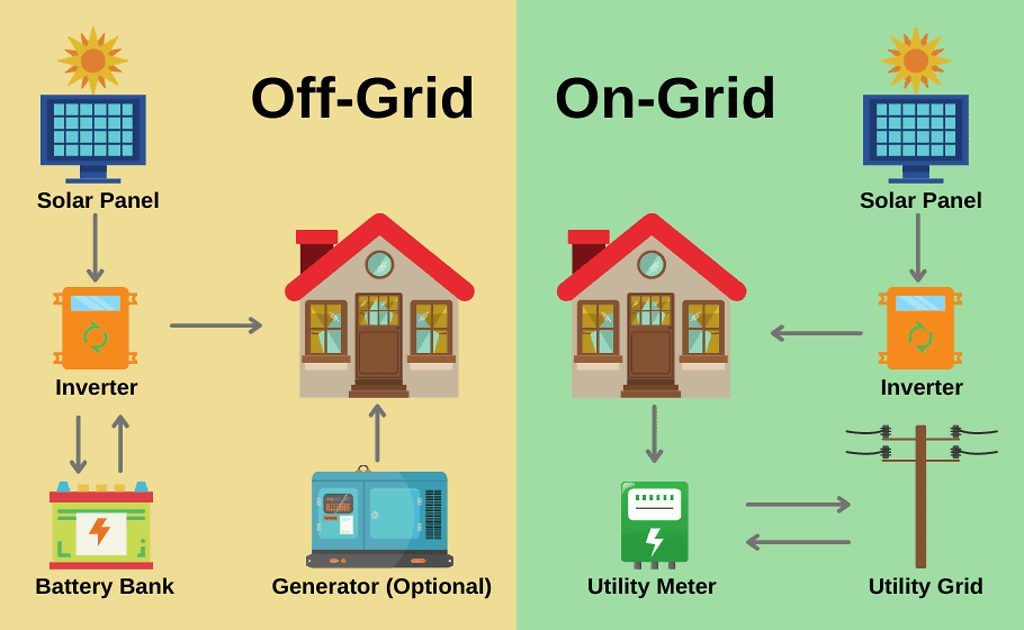 Hybrid systems also tie into the grid but include a local energy storage system, like a battery. This allows energy to be stored on site for future use. While more expensive than grid-connected systems, they are gaining popularity due to their ability to limit issues with variability in solar electricity generation.
Off-grid systems are the least common but are ideal for rural or remote areas. They are self-contained, including battery storage, but without a grid connection. Energy generated on site is stored and used without running an expensive power line to a far-away grid connection.
It makes sense for government incentives to relate to regional requirements. Urban areas should rely on grid-connected systems, where it is cost-effective to tie into the existing grid. However, Malaysia's government support for off-grid systems in remote parts of the country is crucial in decarbonising these regions, like mountainous Borneo or the country's islands.
Government Investment in Renewable Energy Is Increasing But Not Fast Enough
While solar energy in Malaysia is still in its infancy, there are promising signs of growth. The government's commitment to increasing the share of renewable energy is a step in the right direction. Additionally, the government has released several incentive programs in the last few years, like the Green Investment Tax Allowance (GITA), Green Income Tax Exemption (GITE) and the Green Technology Financing Scheme (GTFS).
However, these programs are only a small step in the larger plan. For solar energy capacity to meet future targets, the government must double its planned investment. Solar energy systems are long-term investments that need to begin soon to meet further goals.
by Eric Koons
Eric is a passionate environmental advocate that believes renewable energy is a key piece in meeting the world's growing energy demands. He received an environmental science degree from the University of California and has worked to promote environmentally and socially sustainable practices since. Eric's expertise extends across the environmental field, yet he maintains a strong focus on renewable energy. His work has been featured by leading environmental organizations, such as World Resources Institute and Hitachi ABB Power Grids.
Read more